With the holidays fast approaching, many of us will be hosting family gatherings and dinners. Looking around, you may feel like a change is in order, but you don't know what to do to set your Denver area home apart. You're in luck. The fashion crowd has been telling us that this is the year for color, and that style statement continues even as winter approaches. The best part? You get to choose. Bold, untypical, surprising…the palette is your playground. Whether you like the vibrance of purples and oranges, or the depth of blues and greens, as long as you use hues that speak to you, the colors of the season will set your home apart with chic style.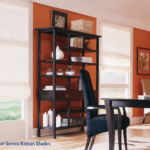 Add Color.
Looking for a bold statement for your holiday gatherings to add personality, warmth and style? Look no further than an accent wall to display one of your favorite colors of the season. This will add a striking style statement. Not only will the color make the room 'pop' with style, but it makes coordination of your home fun as you decorate with accent pieces to complement the color and bring everything together for the perfect look.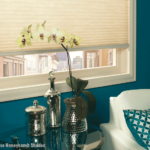 Accent Your Home.
Designer trends can be a fun, stylish way to bring the colors of the season into your home. Make your home stand out with accent pieces that feature your favorite bold colors, patterns and textures. One popular accent right now is the appeal of metals in decorating, adding just the right touch – and perfect for the holidays! Accent pieces, such as table decor, rugs, pillows and blankets, allow you to experiment with untypical colors that make you smile, but add a bit more trend than traditional.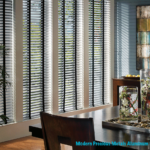 Artwork Adds Appeal.
Add inspiring colors of the season with the dynamic look of artwork to your space. Whether you have a blank wall that could use a little spicing up, or artwork that has been there for a long time and might work better in a new spot in your home, choosing artwork that adds a splash of color will be a dramatic addition just in time for your next gathering. When adding artwork to a space, choose the look that appeals to your eye, keeping in mind the following tips: art works best in odd numbers, balance is key and one large piece of art is best placed on the wall viewed in perfect position to welcome you and your guests into the room.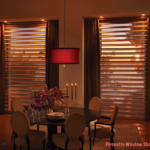 Atmosphere for Entertaining.
Setting just the right atmosphere in your home can make your entertaining experience a success. Using the colors of the season to highlight your home will add to the significance of atmosphere. Use natural elements of entertaining with centerpieces and arrangements that burst with color: candles, fresh flowers and linens will add beauty to your decor while serving a functional purpose. The ultimate dining addition, also able to add a splash of color, is the lighting that sets the tone of entertaining. Adding a new light fixture can make your dining experience complete.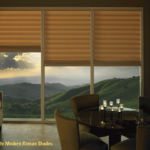 True Colors of the Season with Your Beautiful View.
There is nothing more beautiful than the landscape just outside your windows. Set the atmosphere for your next gathering by using the natural lighting and colors of the season with the outdoors as a backdrop. With beautiful window coverings that allow you the amazing benefits of adjustment and light control, your next gathering will be awe-inspiring scene. Options for top/down, bottom/up operation and maximum view-through will be highlighted with the striking fabrics and textures showcased with your new window coverings.
With just a couple weeks left until your guests arrive, you have time to make some last minute style statements with the colors of the season. Small adjustments can be done with ease; bigger ones make take more time and guidance. Let us help! Our team, at Rocky Mountain Shutters and Shades, would love to help you set a beautiful scene in your home with custom window coverings and custom window treatments in the Denver area. The ones you see featured here can be seen in more detail on our product pages for Shades, Premier Shadings and Blinds. Contact us for a free, in-home consultation.