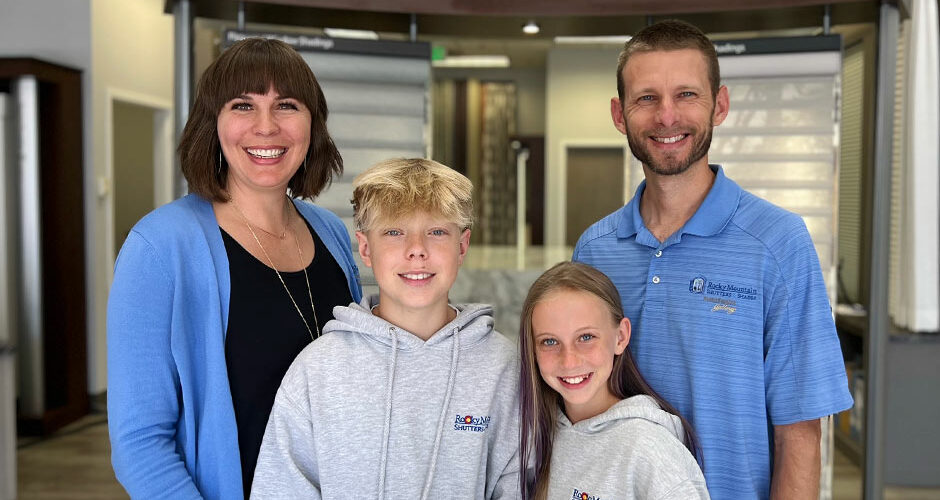 In 2003, Rocky Mountain Shutters & Shades opened its doors to answer the call for high quality products and client-focused service in the Denver area. The professionals of Rocky Mountain Shutters & Shades go above and beyond to guarantee your satisfaction.
My name is Kristen Brown, and I am the owner of Rocky Mountain Shutters and Shades, along with my husband Quentin. My Dad, Alan Stremel, began this company in 2003. Both Quentin and I have been working alongside my Dad since the beginning. We are proud to carry on the mission that began this company and still thrives today–serving the Denver community by helping clients and making sure that everyone is happy with their purchase and looks at their window coverings everyday with joy!
Outside of work, our passion is our kids and family. We have two busy, active kids that enjoy soccer, art, animals and being outdoors. I love being outside when I can. I enjoy skiing in the winter and in the garden during the warm months, with our 13 chickens, 3 ducks, 2 cats, and 1 dog.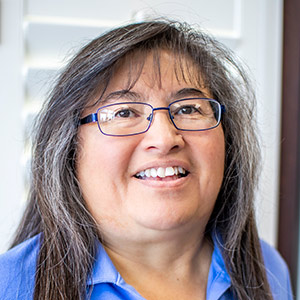 Marcie Macias
Showroom Manager
Since July 2011, Marcie has managed the Park Meadows and Cherry Creek showrooms. She has been in the window covering industry for over 43 years and has experience in both sales and fabrication of window coverings. Her knowledge continues to grow daily as the industry changes. She thoroughly enjoys assisting customers in the showroom and excels in customer service. In her spare time, she enjoys spending time fishing and traveling with her husband and spending time with family and friends.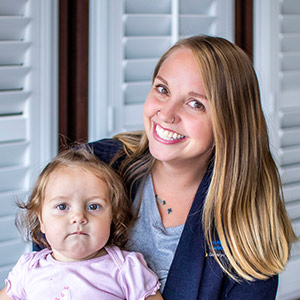 Brittany Pearson
Office Manager
Brittany joined the team in 2010 with 2 years of experience scheduling service technicians in the telecommunications field. She takes pride in keeping the paperwork in perfect order and making sure everything is running smoothly behind the scenes. Brittany has completed many Hunter Douglas training courses and is always eager to learn more. In her free time, she enjoys painting and spending time with her daughters.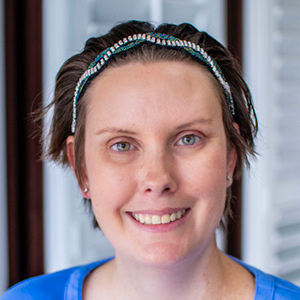 Lisa Smith
Showroom Assistant Manager
Lisa began with Rocky Mountain Shutters & Shades in January 2015. She graduated from the University of Idaho with a degree in Virtual Technology and Design. She then gained three years of customer service experience and was a top seller for window coverings for a national retail store, and is excited for the opportunity with Rocky Mountain Shutters & Shades. She enjoys traveling – having visited all 50 states, China, Japan, Mexico, Canada and Ireland.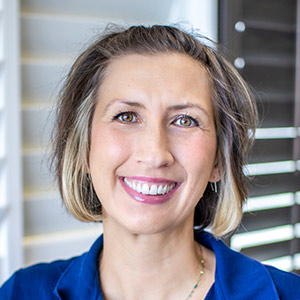 Laurel Tucker
Shop At Home Sales Associate
As a lifelong learner, Laurel's curiosity about people's experiences, interpretations, and motivations culminated in a Master's Degree in Human Relations. Her frame of interest translates into her design philosophy, where she combines thorough product knowledge with the needs and wants of each client to efficiently develop customized design solutions. In Laurel's past lives she worked in floral design, construction, education, and the justice system. Hiking the English route of the Camino de Santiago in 2017 is one of her proudest accomplishments, and she considers her pilgrimage of faith her greatest gift.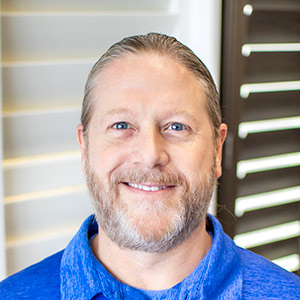 Lane Cummins
Shop At Home Sales Associate
Lane joined Rocky Mountain Shutters & Shades in 2018, coming to us from Nashville, TN. With close to a decade of real estate investment and DIY home renovation experiences, Lane is eager to assist with your next window covering project. As a Certified Hunter Douglas Consultant, and someone who enjoys watching copious amounts of HGTV, Lane possesses the experience, creativity, and eye for color to assist, and more importantly, to assure your satisfaction in the decision making process. As an avid outdoorsman, Lane spends much of his free time taking advantage of all that Colorado has to offer.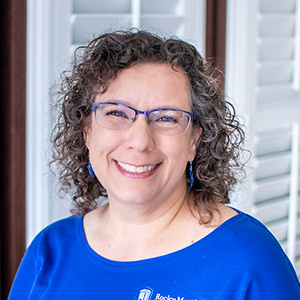 Suzanne Hayes
Shop At Home Sales Associate
Suzanne joined Rocky Mountain Shutters and Shades in 2019 as a Shop at Home Sales Associate. She comes to us with 16 years of sales experience with window coverings in the retail environment. She's familiar with all aspects of window coverings from design and ordering, to installation and project coordination. Suzanne loves working one on one with customers to bring the vision for their home to life. As a Certified Hunter Douglas Consultant, she loves the quality and innovation that Hunter Douglas products provide for their clients and jumps at any opportunity to increase her product knowledge. A Colorado native, Suzanne spends her free time out in her garden or updating the home built by her family.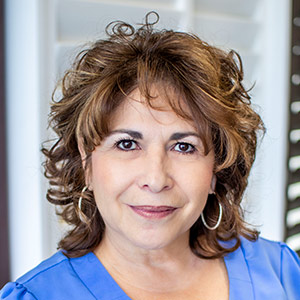 Karen Mendoza
Showroom Sales Associate
I am Karen Mendoza I joined the team in August 2019. I am a 5th generation of Denver Colorado. I have a Fine Arts degree in Graphic Design and Photography.  I have two sons and 3 grandchildren.  I enjoy being outdoors, working in my yard, walks and camping. I enjoy working at Rocky Mountains shutters with their great staff and customer.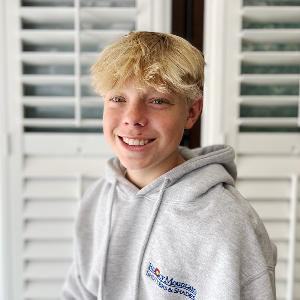 Troy Brown
Showroom Support
Troy joined us in 2021. He is now 14 and learning the business of window coverings. You will see him in the showrooms lending a hand when he can on his days off of school. He is a great student and enjoys fishing and sports and hanging out with friends and family.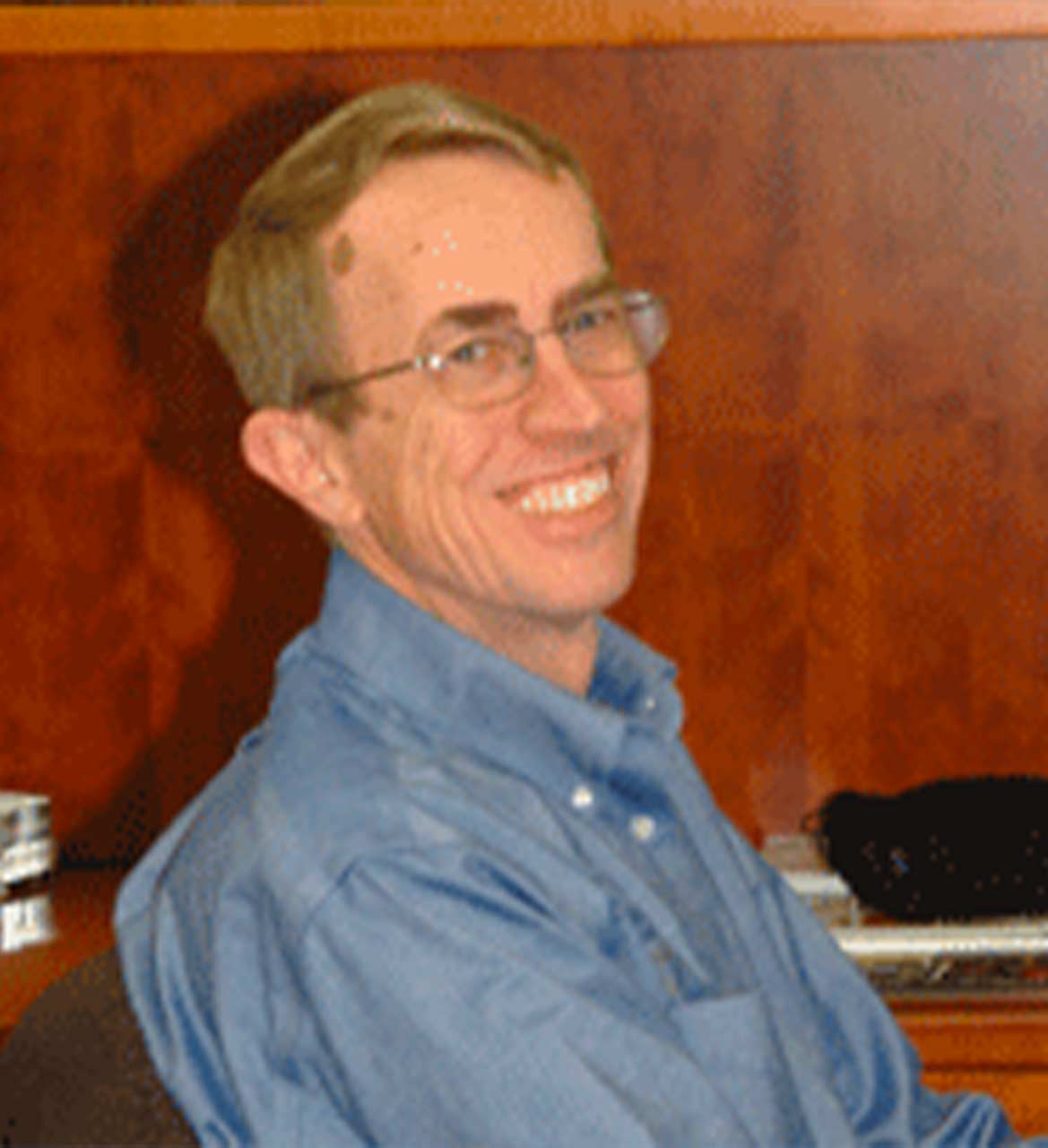 Alan Stremel
Founder
Alan started this business in 2003, after realizing the Denver area was in need of a window treatment company that offered high quality products with excellent customer service, at a fair price. Over the years, Rocky Mountain Shutters & Shades has developed a reputation that upholds his high expectations. His daughter, Kristen, and son-in-law Quentin, have worked alongside him, sharing in his vision. He is happy to pass the torch to his family for the company to carry on.

All of our sales associates are Hunter Douglas Certified Consultants!