Exclusive Sophistication: Pirouette Window Shadings from the Alustra Collection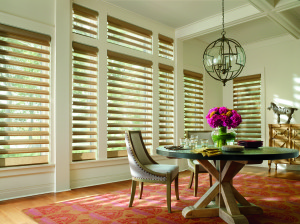 Like a beautiful backdrop that heightens the style of your Denver area home, while showcasing your amazing view, Pirouette window shadings just reached a whole new level. The style and sophistication of the Alustra Collection is now available in a fabulous new look with Pirouette window shadings.  You have been patient while waiting for this upscale selection of window coverings from Hunter Douglas. They are finally here, and we have been rendered speechless!
Highlight Your View
The soft, filtered natural light entering your home has always been a dramatic style feature of Pirouette window shadings. New, from the Alustra Collection, now you can experience the dynamic – even softer – ambient glow of dyed sheers that combine the function and beauty of maximum view-through, with the elegance and coordination of complementary colors. These window coverings will highlight your Denver view with a polished look to complement the beauty of your home.
Dramatic Style for Your Home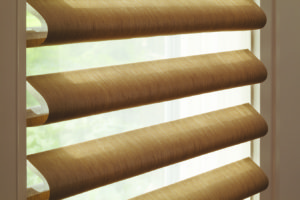 The Alustra Collection from Hunter Douglas offers exclusive fabrics with selections of rich colors not found in our other lines of window coverings. Your home can feature an awe-inspiring scene of sophistication as these window treatments will finish the look of your home. Contemporary features, like brand-new sparkling metallics, will set your home apart with sophisticated, modern appeal.
Take Your Breath Away with Large Scale Design
Perfect for setting a beautiful atmosphere in your home, Pirouette window shadings adjust along a range of levels, allowing you access to unlimited light control at your fingertips. While these window coverings are an ideal solution for any room, or any size windows, the seamless design, now made in elegant exhilaration with the beauty of the Alustra Collection, Pirouette window shadings fit your largest windows. The beauty and sophistication of these window treatments will simply take your breath away.
Exclusive sophistication and high-end design – the beauty of Pirouette window shadings just got better with the Alustra Collection. Rich fabrics and colors, with options for sparkling metallics, give your home a heightened level of styling with window coverings that provide a dramatic backdrop for your amazing Denver area view. Contact our team, at Rocky Mountain Shutters & Shades, for a free, in-home consultation.