Do you ever feel like you need a fresh start? What better place to begin than in your own home? Redesigning your home can seem like a huge task, but imagine how refreshing it will feel in the end. Style icon Iris Apfel has design tips and ideas for your home. She's exciting, adventurous… like a breath of fresh air. Take a look at how this classy, charismatic woman can help redesign your space.
Meet Style Icon Iris Apfel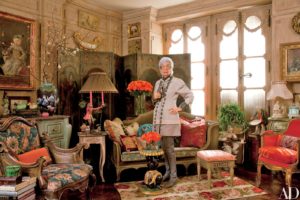 In 2005, style icon Iris Apfel gained her fame at the age of 84 years. She was featured in an exhibit at the Metropolitan Museum of Art called, "Rara Avis," or "Rare Bird." Over 10 years later, Apfel is still showing off her personal style to the world. Her life's motto could be, "carpe diem." She wakes up every morning with the desire to make the day count. It's time to embrace her confidence, design expertise, and upbeat personality. We  have a lot to learn. Are you interested in redesigning your home? Take advice from style icon Iris Apfel, and watch as your space is transformed.
Tip #1: Add Personal Touches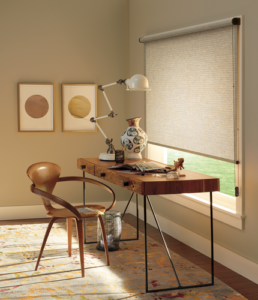 If there's anywhere in the world that is the biggest representation of who you are, it's probably your home. Style icon Iris Apfel truly believes in incorporating herself into her home design. By adding objects to your home that you love, you can let your style and personality shine. Do you love old art? Find a replica to hang in your living room. Is there a bright color you can't get enough of? Design a room around that shade. With personal touches that make you happy, your house will feel like a home. You're unique, and your home should show off what you love.
Tip #2: Tell Your Story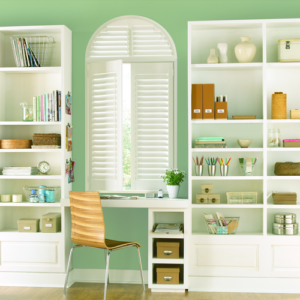 Style icon Iris Apfel has been collecting pieces for her home for almost a century, adding personal touches and making her style tell the story of her life. Whether it's her wardrobe, or her Manhattan apartment, you know that this woman's life has been one big adventure. She has spent most of her life traveling, learning about different cultures, and establishing her own style. The history and memories that shine through Apfel's decor are amazing. No matter what adventure you go on, take a piece of it home.
Tip #3: Layer, Layer, Layer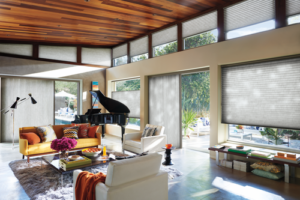 For quite some time, one of the biggest design trends has been minimalism. Style icon Iris Apfel's home represents just the opposite: maximalism. Apfel fills each space in her home with trinkets, art, furniture, plants, books, statues–you name it. Her apartment is layered with an abundance of history, adventure, and culture. Maximalism allows you to show off your own adventures in a stylish way; it's all about what you love.
Redesign Your Atmosphere
Rocky Mountain Shutters & Shades is excited to announce that Hunter Douglas and Iris Apfel have teamed up to add style, amazing features, and even more function to your life. Are you ready to redesign your home and your life? We're ready to help you. Contact our team today for a free, in-home consultation. Let's make your house a home.