Like holding a glass of wine by the stem, energy efficient window coverings keep the precious contents of the inside at a perfect temperature. With winter temperatures on their way here in the Denver area, you have the next few months to look forward to braving the brisk air everyday. Don't come home to a frigid house! You deserve to be welcomed into the comfort of a home that warms up easily and stays warm. Energy efficient window coverings are the key to warming up for our anticipated winter!
Why focus on the windows?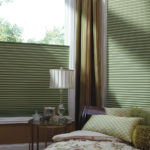 The air inside your home is heavily influenced by the air right outside your window. Glass is an amazing conductor of energy, so in order to achieve the ideal temperature of comfort in your home, you need to place insulation between the air in your home and the air flowing outside. The beauty of energy efficient window coverings is that they will not only transform the comfort of your home, but they will provide amazing benefits for you and your family this winter and beyond! The Duette Shades collection from Hunter Douglas features the insulating properties of cell within cell technology so your home stays at the temperature you set, without your furnace working overtime!
Why do I need energy efficient window coverings?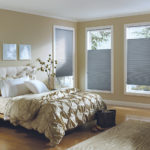 Beyond the designer appeal, coordinating elements for your home's unique decor and advanced levels of light control and privacy, energy efficient window coverings will make changes to your home that you will notice immediately and into the future. The insulating properties of these window coverings will remove the draft you feel when you are near your windows. An investment for your home, we offer a wide range of products to suit your home, your style and your budget. Our Applause collection from Hunter Douglas is an energy efficient choice that also presents an affordable option for your windows.
Which window coverings will work best?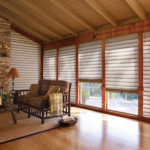 While many of our window coverings provide levels of energy efficiency, we have some energy efficient window coverings that hold the highest ratings in the industry. Like the amazing cellular structure of the Duette Shades collection, our line of Vignette Modern Roman Shades will also provide your home with the insulating warmth you need to enjoy comfort this winter. We can help you decide which energy efficient window coverings will meet your needs, as well as add the levels of light control, privacy and designer appeal you are looking for.
Winter is coming…Are you ready?
It's time to get ready for another winter here in the Denver area. That means finding ways to keep your home warm; choosing the right window coverings to keep you and your family comfortable is a great choice! We would love to help you find out more about how they can help transform the temperature and atmosphere in your home. Contact our team, at Rocky Mountain Shutters & Shades, for a free, in-home consultation.