Ever wonder which direction the windows in your home face? Or why it matters so much? Windows can be both a blessing and a curse. Achieving balanced light in your home is an important factor when creating the ideal atmosphere. With East or West facing windows the sunlight is easy to predict, but what about other directions or a combination? We are here to help you navigate the many solutions in window coverings available for your home. Don't worry, there's no need for a compass.
Morning Light
To wake with the rising sun is a great feeling, the newness of the day, the endless possibility… But, on days you'd like to sleep in, East facing bedrooms can also be a nightmare. Room darkening shades or some type of blackout treatment can prevent the early wake up call. Let's save the sunshine for later.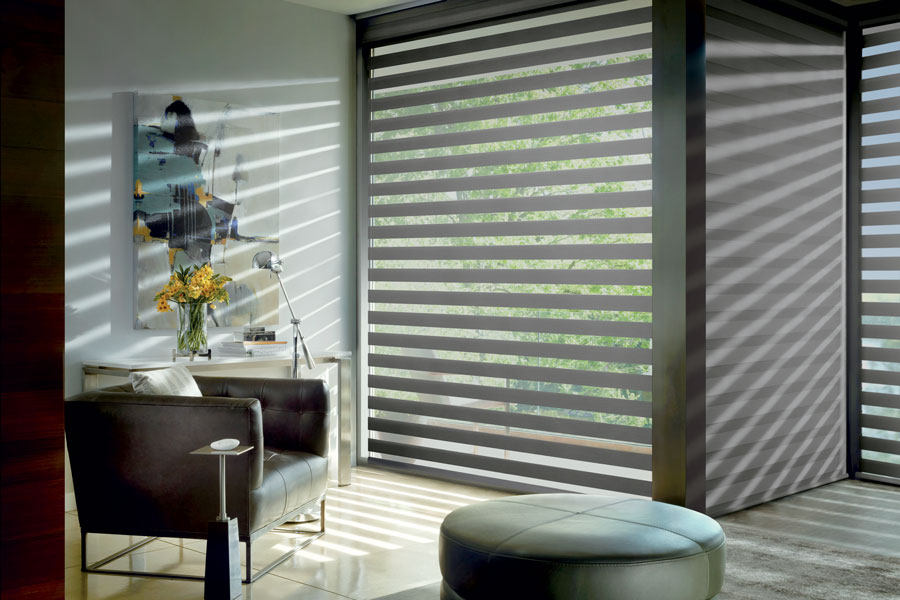 It's not just bedrooms that face East, it could be your living area as well. By adding light filtering shades to your windows you can achieve balanced light. The proper light filtering shades can shield your family from early morning sunshine while diffusing the glare throughout the later part of the day–leaving your family with soft natural light to enjoy.
Hot Afternoons
West facing windows won't interrupt our sleep, but by the afternoon, the sun's rays can be intense. Windows can magnify the sun creating a room that's just too uncomfortable to enjoy. In addition, uninvited sunbeams could mean dealing with blinding light directly at eye level, just as you're sitting down to dinner.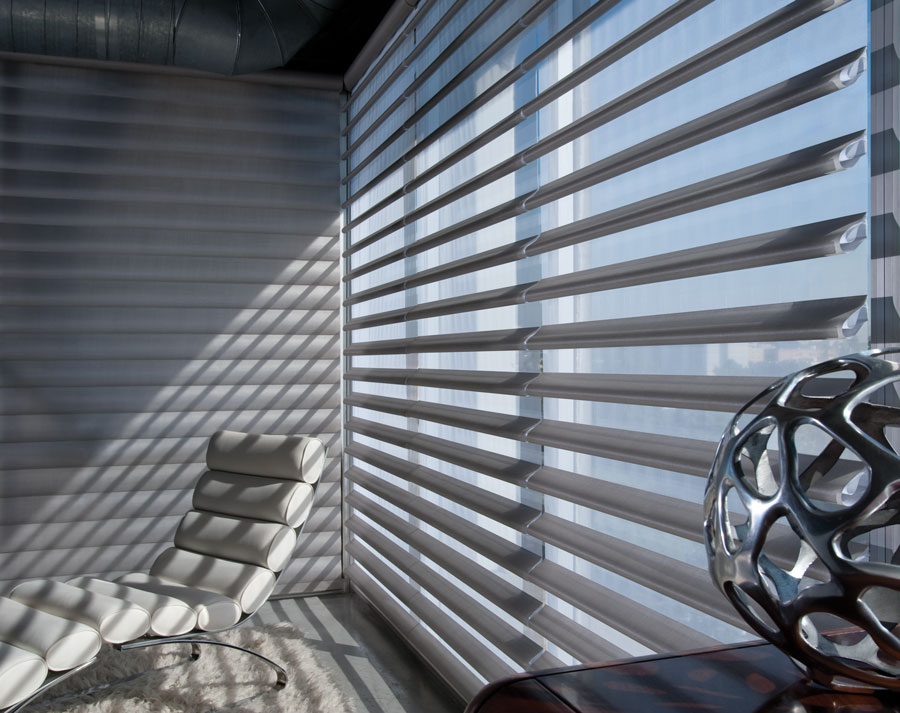 To achieve balanced light for West facing windows, let's consider automated window shades. Allow your shades to rise and fall according to your timeline. Enjoy light when you want it; block it when you don't. Adding smart shade technology to West facing windows is a popular enhancement for clients, now with new advancements in technology, creating the perfect atmosphere for your home can be scheduled down to the minute and without lifting a finger. The options are endless and the benefits… amazing.
Never Ending Light
Now South facing windows are similar to West facing windows with the added 'bonus' of sunshine ALL. DAY. LONG. The warmth of the sun is a nice touch when enjoying your morning coffee, but as the day progresses that warmth becomes unbearable. Because the sun moves across the sky, it's always present in rooms with South facing windows. Balanced light can help.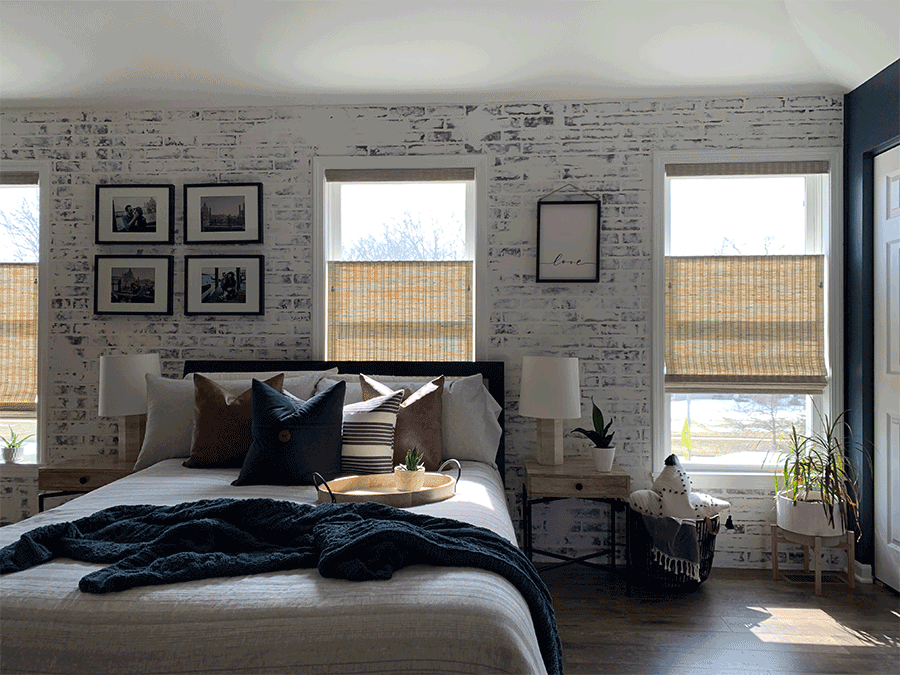 Afternoons can be a draining time of day especially if you're experiencing strong sunlight. The warmth and intensity of the heat can impact your energy level. No time for a nap? By adding window treatments with the top down feature, you can manage the sunshine and control the heat. By only allowing light to come in through the top of the window you can direct light across the ceiling and illuminate the room without the intensity of heat and direct rays. Goodbye exhausting heat.
Blinding Glare
How about North facing windows? They seem to have it all. There's always light available when you need it, temperatures stay moderate, and no direct rays from the sun. What gives? Well… just the GLARE! The light they bring is almost blinding. And it doesn't let up. We need protection from North facing windows too.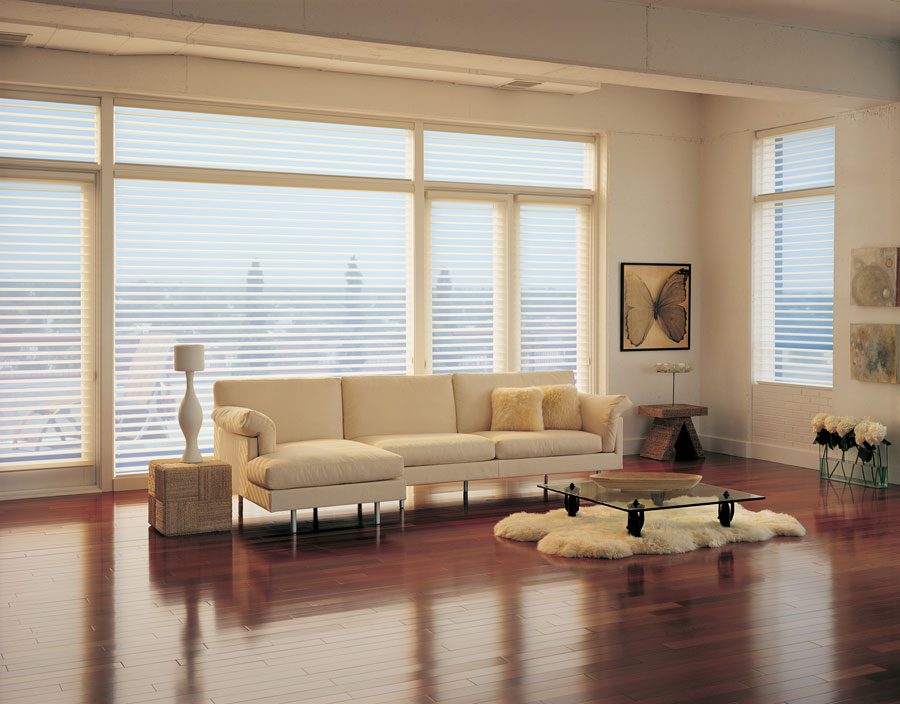 To defend your home from UV rays and to soften the glare, dress your windows with window shades. A treatment with a sheer option would perform best in this case and look how sophisticated the room can look.  Shades allow light in, but it's soft and glowing, not intense. The perfect atmosphere can be yours and the added benefits of protecting home furnishings makes sheer shades a popular choice.
More Than One Direction?
How about rooms with a mix of windows and exposures? Sun is entering at different angles and at different times of the day. What to do, what to do… Take a look at the solution below.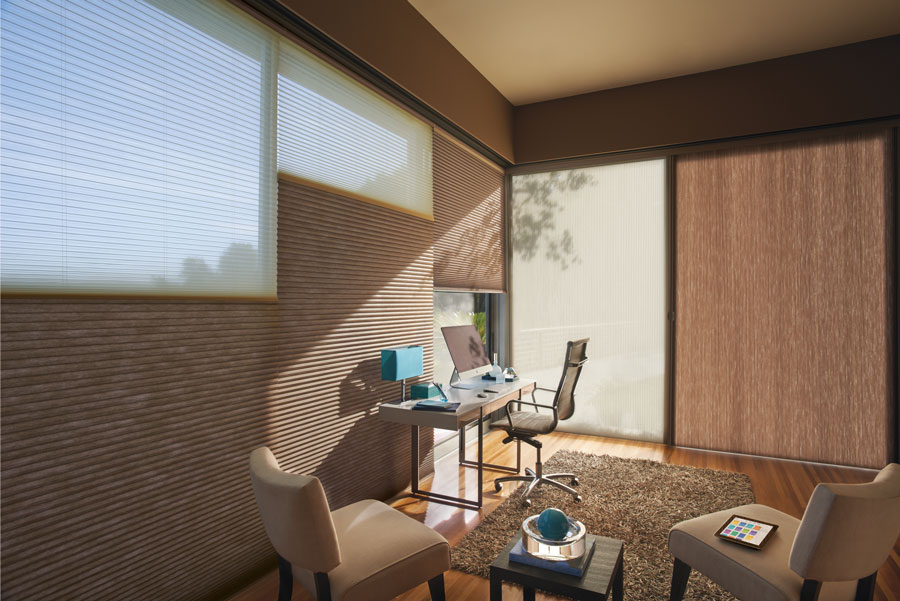 Our dual shades are the perfect remedy and balanced light can be achieved. With a range of light control–from filtered to room darkening–you get access to the perfect light exposure all day. Dual shades continually provide filtered light and have a unique secondary shade that, when called upon, can block light out, it remains out of sight when not in use. This is the perfect shade for combination windows. You'll never be chased out of a room due to harsh light again!
Balanced Light Is the Answer!
Yes! Balanced light is the answer. We are here to help you along the way by evaluating where window treatment solutions can have the biggest impact on the comfort level of your home. By evaluating window direction and thinking about the way light enters your home, you are on your way to designing the perfect environment! Let our experts provide a FREE Consultation for your Denver area home. Get started with balanced light and begin fully enjoying each space in your home.