Don't you just want to get outside and enjoy the fresh air? It's a way of life here in the Denver area–the landscape is simply too beautiful to spend much time inside! Have you been searching for ways to cover sliding glass doors in your home? Warm weather quickly reminds us that this is a high-traffic area that needs solid solutions! Does it feel like all you do is open the doors, close the doors…every minute of the day? The dog wants out, the dog wants in. The kids are eager to run and play, but they return every few minutes for extra toys, snacks, and constant reminders…"Watch this!" "Did you see me?" "Look at me!" All of this activity can leave you wondering, "What's important to keep in mind?"
Solutions for Function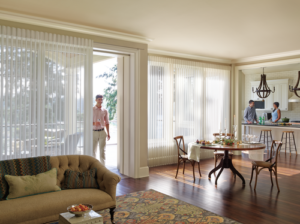 One of the most important features to consider when you want to cover sliding glass doors is function. How easy is it is open and close repeatedly? Can your children operate them without harming the window coverings–or themselves? What operating systems are available? We have two favorites when our clients want to cover sliding glass doors: push/pull control and motorization. The push/pull is simple and child-safe–use a wand with vertical shades or blinds, or our cordless (LiteRise) system for horizontal operation. Easy peasy. And, motorization? Talk about ease and convenience! Just the touch of a button gives instant access. Your automated shades can even be scheduled to adjust based on your family's lifestyle.
Solutions for Style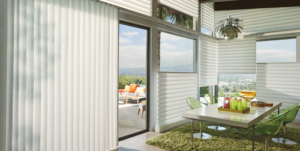 When you want to cover sliding glass doors, the design of your space is a big consideration. Your doors probably open into the main living area of your home. That means, when you're choosing window treatments to cover sliding glass doors, you also have to think about coordinating the windows across the same shared space. The secret is in the gorgeous fabrics. You can choose coordinating fabrics for all of the window coverings, no matter which ones you choose. You may need the same window coverings–like roman shades–but different orientation. Or, you might want to vary your choices, but use matching fabrics. The beautiful fabrics are available across a variety of style combinations. It's fabulous function meets stunning style!
Solutions for Life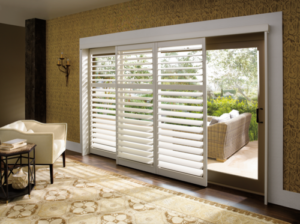 We know that a big part of your life is getting outdoors, enjoying the landscape, the fresh air and your hobbies. When you cover sliding glass doors, you receive amazing benefits for your lifestyle, such as convenient operation and beautiful design. You'll welcome amazing ambiance and your beautiful view, all while providing privacy, diffused glare and protection against UV rays. 
What else? The right window treatments will meet your needs in ways you might not have considered. It's a high traffic area, so these window coverings tend to get a lot of use. Dust and dirt enter regularly. Sticky fingers might find their way easily. Your furry friends may interact with this area more than any other. You'll want something that can stand up to daily wear and tear, as well as offering a surface that's easy to clean.
Cover Sliding Glass Doors: We'll Help You Find Solutions!
Our family has been here in the Denver area helping people find solutions for their homes for a long time. We live here–we know what works and what you need. If you are looking for ways to cover sliding glass doors in your home, your team at Rocky Mountain Shutters & Shades can help. We'll guide you to the best choices based on your home's unique style and function. And, we are sure to help you select the right window treatments to improve your lifestyle! Contact us today for a free, in-home consultation.