Ready to create a stunning look in your home? Pairing "timeless" and "trend" in perfect harmony, decorating with white is refreshingly peaceful and full of sophisticated style. Is there a shade you love? This illuminating color will–not only–highlight your style, but bring dimension and contrast to your home. From milky comfort, to the luster of glistening finishes, you're bound to find the perfect way to use this striking look.
#1 Find the Right Shade.
We don't always think of white having a range of colors. It's obvious that there's a big difference between stark white and the softened look of cream. However, the undertones, within the hues, speak volumes. Have you ever looked at a shade of white and felt like it looked almost blue-ish? What about yellow? Choosing the perfect shade of white can be tricky–the key is to define which hues you like best. It will make decorating with white an interesting adventure, especially if you decide to mix hues of white across your decor.
#2 Create Distinct Contrast.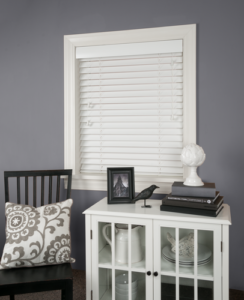 Decorating with white makes it easy to create contrast in your design scheme. Shades of white coordinate well with other colors, making the choice more about the statement than anything else. Choose light colors, such as pastels, or shades of gray or beige for understated charm. Considering a daring look? Bright, bold colors accented against white will add dynamic style. Want high contrast mingled with timeless design? The combination of black and white is always on point.
#3 Add Dimension with Textures.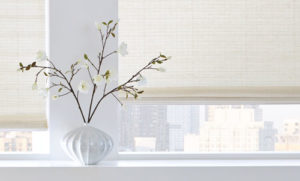 A tremendous part of design, texture is what brings character to a space. While decorating with white, adding texture allows you to define your personal style without going overboard. Designing for softness and comfort? Think shag area rugs and plush throw pillows. Looking for sleek design?  Accents and furniture with high gloss sheen and low profile form will speak to modern styling when decorating with white.
#4 Put Together Collections.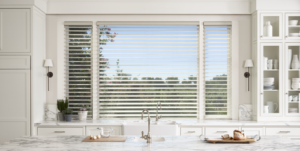 Collections create interest. They bring complexity to your decor. Decorating with white allows you to coordinate collections in a simple, yet stunning, way. To start with, choose an item that is available in different sizes. (If you're sticking to one color, the items must vary in size or shape to style the look.) Stay with odd numbers when bringing pieces together. Finally, balance can be a part of design–the beauty is in the eye of the beholder! If you look at your space, and something seems "off," try adding similar design elements in the opposing part of the space to balance it out and bring the whole look together.
Decorating with White: Decor Never Looked This Good!
Are you ready to create a beautiful look in your home? Whether you want subtle contrast, or bold definition, decorating with white in your home decor will make a designer statement. At Rocky Mountain Shutters & Shades, we want to help you add elements of style to your home while bringing incredible function to your lifestyle. White looks fabulous in window treatments. From the upscale design of white shutters, to the classic appeal of roman shades, we will help you add fashion and upgrades to your home! Come visit us at one of our three Denver area Hunter Douglas showrooms, or invite us to your home for a free, in-home consultation. Let's get started today!