There's no one who loves you quite like your pet. Loyal and charming, they've found their way into your heart. But, they're often both curious and adventurous–finding their way into challenging and–sometimes dangerous–situations. Does your home feature the pet safe blinds it should to keep them out of trouble? Cords that dangle, pile and hang can invite your pet to play as they wander around your home. Frustrating tangles, and even fatal injuries, can happen from innocent behaviors. Here are the ways pet safe blinds, shades and shutters can keep your pet happy and safe while improving everyone's lives!
Save Their Favorite Spot.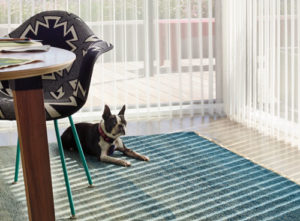 Does your pet love to lie in the early morning sun, just soaking up the rays? Do they position themselves in late afternoon with a perfect view of kids walking home from school? Pets are creatures of habit. And while you want to respect their favorite spots and activities, you want them to have the utmost safety.
Fit Their Personality.
There's generally three types of pet personalities out there. One that enjoys the view outside–and stays amused by it. The second type cannot handle having a view. It's anxiety-inducing and leaves them in a tizzy throughout the day. The third? Well, that's the tricky part. Some pets love having a peaceful view of the backyard, while the front of the home is maddening to them. Cars and passers-by can make their blood pressure skyrocket. Pet safe blinds and shades will create a custom environment in every room to fit your home and their personality!
Pet Safe Blinds and Shades…What's Available?
Motorization
Motorized blinds and shades make it easy to schedule adjustments, make safety a priority with cordless operation, and keep your pets happy–all at the same time! Customize the movement of your shades to fit their daily activity. Let them soak up sunshine in the morning, and they can move in the afternoon to watch the foot traffic pass by.
Top Down Bottom Up
Top down bottom up shades allow you and your pet to enjoy a well-lit space without them barking every three seconds at the activity just beyond your windows. Know your pet's schedule? Customize your top down bottom up shades to adjust seamlessly throughout the day to fit their activity schedule. These features allow you peace of mind when you're home–but especially when you're not.
Cordless & Cord Safe
Cordless and cord-safe operating systems are available to fit your home, windows and lifestyle. Our cordless shades and blinds are simple to operate with a gentle push or a nudge of the nose. No complicated cords, no frustrating tangles, no danger. Plantation shutters are an ideal way to improve the safety of your pets with adjustable louvers to control the light and view, but no cords to get in the way. Need a cord? Ensure their safety while using a cord that's shortened, retractable or secured inside the window frame.
Let's Get Started!
Ready to improve your home with pet safe blinds, shades and shutters? Not only available in cordless or cord-safe, the operating systems and features cater to your pet's unique personality.
Thinking about motorization? Compatible with most smart home systems, you can create the ideal environment in your home with pet safety in mind, along with all the benefits your family will receive. Contact our team at Rocky Mountain Shutters & Shades for a free, in-home consultation today!