Whether you like the classic styling of hardwood stain, or the clean refreshment of painted whites, shutters improve interior design! Featuring sophisticated qualities of light control and privacy, shutters allow you to decrease the direct glare of our intense Colorado sunlight, while showcasing the view of your beautiful landscape.
What Features Are Important?
When deciding to outfit your windows with shutters, you are receiving the ultimate benefits of child and pet safety, along with the convenience for easy clean and the beauty of dynamic atmosphere. Cover large windows or glass doors with shutters that fold or slide for simple access to the view and the outdoor space.
Classic Heritance Hardwood Shutters. The romantic styling of premium hardwood shutters creates just the right ambiance for your home. The richness of wood, set apart by the dovetail joinery for durability and long-lasting charm, makes Heritance an excellent choice to style your windows. In addition to endless paint and stain choices, enjoy the beauty of these shutters with six artisan design techniques to bring out the character of the wood, such as Glazed & Burnished or Heirloom Distressed. Finalized with Integra finish, these shutters are made to last a lifetime.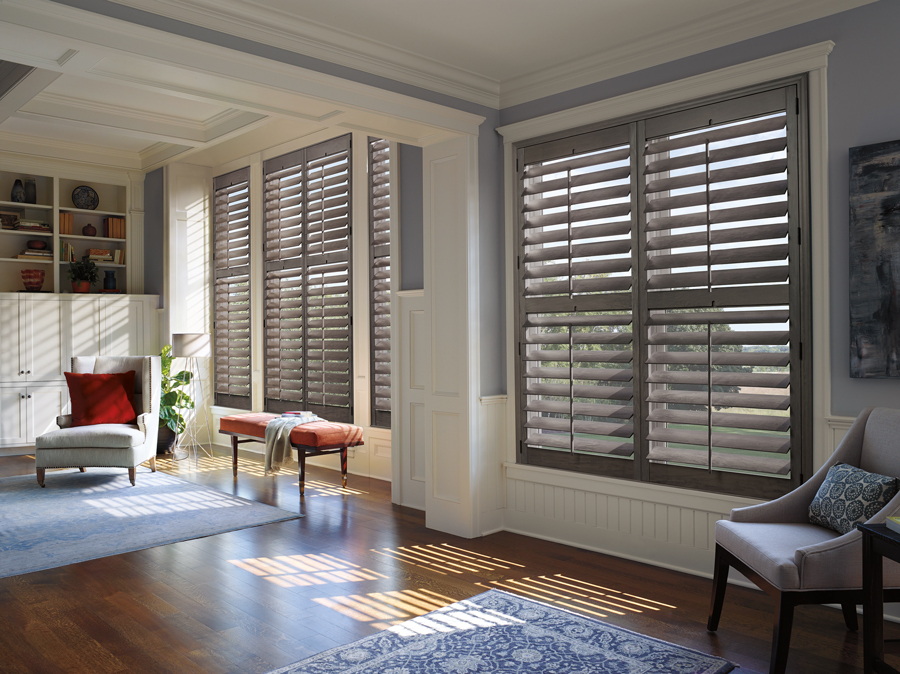 All Hunter Douglas shutters offer the following features and benefits for your home:
Trademark finishes, providing longevity and easy maintenance
Louver sizes of 2 ½", 3 ½" & 4 ½"
99% UV protection when louvers are closed
Light control with directional adjustment
Operating system combinations for louver and shutter
Hunter Douglas' Lifetime Warranty
Your Favorite Operating Systems…
There are more choices in this custom journey. Combinations are available to suit your home and lifestyle. For the latest upgrade, choose motorization of shutters to access instant adjustments on your Palm Beach Polysatin Shutters. For our other two collections, you'll enjoy the ease of our classic manual systems. From our folding or hinged systems to our bypass track, the operating systems were designed for simple function and minimal maintenance in high traffic areas. The choices of louver operation offer options for personal preference, but focus on providing you with the best viewing opportunity based on your windows.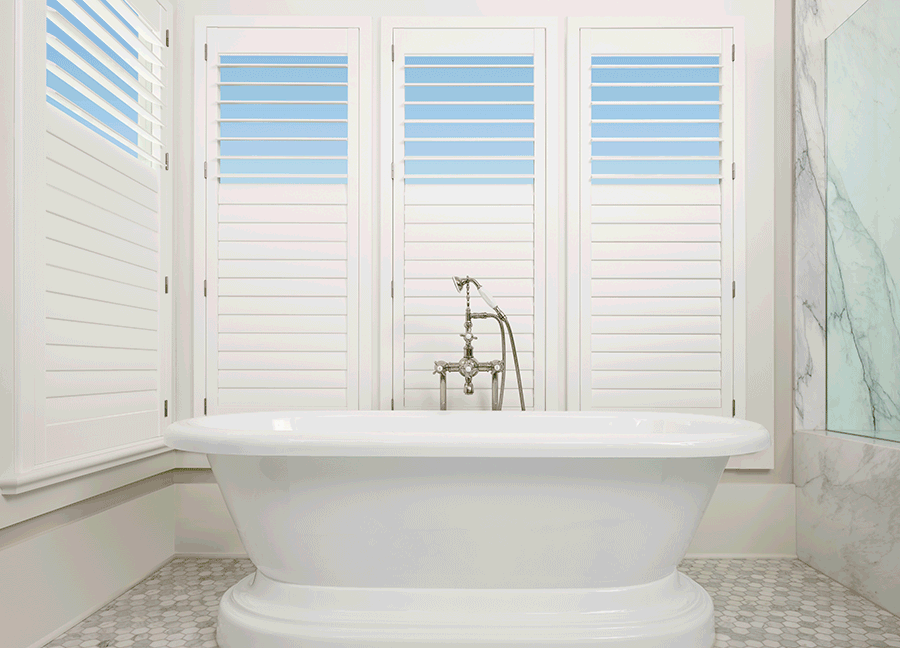 Palm Beach Polysatin Shutters. This product is very popular in the Denver area–for good reason. Do you know they can come with an automated operating system for tilt control? Use a remote, your phone, or voice control to open and close the louvers. Offering the beautiful appearance of a painted shutter, these shutters improve interior design in a stylish range of whites, protected with Hunter Douglas' DuraLux Finish, which provides the durability to withstand the natural elements. These shutters are a welcome solution for windows of continual use, enduring the concentrated sunlight, hot temperatures and spells of precipitation.  Hunter Douglas has gone above and beyond to create this product with a guarantee not to chip, crack, warp, peel, fade or discolor. The DuraLux finish also provides resistance against dents and scratches.
What about Customization?
Have you decided on the look of shutters that appeals to your taste? You have to consider the type of shutters that will suit your home. Consider customizations, such as paints & stains, specialty shape shutters or door handle cut-outs.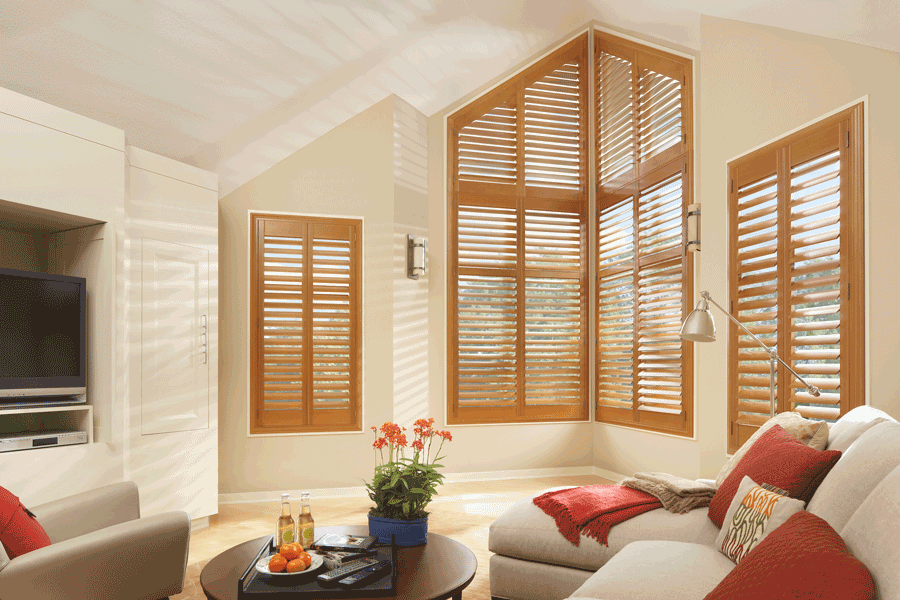 Newstyle Hybrid Shutters. Durability and charm go hand-in-hand with these innovative shutters. Using advanced materials to offer clients an affordable option for the classic look of genuine wood, with four stain options, or a stylish selection of popular whites, Newstyle Hybrid Shutters provide your home with longevity and refined beauty. Hunter Douglas' FineTech Finish offers a satin, polished appearance for your home.
Shutters Improve Interior Design…Are You Ready?
For experts on shutters, there is no one better in the Denver area than Rocky Mountain Shutters & Shades. Consider this a bit of a crash course on the ins & outs, and our sales team will be more than happy to give you any further information to help you decide which style will be the best choice for your home!
Contact our team at Rocky Mountain Shutters & Shades for a free consultation.