Have you realized the amazing ease that automation brings to your life? It started years ago with the convenience of TV remotes and garage door openers, and now most everything has options for motorization. The world of technology moves so fast, but can you imagine your life without it? The latest – and greatest – innovations for motorized window shades is finally here in the Denver area. PowerView, from Hunter Douglas will transform your home and your lifestyle. With incredible new features and amazing control, just wait to see what it can do for you.
Your Shades Talk to You.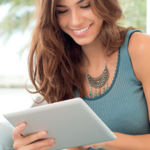 It's called intuitive technology. You'll just call it smart.
Most automation works by sitting idle until you send the device a signal to activate…think about that garage door. When it comes to your window coverings, a two-way conversation will offer great improvements. Because you're not always the last one to leave the house, you might not know what position your window coverings are in. No problem. With PowerView, even away from home, your window shades will be able to give you the information you need. And then, with the PowerView App, you can control the adjustment. Plants need extra sunshine throughout the day, but the window blinds did not get opened? Find out, and fix it with the brilliance of PowerView.
Bring Harmony to Your Life.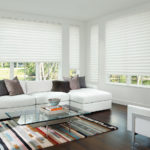 The ultimate control: Where, when and how.
You decide. It's your home, and you deserve the perfect atmosphere that fits your lifestyle. Using the 'Scenes' option in PowerView, you create a world of ideal light, temperature and comfort. You already know the settings you enjoy as you have your morning coffee. With the gentle touch on your Pebble remote or PowerView App, that perfect morning scene is yours…instantly. Having guests over for an impromptu evening of entertaining? With effortless ease, create just the right atmosphere by selecting the scene you've chosen for entertaining. Control is at your fingertips with the 'Scenes' feature of your PowerView automated window shades.
Fashion & Function for Your Life.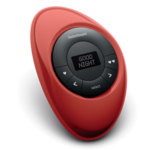 It fits your life. It fits your style. Control that fits you.
The PowerView App: The perfect atmosphere…from anywhere. Scene setting, adjustment to shades and schedules – all of this control can happen, no matter your location. Whether you need to adjust the window coverings in an upstairs bedroom from the downstairs couch, or create a new scene all over your home as you travel all over the country, the PowerView App makes it easy. Control is available on both Apple and Android devices.
The PowerView Pebble Remote: Finally – a remote that you don't want to hide. The beauty and ergonomic design of the PowerView Pebble remote means that you'll always know where it is. It looks like intentional decor. Bringing elements of style with on-trend colors and featuring a sleek design that makes it easy to use, the Pebble remote will add fashion and function to your window shades and your life.
The PowerView Surface Remote: Love the remote features, but need it wall mounted for immediate access? Maybe you have curious children, or a husband who can't seem to put things back where they belong? The PowerView Surface remote will be your answer. Easy accessibility to create just the right adjustment, it will also add to the decor of your home with sophisticated styling.
Oh, automation. Where would our lives be without you? PowerView motorized window coverings will transform your Denver area home with the ultimate control of light, privacy and temperature. Listen to your shades as they communicate with you, or get them on a daily schedule for ease and convenience. Your options are endless, and your happiness will be, too. Contact our team, at Rocky Mountain Shutters & Shades, for a free, in-home consultation.