No matter how many activities you try to set up, inevitably, 'Summer boredom' sets in. Your children are used to the normal school schedule, and anything different causes them to have to create their own fun. This Summer, solve Summer boredom with a project that not only keeps your children busy and engaged, but one that will provide endless entertainment for quite some time. A room makeover for your child's bedroom or playroom is the perfect remedy to idle minds.
Creating in Their Own Space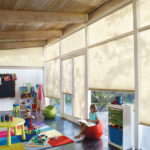 They have so many toys. What your child may need is the chance to get creative…in their own space. Something about having a spot to call their own is powerful, and with the right organization with this type of room makeover, they will have hours of fun at their fingertips. The missing piece may also be an investment of time to get them going. Children are so used to being given direction throughout the day. When they finally land some free time, they just don't know what to do with themselves. Spend some time creating a 'craft bucket list' for Summer, helping them brainstorm. It will do wonders to point them in the right direction. That way, you'll also be able to help them set up the area with exactly what they need to make those ideas come to life. The ultimate in light control allows your children to enjoy natural light without the glare. Check out PowerView motorization for your next room makeover!
Growing Through Ages & Stages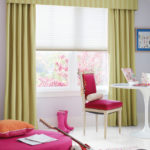 Furniture and window coverings are valuable aspects of your child's room, but they're also an investment, so choosing pieces that that will work as your child grows will be important. If you're considering a room makeover, changes to other aspects of the decor will be a fun way to energize Summer vacation. By adding paint to the walls, you can change the look and feel. So many of the lasting trends will work for very young children through their teenage years. Simple style, in combination with accents that fit their current age will create a look they love. Wall decals, artwork and personal knick knacks are all items that will add to the personalization of the space, but they can also be easily removed and replaced as your child's interests change. Your child's own artwork is a great way to decorate the walls, and by placing special pieces in frames, you can display their work in a way that will make them proud of what they can do. Want the benefits of light control, privacy and energy efficiency for your child's room? Custom window shades are meant to last and will add timeless style to the space. Take a look at what we can do!
Finding Personal Identity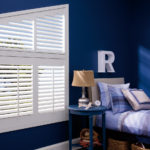 You want your child's space to be a reflection of who they are. Personal identity is a right of passage as children grow. Decide on a theme that your child loves, and spend some time exploring design ideas and projects. It's a great way to bond with your child, and the room makeover will be a hit! By allowing them to help decorate their space, you're giving them ownership and letting them practice decision making. From paint colors to wall art, they will be busy designing a space to call their own. Name art and monogram letters have become a popular decor choice in bedrooms for children, and the style adds to the feel of the room. Bedding and decor can bring a personal touch, and your child will love choosing items that will finish the look with the theme they have chosen. Love these shutters? We do, too! Browse through our selection.
Reading, Reading & More Reading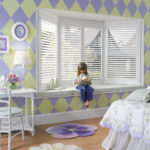 No matter what else your children do, reading is a great way to pass the time during the Summer months. It's a little known fact that children regress over the Summer, so the best way to combat possible regression is to encourage time with books every day. Adding a trip to the library into your Summer schedule will be valuable, as it fosters their excitement as they find adventure through reading. Part of a room makeover for your child can be the addition of a 'Reading Nook' in their bedroom, or somewhere else in your home. If you have the cozy cutout of a bay window, you have an instant book nook, but don't be discouraged if it's not part of the foundation. The ideal setup can be the corner of their room, accessorized with comfortable pillows or a chair, just the right spot for settling in for the afternoon. Just add books and maybe a snack; then watch as your child takes charge!
What Matters With Window Coverings?
Cordless Matters. Safety is the number one priority when it comes to designing and choosing features for your child's room. With window coverings, cordless and cord-safe options will keep your little ones safe and give you the peace of mind you need.
Light Control Matters. Natural light is an important aspect that adds to the mood and productivity (and energy efficiency!) of your home. On the other hand, you also want your child's room to provide them with a good night of sleep. Look to room-darkening shades to block out the distracting light for quality sleep, while daytime light will add to the overall energy of their space.
Consistency Matters. With the range of weather we see year round in the Denver area, consistency of energy efficiency and light control is very important. During your next room makeover, choose window coverings that provide options for light control and comfortable temperatures – regardless of what's happening outside.
Are your children complaining of Summer boredom? Help them solve it with a room makeover. From beginning to end, they will fill their time with choices and selections, all building to the excitement of the finished product. And then, you might not be able to get them out of there! Our team, at Rocky Mountain Shutters & Shades, can help you choose window coverings for the right light control, privacy and energy efficiency your home needs. Contact us today for a free, in-home consultation.