Harsh glare, inconsistent temperature, faded furniture and decor–does any of this sound familiar to you? If the window shades in your Denver home don't offer enough control, you've probably experienced these annoyingly common issues. You're ready for a simple, yet innovative, upgrade with one of the many styles top down bottom up shades! The unique functionality of these shades gives you the control to customize the coverage your shades provide, and solve your light and privacy control issues to add lifestyle value to your home! Read on to find out how this simple change can make a world of difference.
Keep Your Room Inviting All Day Long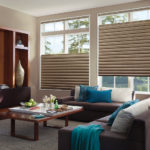 Natural light is a great asset, but when it's not properly managed and dispersed, it can make rooms unappealing during the brightest hours of the day. Unfettered direct light can cause the temperature in your home to fluctuate, and can even cause pockets of overheating in each room! At the same time, all this bright sunshine bouncing around the room causes harsh glare that pains your eyes and makes it all but impossible to comfortably use a device with a screen. It's enough to make some rooms unusable at certain times of the day. Top down bottom up shades handle both of these problems with style and ease! When you have the ability to control the top and bottom of your shades independently, it's easy to get just the right amount of desirable natural light without allowing it to overwhelm the space. Adjust yours to turn that blaring light into an inviting glow, and disperse light evenly to keep the temperature consistent and comfortable!
Solera® Soft Shades
Enjoy Privacy Without Sacrifice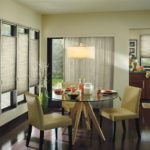 Whether you're getting ready in the morning or relaxing after a long day, privacy is important. But you don't always want to shut out the outside world completely! Can you have privacy and natural light? How about keeping prying eyes out, while still enjoying your view? With top down bottom up shades, you can have it all! Maintain privacy on the lower half of your windows while enjoying the view from the top half. You can wake up to refreshing sunshine and security knowing your top down bottom up shades let in the perfect amount of sunlight without exposing you to whoever might be passing by! When you can customize your window treatment coverage, you always get just what you want!
Applause® honeycomb shades
UV Protection and Directing Light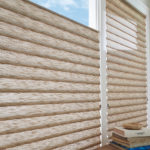 Your furniture and decor express who you are and reflect what's important to you. They create the atmosphere in your home, and whether you prefer modern, traditional, chic, or laid back, you always want your furnishings to look their best! Over time, harmful UV rays from exposure to direct light will fade fabrics, dull paint colors, and damage wood. If left unchecked, exposure to UV rays will have you repainting and replacing the items well before the end of their natural lifespan. UV rays can cause expensive, time consuming issues–once again, top down bottom up shades are a perfect solution! When you have window shades as versatile as this, directing light is no problem. When sunlight drenches your belongings with UV rays, use the top down functionality to disperse light, and guide it up and away from your valuables, keeping them looking their best longer!
Vignette® Modern Roman Shades
Once you've experienced the lifestyle upgrade that comes with well managed window shades, you'll wonder how you ever got along without them! The versatility of top down bottom up shades gives you the freedom to get the most from every room in your Denver home without worrying about uncomfortable glare, harmful UV rays, or privacy concerns. At Rocky Mountain Shades & Shutters, we love helping you get the most from your window shades. If you're ready to take control of your lifestyle, contact us to schedule a free, at-home consultation. We'll answer all of your questions and get you on track to loving your top down bottom up shades in no time!