Top: Silhouette® window shadings
The fresh air of springtime is invigorating. Beautiful sunshine and a warm breeze make you want to open up those windows and patio doors. But springtime can also remind you that you need solutions–anything ends up being a bother if you get too much. Your doors and large windows take up a significant amount of space, allowing your home to receive tremendous light. This can lead to an assortment of problems, such as intense light, uncomfortable temperatures, harmful UV rays and lack of privacy. French door shades, and other window covering solutions for your patio and sliding glass doors, can offer the inside of your home a glowing, comfortable atmosphere, while also providing convenient access to the outdoors. Find out how french door shades will allow you to fully enjoy the refreshment of springtime.
Beautify Your View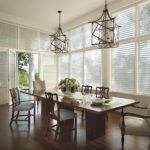 There's no place more breathtaking than our own Denver area. When selecting french door shades, you'll want to keep in mind your beautiful view. Many of the window coverings for doors offer view-through, which allow you to maintain the view of your landscape while still providing amazing benefits of light control, energy efficiency, UV protection and privacy. How does that work? Sheer shadings function with reflective sheer fabrics that bring in natural light without the glare, protecting the atmosphere and belongings within your home. The fabric vanes adjust so you enjoy the view with levels of light control. Another feature, top-down bottom-up allows you to lower the top of your shades for mountain views while still enjoying tremendous benefits.
Silhouette® window shadings
Choose Function to Meet Your Lifestyle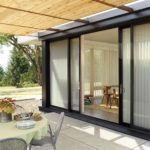 With an assortment of doors–such as patio, french and sliding glass–your home has unique features. You have to choose operating features that will best suit your home and lifestyle. From french door shades that easily adjust up and down, custom adjustment of top-down bottom-up or panels that glide from side-to-side, keep in mind that many window shades are available with a selection of operating features. PowerView motorization gives you the ultimate control of your window shades with the touch-of-a-button. Set and save your favorite scenes from the comfort of your home, or from anywhere in the world with the PowerView App.
Luminette® Privacy Sheers
Coordinate Your Home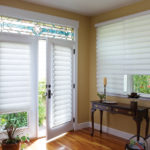 You don't need to worry about a design dilemma when it comes to french door shades. You can coordinate fabrics with windows and doors across the same shared space so the whole room comes together with a polished look. The best part? Our design consultants come to you with fabric swatches, inspiration and advice to add beauty and design to the function of your window coverings. Incredible style will complement your home's unique decor, while each individual window and door will receive much-needed benefits.
Vignette® Modern Roman Shades
It's time for you to enjoy all the benefits french door shades can offer your home–comfortable and inviting light inside your home, while experiencing easy access to your outdoor space. Beautiful views, effortless function and incredible style all come together for the ideal addition to your home's windows. Our design experts will visit your home for a FREE, fun and relaxing shop-at-home consultation, where you can expect solid advice about improving your home. Contact our team, at Rocky Mountain Shutters & Shades, to get started today!