Has the dawn of a new year made you want a fresh start? The beginning of a new year often inspires a desire for change within us. Why not satisfy your craving, kickoff the year in style, and refresh your home with metallic decor. Its mix of modern appeal and trend, along with its design versatility, will add dramatic and contemporary style to your spaces. Whether you love decorating with shining or matte finishes, large pieces or small accents, metallic decor is sure to work for you. Check out how designers used metallic decor in these three rooms, and get inspired to bring a new and unique look into your home this new year.
Industrial Styling, Modern Allure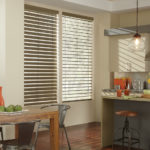 Far from feeling like you're in a restaurant's prep space, this kitchen uses metallic decor to boast an industrial look that combines the comfort of home with raw, utilitarian sophistication. Mixed metal seating works like a dream in this space. The dark metal of the stool bases is a nice contrast against the lighter neutral color pallette, and the cushions pair beautifully with the color of the wooden table. The metal chairs complement the gray accenting under the counter and along the back wall. A brass light fixture and aluminum blinds add to the style and work together to bring gorgeous lighting into the room. Shiny canisters and citrus-colored accents carry warmth and cheer into the space–making it feel like home. While industrial styling can be fabulous in any room, the kitchen is a natural space for it because stainless steel appliances fit perfectly into the design. Feeling inspired? Try out metallic decor with industrial styling in your own kitchen (or another room, if you're feeling brave) for a fresh look this year.
Metallic Accenting, Polished Elegance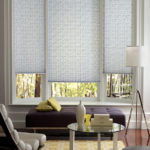 A touch of shine brings big style and incredible elegance to this contemporary living room. Gleaming, shiny finishes amp up the room's beauty and allure, and the way that the natural daylighting reflects off the polished bases of the lamp, sofa bench, and chair puts the finishing touch on this simply styled space. Tying the whole look together, though, are the pleated shades by Hunter Douglas. Available in metallic fabrics and designs, they are a stunning and stand out feature in the room. Plus, they add unmatched lifestyle function through light and privacy control along with energy efficiency. Are you imagining your home with glimmering metallic decor accents? Try adding a few to your favorite space and transform it into something even more gorgeous and captivating this year.
Exclusive Products, Distinctive Beauty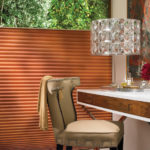 There's no denying the impeccable beauty of this bedroom. Each design element is perfectly placed and perfectly beautiful. This exquisite look is fashioned from exclusive products that make the space one-of-a-kind. Custom nailhead trimming on the chair adds visual appeal and draws out the other metallic accents–like the drawer handles, lamp base, and beauty accessories. The large artwork and its frame give off glints of shine and easily complement the window covering. Standing out as a showpiece in the room, the Alustra Duette Architella shade is crafted from premium fabric and has an exclusive metallic hardware finish. Its top-down, bottom-up operation and superior energy-efficient design make it all the more appealing. Do you want your home to stand out like this one? We thought so!
At Rocky Mountain Shutters and Shades, we want to help you refresh your Denver home for the new year with metallic decor. If you're out and about, you can stop into one of our showrooms. Better yet, let us come to you! We'll bring samples, ideas, and advice right to your front door. Whether you're inspired by the industrial look, metallic accenting, or upscale design of exclusive products, we can help you get the look you want. Contact our team today for a free, in-home consultation.