A Window Treatment to suit your needs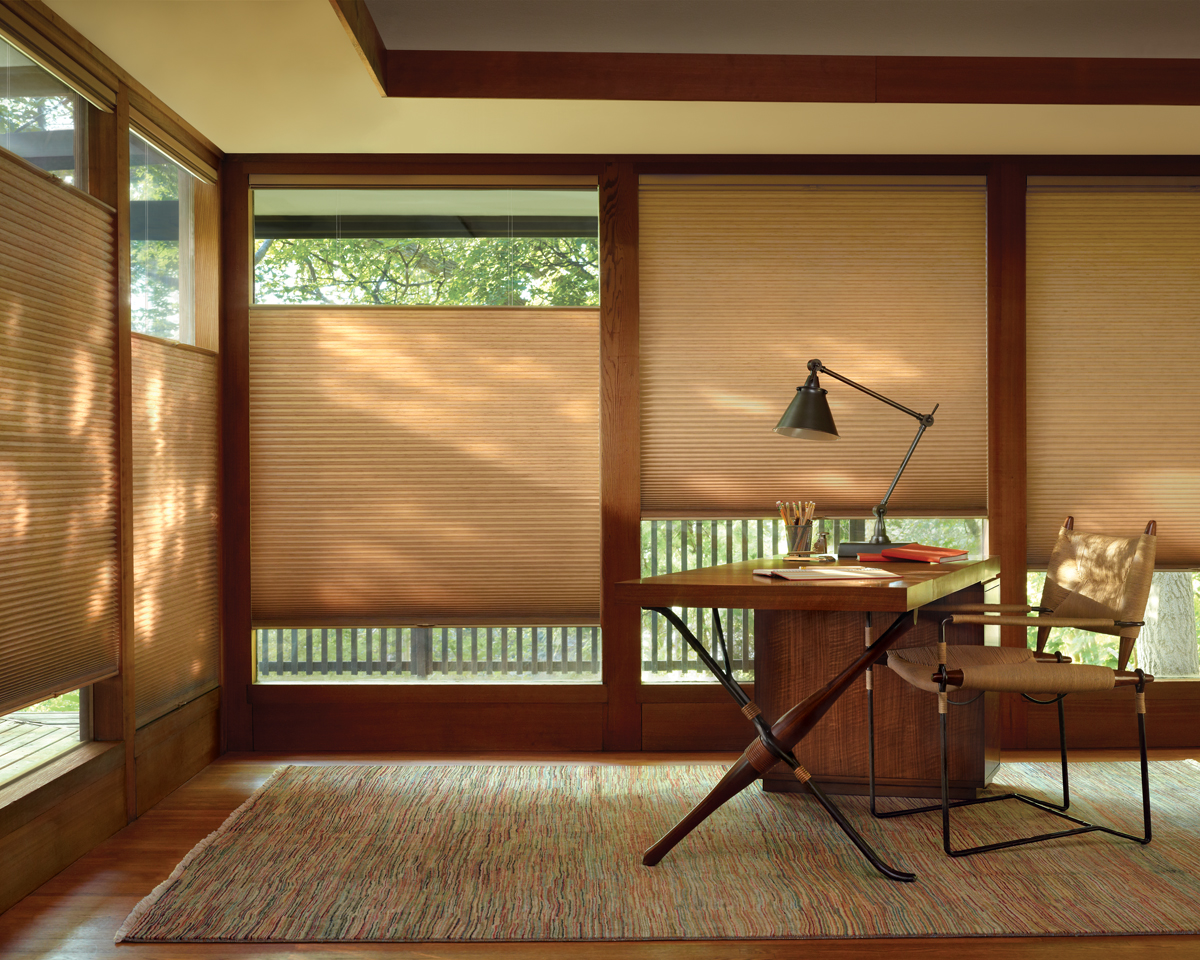 Each room in your home has a different use and function, sometimes changing depending on your needs. You need window treatments that will meet those needs to improve your lifestyle. The style of window treatment you choose will be different depending on the room and its function, as well as the location of those windows. You want window coverings that bring style, along with amazing benefits that fit your home and lifestyle, and you deserve it. The team at Rocky Mountain Shutters & Shades is excited to show you options for your home to suit the individual needs of your rooms, using their expertise of the Denver area to guide you to the best experience.
Complementary Design
Each room has its own personality, its own decor, its own energy. Window treatments that are perfect for one room may not be the right option for another. Style your windows to highlight the beauty of each room with the window coverings that complement the decor, while the function of the windows improves. Different windows and functions needed for a shared space? You're all set with the Counterparts Program from Hunter Douglas that provides coordinating fabrics across collections of window coverings for this exact reason. Select the fabric that heightens the styling, and then decide the type of window treatment that will work best for the individual windows.
Single Functioning Shades
Straightforward and uncomplicated, the stylish design of single functioning shades, means that you can improve your lifestyle with the beauty that comes with amazing benefits of a simplistic arrangement. Light control and privacy, with levels of energy efficiency and UV protection happen in just an instant when you open, close and adjust your single functioning shades. Increase the daylighting in your home with operating features like top/down, bottom/up for just the right amount of light.
Designer's tip
"Think of single functioning shades like a light switch that you easily turn on and off at your convenience"
Features for Convenience
The ease of operation make single functioning shades perfect for your child's room, or guest bedrooms. The simplistic operation offers safety for children and pets, while quickly able to receive daylight when you want it, or block it out when you don't. These window coverings can offer quick privacy for bathroom windows, with the option to let in full sun when you need more light. Depending on the direction of the sun during different times of day, single functioning shades can be a wonderful option for kitchen windows so you can decide whether you want light entering or not. From the timeless qualities of roman shades to the energy efficient beauty of honeycombs, single functioning shades will provide your home with amazing styling while offering the sought-after benefits of light control, privacy, energy efficiency and UV protection.
Dual Functioning Shades
Innovation of design is offered in window coverings that showcase rooms deserving of incredible atmosphere and multi-use function.  Dual functioning shades offer amazing benefits for light control, privacy, energy efficiency and UV protection, but with an array of options to meet every need. Featuring multiple layers and functions, these window coverings customize to different times of the day and the various circumstances of the room. Both Pirouette window shadings and Silhouette window shadings are considered dual functioning shades. With amazing qualities of versatility and beauty, these window treatments will set the scene that perfectly complements your most popular rooms, such as great rooms, family rooms, living rooms and media rooms. Ideal for large windows, these shadings display ultimate light control at your finger tips.
Designer's tip
"Think of dual functioning shades like a dimmer switch, offering an amazing range of lighting options"
The Perfect View
Very often chosen for windows that showcase the backdrop of a beautiful view, dual functioning shades turn the harsh glare of the sun into ambient light, all while still allowing you to see the view of the landscape. Enjoy the natural light and your picturesque view, at varying levels, depending on your needs, with just a simple adjustment.
Innovative Design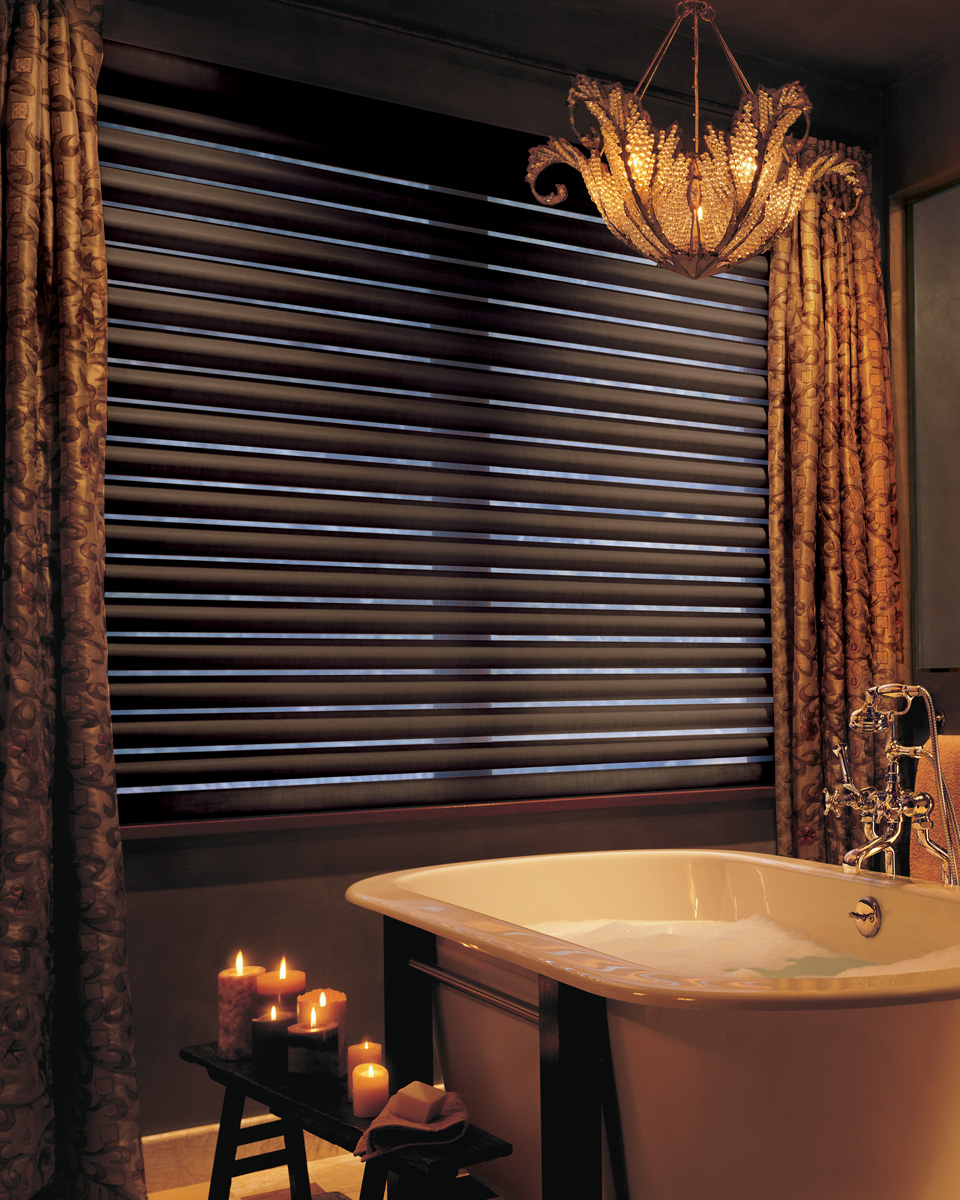 Charmingly referred to as 'Soft Shutters', this kind of window treatment features fabric vanes that have the versatility to highlight your beautiful view, or adjust to your preference. The complementary styling of the fabric slats displays a flowing, roman shade-like appearance when closed, or the beauty of sheer as they open and adjust so you can enjoy that Denver sunshine. Create the perfect mood for any time of the day and into the evening, as you open, close, adjust and tilt these window coverings.
A Beautiful Choice for Any Room
Silhouette window shadings and Pirouette window shadings offer levels of room-darkening so you can enjoy  a movie without glare, or  relax in the cool, quiet of an evening all to yourself. The newest feature added to Silhouette window shadings is called A Deux, a blackout option, which adds a roller shade to the same headrail for blocking out the light completely. Room-darkening, along with the other amazing benefits of these dual functioning shades, means that they would be a wonderful addition to any room, including your master bedroom suite.
The perfect window treatments to suit the style, features and unique functions of all the rooms in your home – this is the tradition of Hunter Douglas. From the classic styling and benefits of single functioning shades, to the innovative features of design with dual functioning shades, the team at Rocky Mountain Shutters & Shades would love to help you choose the just the right window coverings for your Denver home. Contact us for a free, in-home consultation.