Pets add a whole new level of love to a home. With that, they also add another layer of things to take into consideration when styling and making your home comfortable. Our pet friendly window coverings are a great place to start! We have answered the most popular questions we receive, ranging from cleanliness to which shades are easiest for anxious pets.
What Are the Easiest to Clean Options?
When it comes to the different messes pets can drag in, it can become a frustration if you're constantly having to worry about stains or scrubbing with endless elbow grease. Shutters offer a tremendous amount of function, including light control and privacy, while still being easy to wipe down.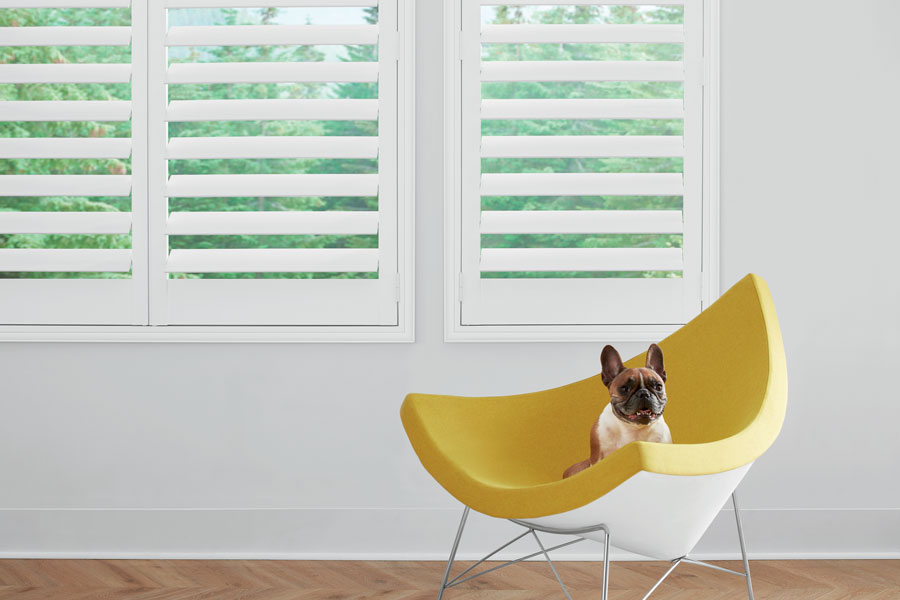 Because of the durability of shutters, no matter how many times you wipe them down, they will continue to look good as new! These are an exceptional addition to any home, but especially in areas that your pets frequent often… such as the back door or the space surrounding their food bowls.
Paws On the Window Sills–What Do You Recommend?
This is very common in pets, whether they're watching birds fly about the yard, passersby on the sidewalk, or you coming home after a day of work, their excitement often brings them to the window sill. Good news is, we have solutions for pet friendly window coverings!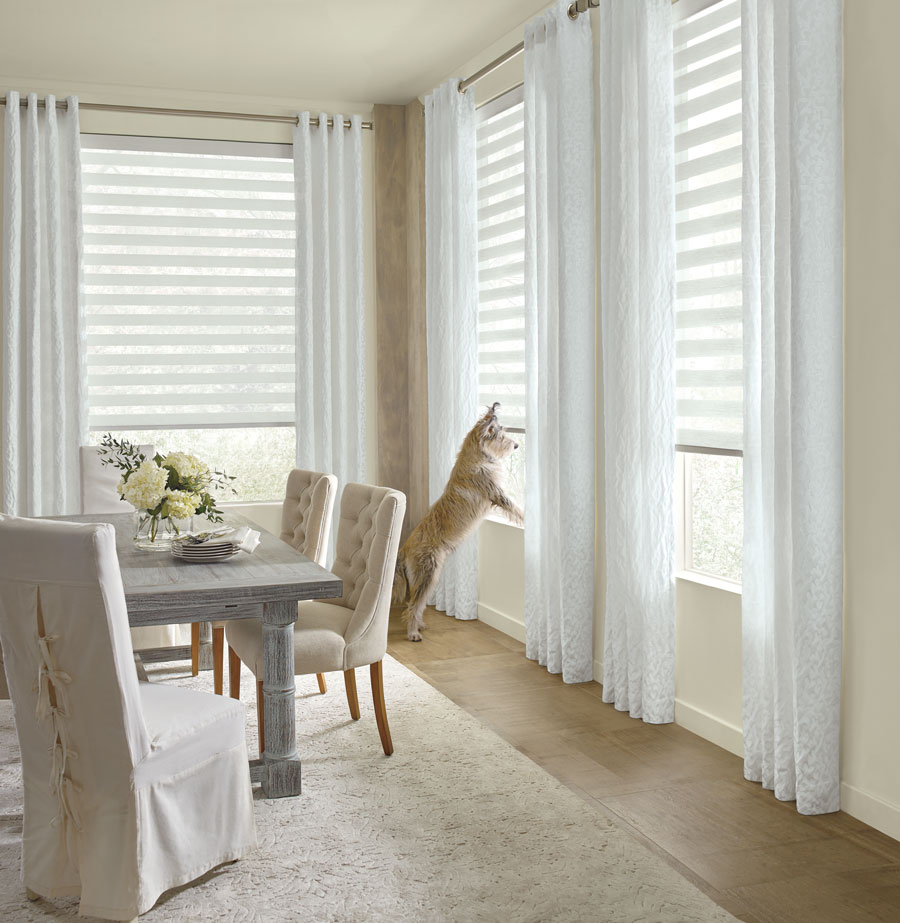 It's important to get shades that are easily adjustable. This allows you to drop them down partially when you still need the light and glare control for the people in your home, but want to leave the bottom portion open for your pet to see out. This also ensures that your pet won't be pawing at, and possibly tearing the bottom of your shades.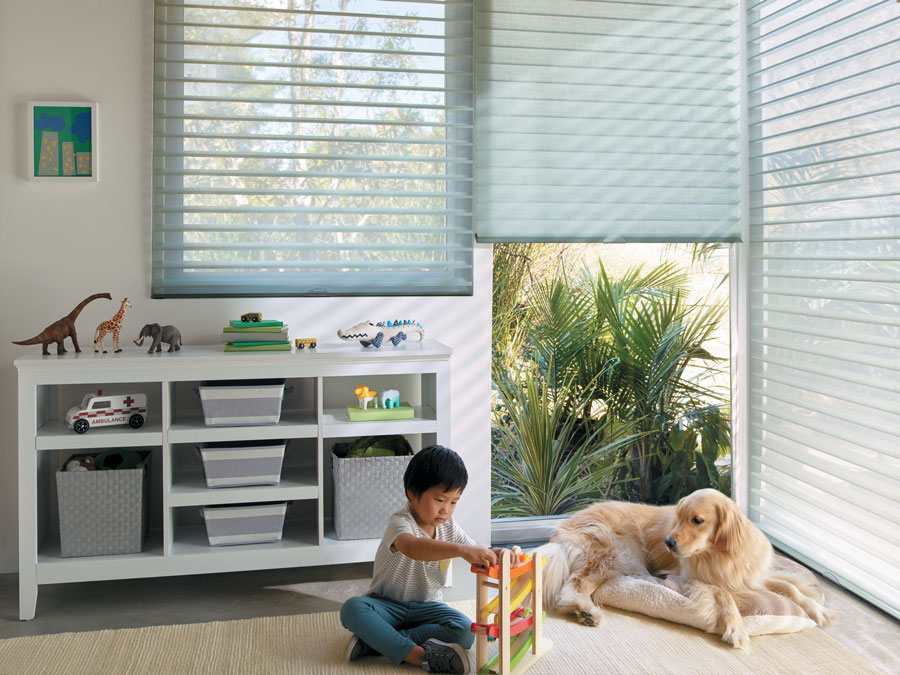 Another consideration is going cordless. These are the safest option for homes with pets and kids. Not having a dangling cord means they won't be tempted to play with them. Or, by having paws on the window sill, they won't get unintentionally tangled up.
The Pup Always Lays in the Sun, But Now the Whole House is Hot…
There's something about the heat of the sun indoors that pets just gravitate toward, especially for their naps. It's hard to disrupt them, but with the summer sun glaring in, the whole family starts to feel toasty and uncomfortable. Energy efficient shades bring comfort and peace for everyone.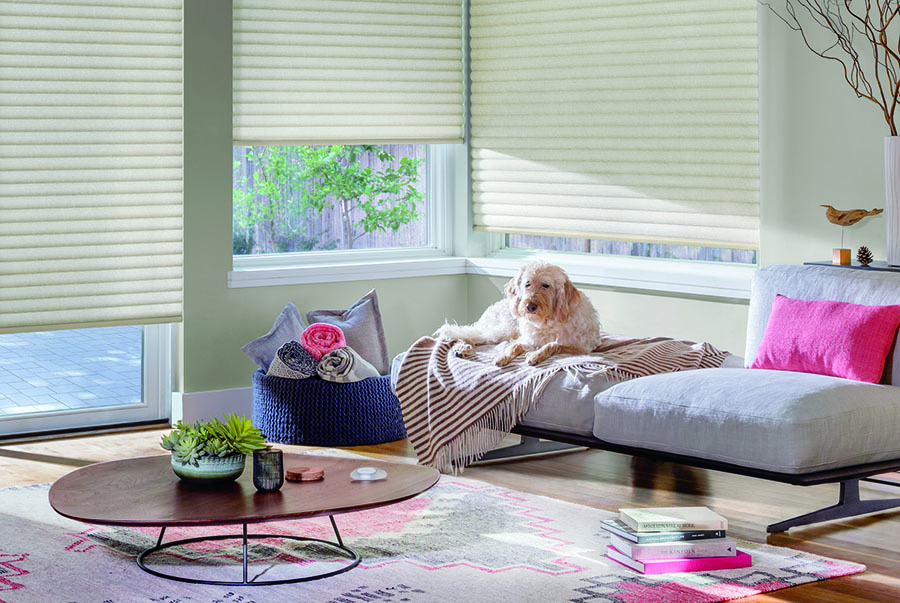 These shades make it easy to keep your pet's favorite spot open while still shading the rest of the space! Your family members, and your wallet, will be grateful for the insulation energy efficient shades can provide all year round.
Good Coverings for Anxious Pets?
Most pets like to look outside throughout the day and know what's going on in the world around them. They also tend to appreciate the view! However, if you have an anxious pet, sometimes too much of a good thing can be hard on both them, and you.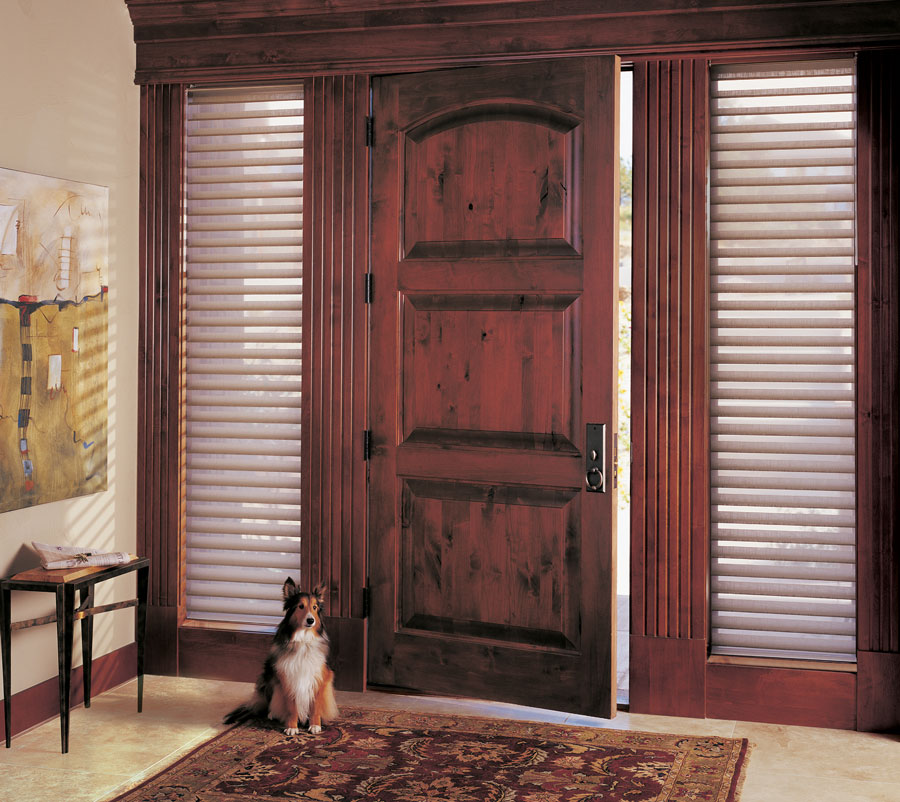 Automated shades allow you to easily set a schedule that works around yours! Maybe they get extra anxious when you're out for the day? Programming the shades to close when you leave can help them to feel cozy and safe. Then, when they're at their most active, you can have the shades open, fully embracing your pet's energy burst. Automated shades help to keep pet's anxiety at bay, as well as provide you with extra convenience, light control, privacy, and more!
We Can Help With Pet Friendly Window Coverings
No matter what kind of pet you have, what size or what energy level they have, we have many pet friendly window coverings to help transform your space. Not only will your pet reap the benefits, but so will the entire family. Contact us today for your FREE consultation for your Denver area home.