Doors play a huge role in the function and style of your home. In the Denver area, doors with windows enhance the beauty of your space by revealing mountain views and amazing landscape. They also provide convenient access to the outdoors. This requires window coverings that operate with ease and can stand up to family traffic. Sometimes custom door coverings, with professional installation, is the best solution. 
Verticals: Still Beautiful
Over the years, clients have selected traditional verticals to cover patio and sliding glass doors. They remain a popular choice today. And, with the contemporary twist of our Skyline® Collection, even more beautiful.  A client can choose from a variety of custom colors and patterns to personalize their space. The new look of large sliding panels are an elegant upgrade for your glass doors.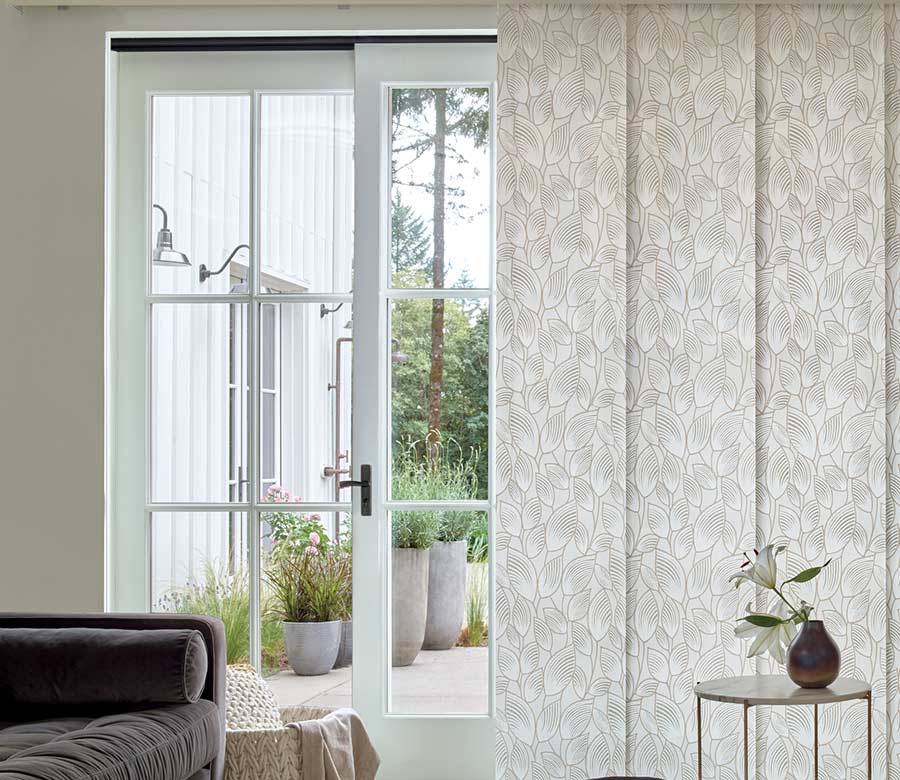 Another popular choice in custom door coverings is our Luminette® Privacy Sheers Collection. This sophisticated look combines verticals and draperies for a truly beautiful result. These sheers offer drapery-like folds, designed with vanes that rotate. These rotating vanes provide a range of light control, including view-through and room darkening options. Simply gorgeous.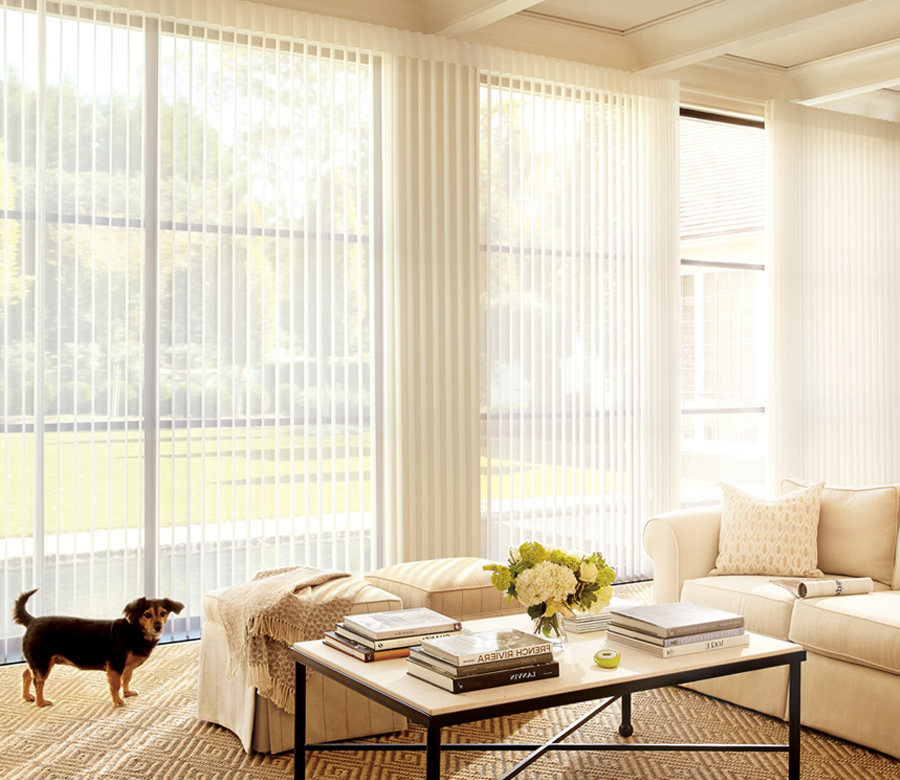 Shutter Envy
A proven winner in custom window coverage is plantation shutters. This classic look offers light control, ease of operation and privacy solutions. Our shutters can stand up to daily use. With additional options, like split tilt or handle cut-outs, you get even more control and coverage.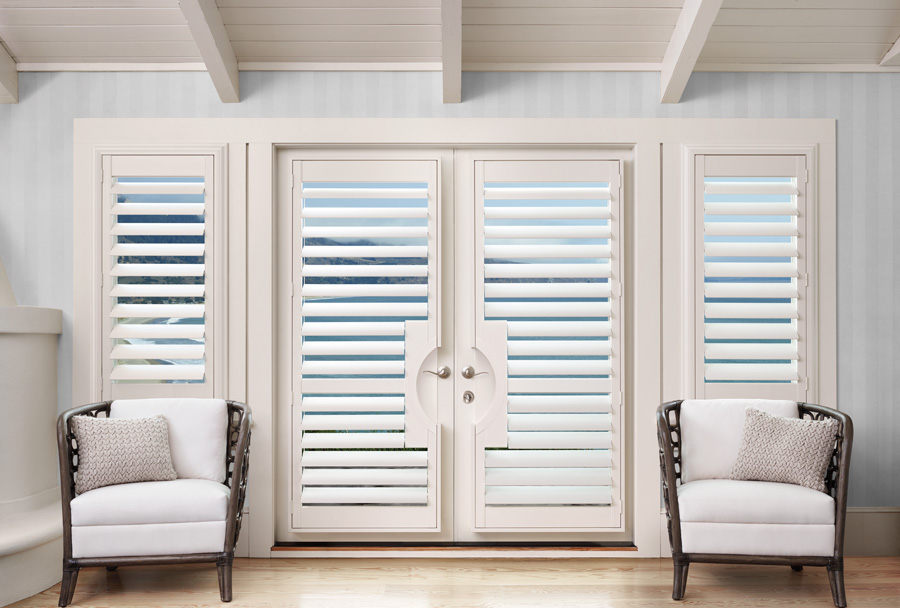 Not your Grandmother's Drapes
An endless selection of on-trend patterns and colors, our Design Studio® Drapery Panels will add personal style. By adding fabric window treatments, you'll continue a design theme throughout your home to create a cohesive look.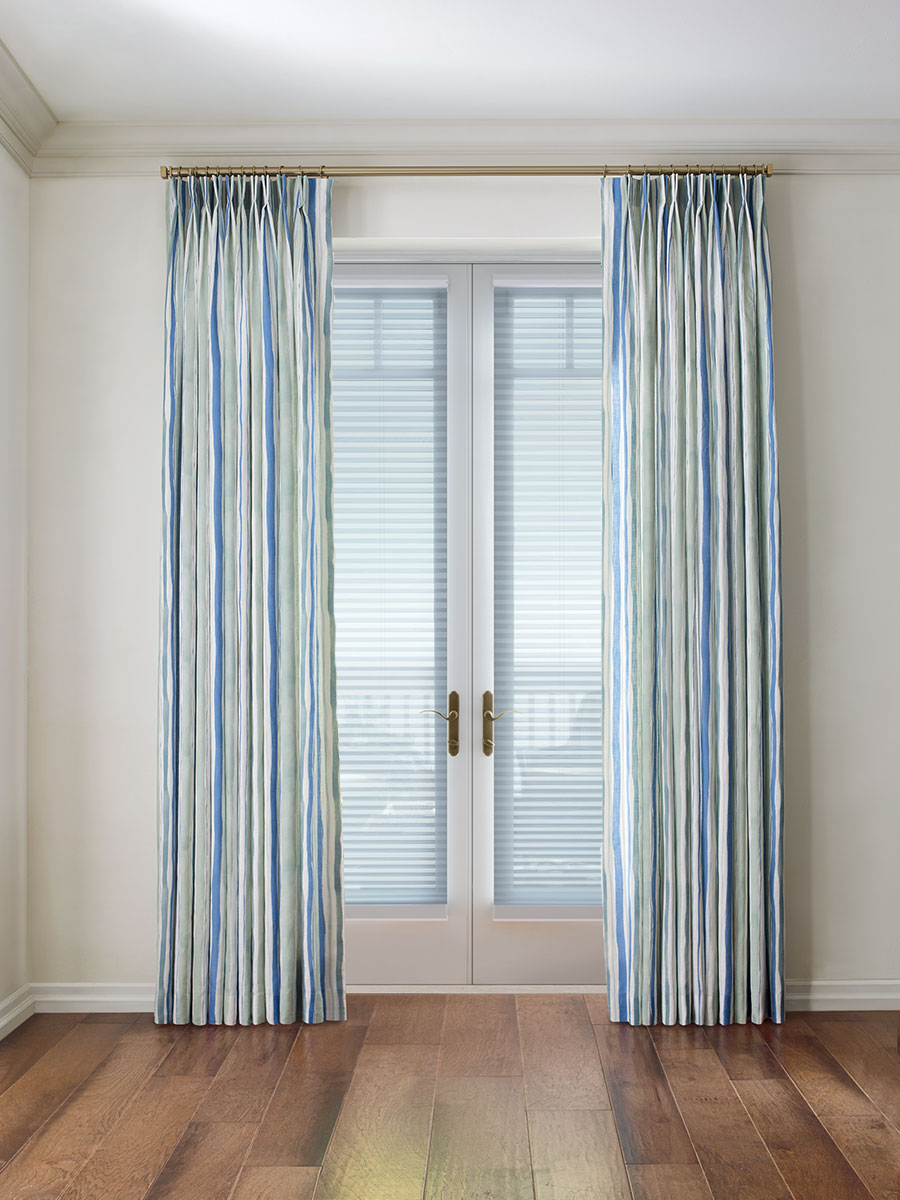 Along with their beauty, drapes provide function. Fabric panels can simply frame a window for an added style benefit or help cover an area. When layered with shades, full draperies can help with privacy, control light and improve energy efficiency. Design custom door coverage for your home as you need it, the possibilities are endless.
Specialty Shades: Glass Doors
If there's ever been a reason for custom door coverings, it's glass paneled doors. As much as we love the wide open look, sometimes coverage is necessary. Thankfully, there's a revolutionary new shade system that helps in those tricky situations.  TheTrackGlide™ system is ideal for doors with glass, as installation requires no drilling.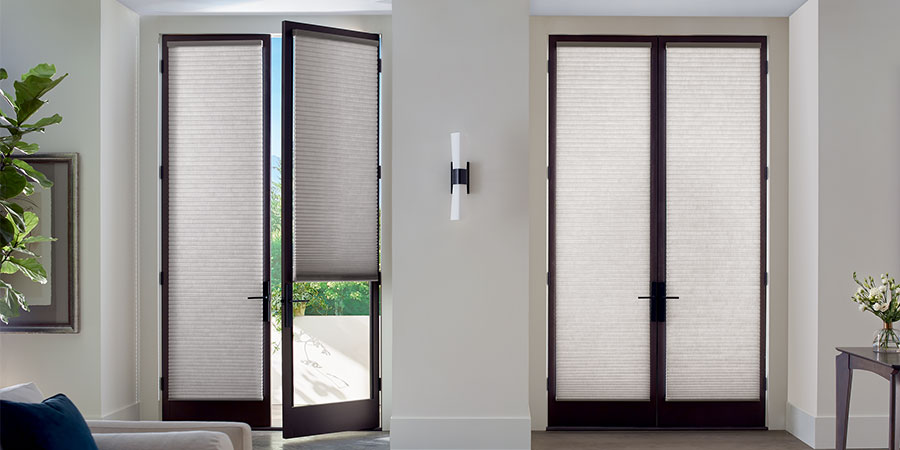 The track adheres to the edge of the window frame. This allows the shade to move along the track, staying out of the way.  TrackGlide™ is the answer you've been looking for when it comes to patio and sliding glass doors. 
It's Time for Custom Door Coverings!
You can open the door in style with custom door coverings. Get the function you've needed and the custom look you want with our newest window covering products. Our experts can help walk you through the process of improving your space by adding custom window and door coverings. Simply contact us for a free consultation. Remember, custom door treatments call for custom installation. Leave it to us at Rocky Mountain Shutters & Shades.