Autumn has arrived in Denver, and the splendor of the season is just beginning. Harvest the natural beauty, warmth, and charm of fall, and bring it right into your own home with rustic decor. More than just the latest design trend, contemporary rustic decor combines ruggedness with refinement to usher the natural world into a modern space. Shabby chic meets striking sophistication with this style. And, it practically demands the use of custom shutters as window treatments. Adding raw character and emanating elegance, shutters readily become a focal point–all while complementing the other design pieces in a rustic room. Take a look at how custom shutters can enhance the look and feel of your rustic decor and, ultimately, your home this fall.

Natural Beauty
From the vibrancy of changing leaves to the crispness of the air, autumn is full of nature's beauty. That beauty doesn't have to stay outside. Bring it in with rustic decor. Choose pieces with warm colors. Incorporate organic textures like stone and wood, and accessorize with hints of nature. For your windows, pure seasoned hardwood shutters are an obvious choice.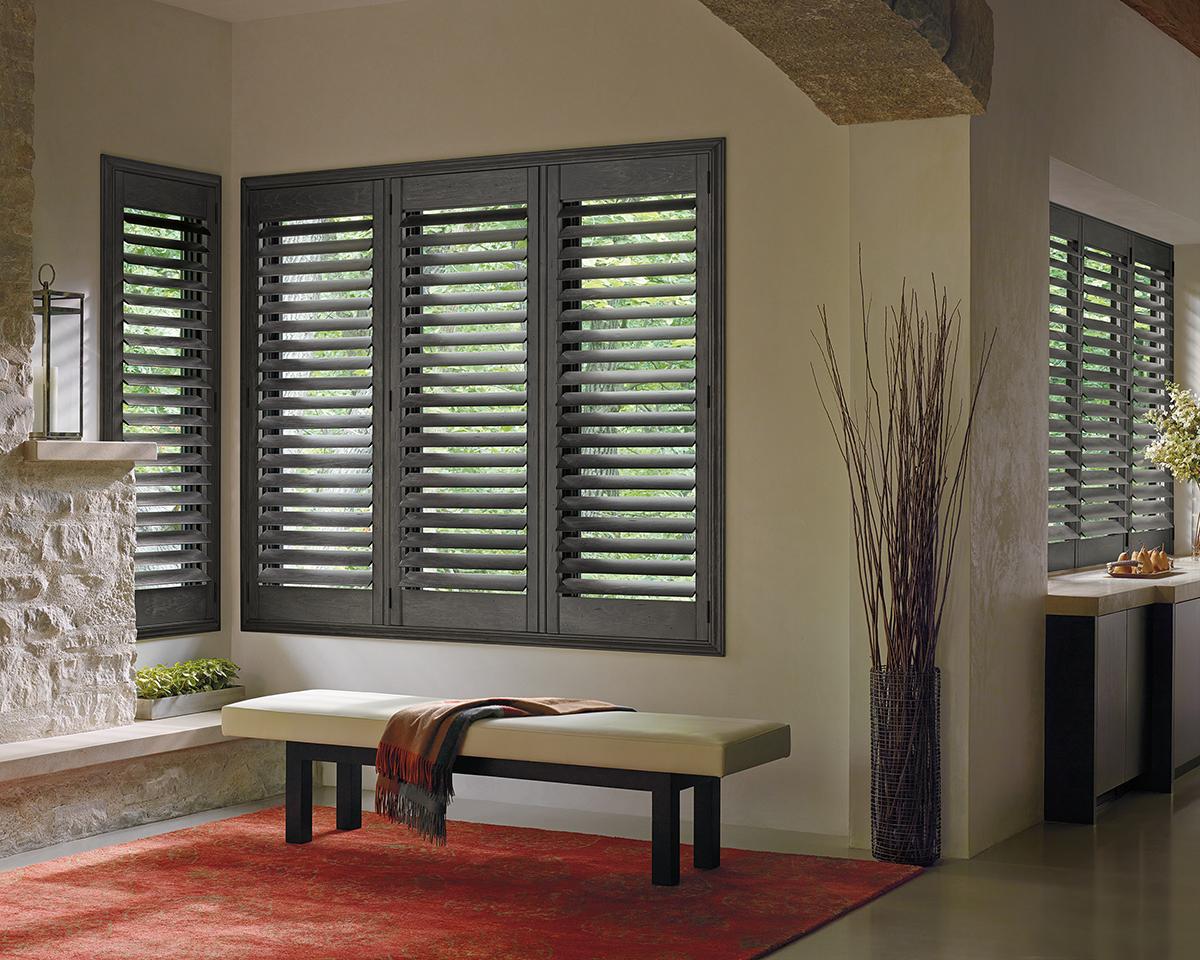 With a large selection of stains, paint finishes, and artisanal techniques that heighten the inherent quality of the wood, you can customize shutters to fit your existing design elements and to achieve the exact look you want in your home. With TruView rear tilt operation, your shutters could not look any more natural. The operating system is integrated into the back of the shutter so that it is scarcely visible from the front. Sleek, contemporary rustic decor and beauty inspired by nature will come together in your home with genuine hardwood shutters.
Warmth
A crackling fire, a steaming mug of hot cider–many fall pleasures are filled with warmth. Rustic decor lets you treasure warmth inside your home. Wood tones, distressed finishes, and glowing autumn sunlight create a warm and inviting space. Shutters are an essential part of establishing this feeling. Allowing you to direct warm rays of sun into your rooms without the problem of harsh glare, they provide the ideal atmosphere for getting cozy.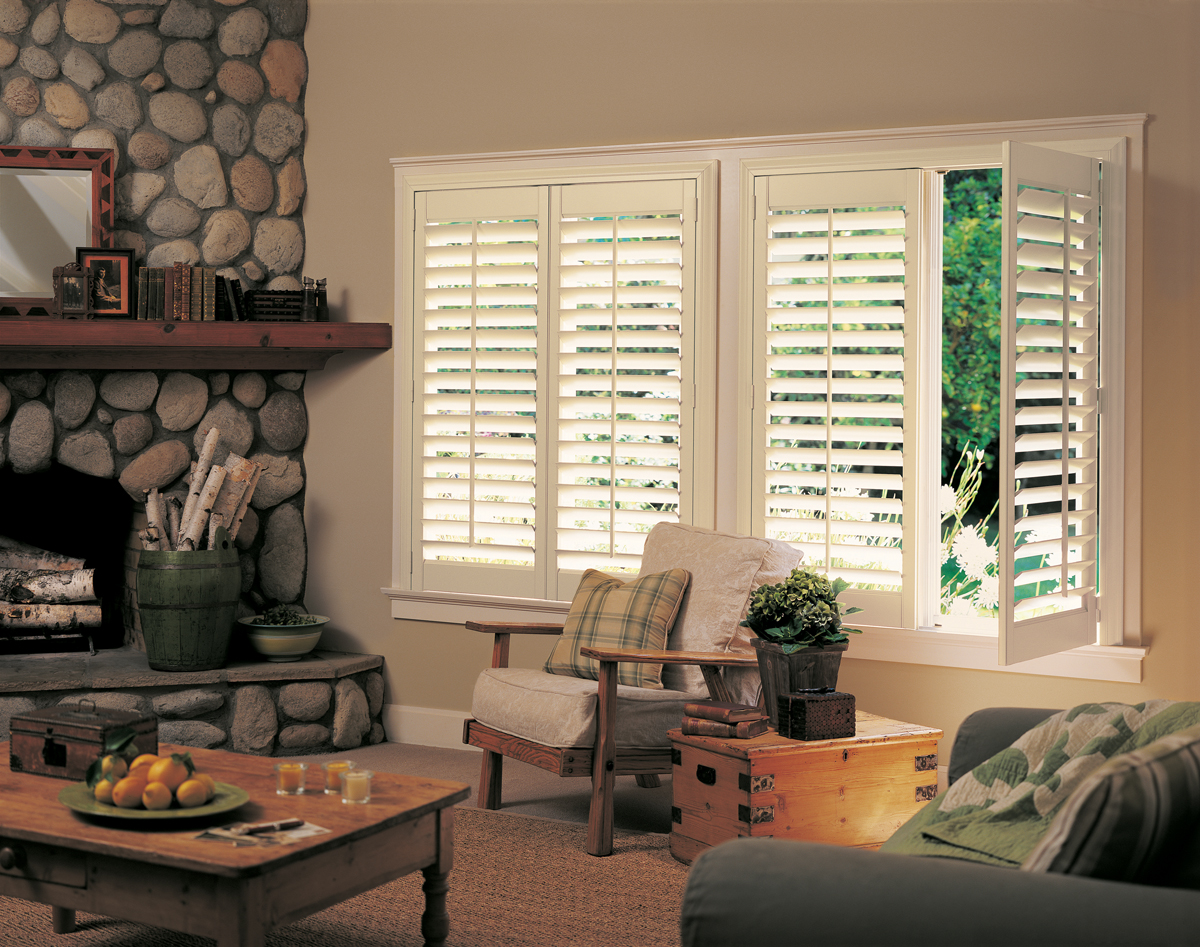 Their rich styling adds its own sense of warmth as well. If you cherish the look of real wood, but want exceptional durability and resilience, then our NewStyle hybrid shutters are just for you. Crafted from man-made materials to mimic the appearance of genuine wood, they'll be a stunning feature in your take on modern rustic decor. 
Charm
The charms of autumn are many: cooler weather, glowing sunlight, and breathtaking landscapes name only a few. Welcome fall's charms into your home with rustic decor. Accent with fruits and vegetables of the season and choose pieces which highlight the colors outside your windows. Above all, let in autumn's gorgeous breezes, light, and views. Shutters allow you to open your windows and adjust the louvers for maximum ventilation, so you can enjoy fresh, fall air without compromising your privacy.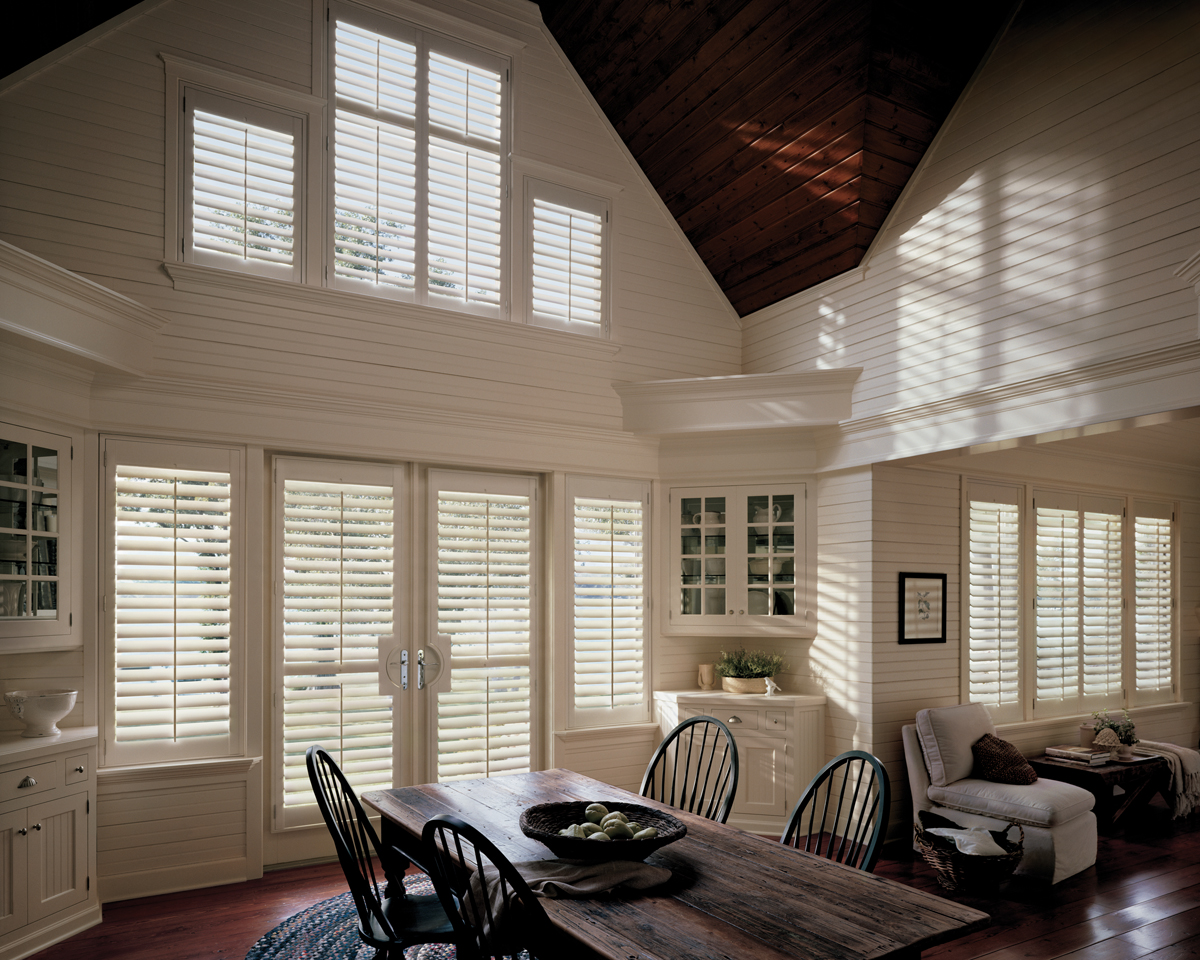 Plus, you'll be able to enjoy the sounds of nature without banging, clanking, or rattling when the breeze picks up. They also give you great light control. Position the louvers to guide those magnificent beams into your interior spaces, and you'll have perfect, soft daylighting with no unyielding glare. Shutters also let you take in the view when you want. When open, they seem to disappear and autumn's panoramas become a stunning backdrop in your rooms. Finally, shutters bring their own unique charm to your rustic decor and to your home.
Loving the Look of Rustic Decor?
Autumn is here in Denver! Now's the ideal time to invite all of fall's glory into your home and set the perfect atmosphere for the season with rustic decor. Combine the ruggedness of natural elements with the softness of detailing to create the sought-after beauty, warmth, and charm of rustic style. Complete the look with custom shutters, and let us help you! At Rocky Mountain Shutters & Shades, we have a wealth of options for shutters, and our design experts are waiting to share them with you and help you select the perfect ones for your unique home. Stop in or contact our team for a free, in-home consultation today.