The three season room, sunroom, favorite room in the house…whatever you call it, this special space provides a bright sunny day even when it's gloomy outside. Constructed of all windows and providing an enormous amount of natural light, sunroom windows can heat up quickly and require custom solutions. Strike the right balance between fashion and comfort with one of our popular coverage options below. Let's get started.
Why Not Fabric Roman Shades?
To battle direct rays and overwhelming heat, our roman shades are the perfect choice for sunroom windows. Incredible fabrics with playful patterns will enhance the look of your three season porch. Customizing the placement of the shades to expose some windows and cover others is the perfect approach. Strike the perfect balance with Fabric Roman Shades.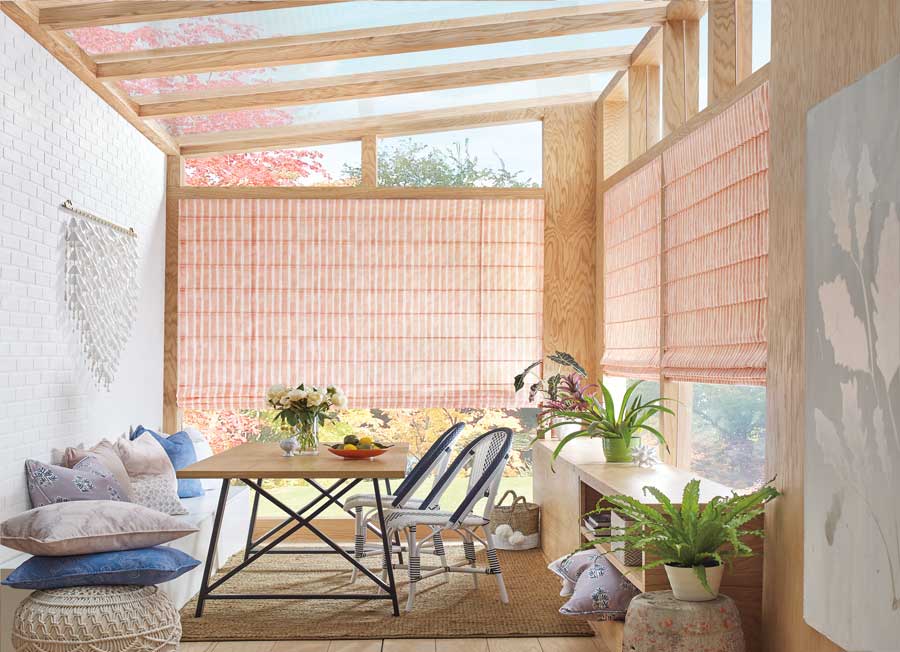 Consider Duette Honeycomb Shades
There's no way around it, rooms made of glass need coverage at certain times of the year. Window treatments provide privacy, protection from UV rays and a controlled atmosphere when the Denver temps go extreme. By covering sunroom windows with honeycomb shades, you can get the protection you need without permanently losing your mountain views. The cellular structure of honeycomb shades will serve you well throughout each of the Colorado seasons.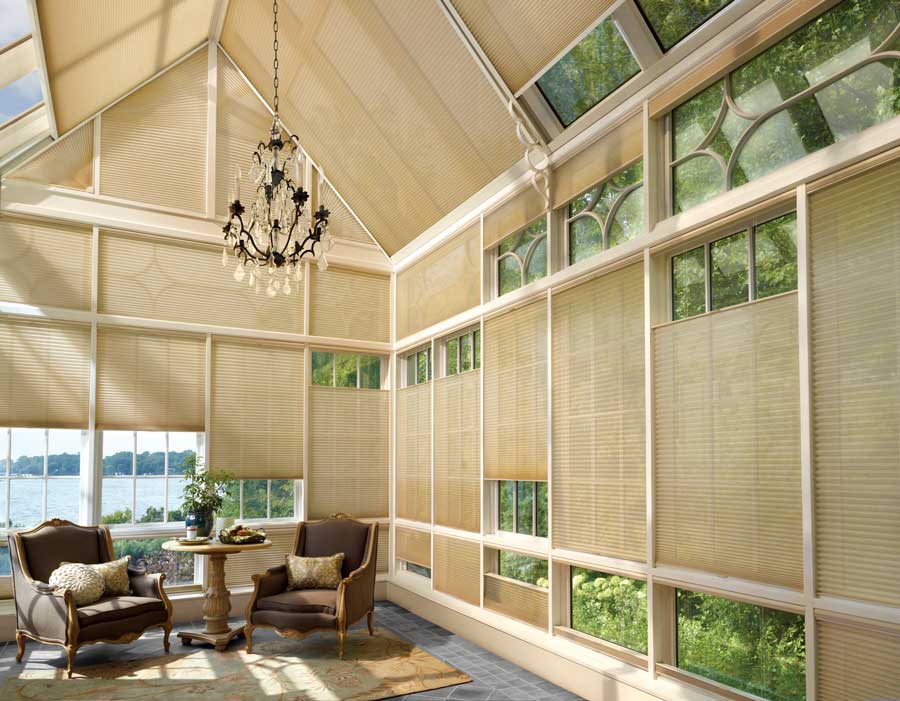 Why not Silhouette Shades?
When you have an incredible view, it's a shame to cover it! In Denver, sheer shades with their view-through capabilities are your best bet. Filter the light, reduce the glare and enjoy an open view from your sunroom windows any time of day. They look great from the outside too!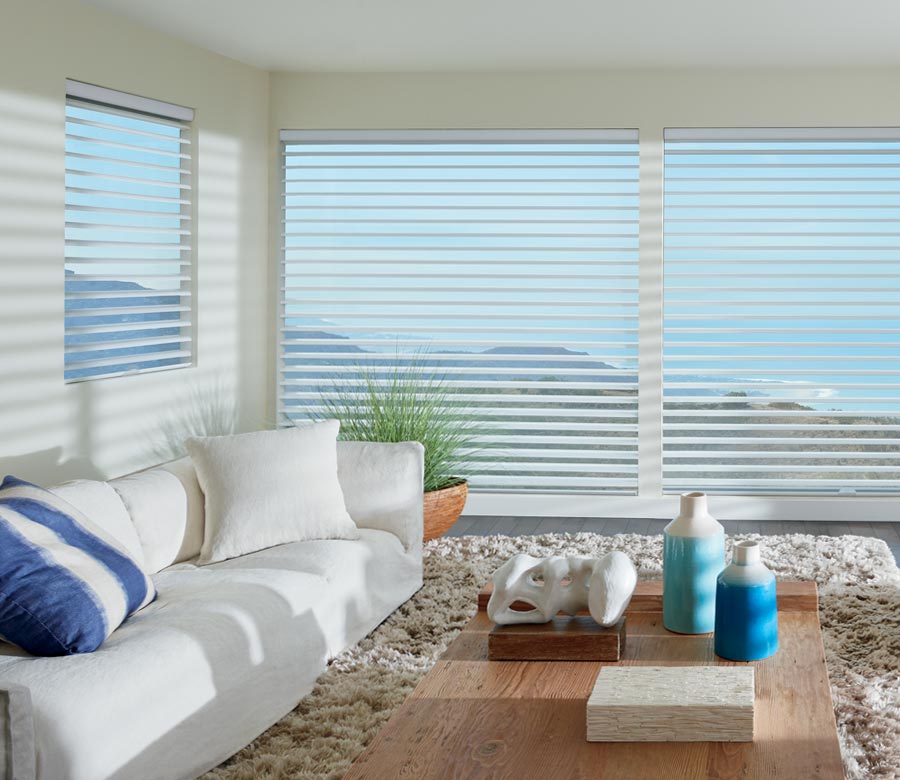 By adjusting the vanes to open during the day, the sheers reflect the light and give you "day-time privacy". At night, when you have the lights on, close the vanes for complete privacy.
How about Cellular Rollers?
The window industry is always improving their products to make life more comfortable for their clients. To battle the extreme sunshine that sunroom windows experience, clients are choosing cellular rollers with their updated technology. The Sonnette Collection provides the convenience of a roller with the energy efficiency of honeycomb shades! No need for blackout shades any longer.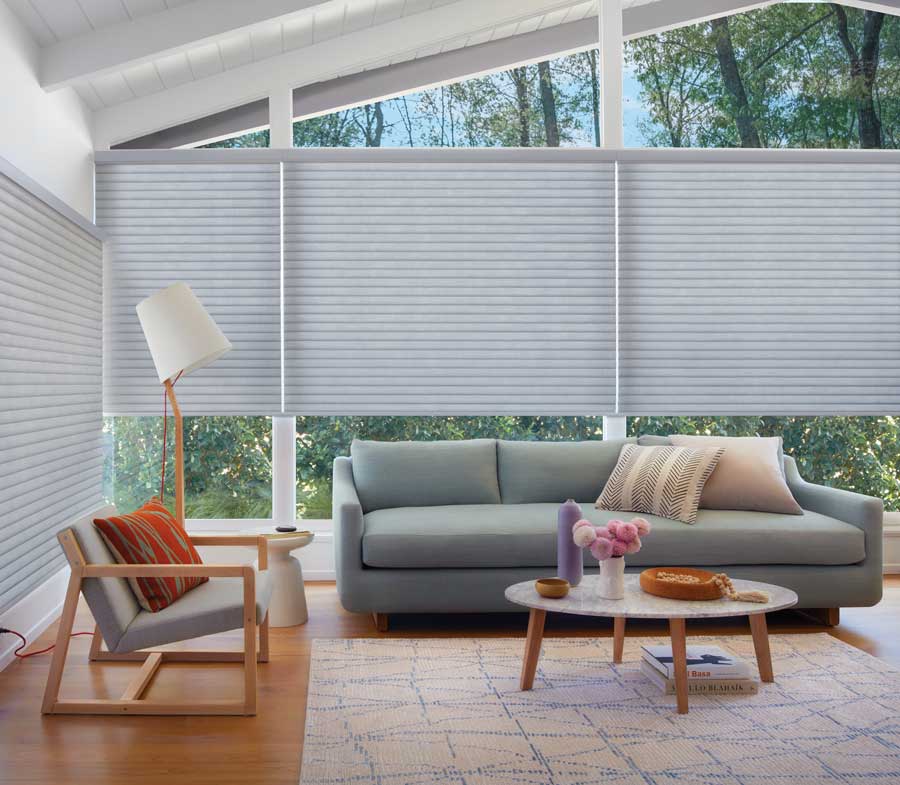 We Love Shutters!
An old favorite in the industry–SHUTTERS! Who doesn't love their classic look? But let's not forget their adjustable light control and ability to block light out! Shutters will simply complete the look of your sunroom making it cozy and inviting with easy access to sunshine and mountain views!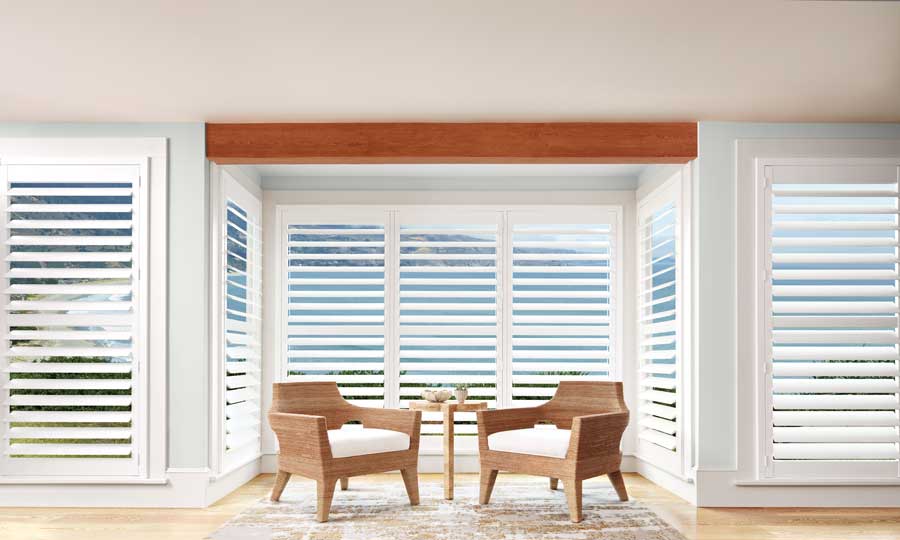 We Have More Ideas?
Did we get your gears moving? Sunroom windows are some of our favorite windows to treat, there are so many options-from subtle to statement making! For more ideas, invite one of our specialists to your home for a personalized consultation. Prefer to visit our showroom? We'd love to answer all your questions and show you our most innovative products. Schedule a FREE consultation today!