Imagine sunshine streaming through your windows, illuminating your home with natural light, and you're surrounded by a beautiful environment. Doesn't that sound refreshing? Well, with the best shades, you can have it all! Finding the right window treatments can transform your entire home. You'll get the amount of lighting you need, add style to your home, and invigorate your space! There are so many options for window coverings. Sometimes it can be overwhelming. We understand, so we're here to help guide you to the best shades for your home.
Redesign Your Sanctuary: The Bedroom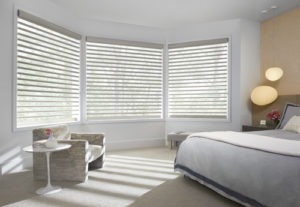 When it comes to the best shades for your bedroom, there are a few things to consider. First, the temperature should be just right. Second, there should be high levels of privacy. Your bedroom is a place of relaxation; one that lets you get a good night's sleep. Without the right shades, your windows may bring in a cold draft. In the summer, the sun heats up your room, making it uncomfortably warm. Do you live on a busy street? Perhaps there are annoying car lights shining through your window while you're trying to rest. Say goodbye to bothersome distractions, and hello to a good night's sleep! The best shades will allow you to adjust the privacy to your liking. You'll block the sun and outside world while keeping your room at a comfortable temperature. Not only will it feel great, but it'll look beautiful! Match your window coverings to your bedroom decor for a stylish makeover. Beauty and function are top priorities for creating a comfortable space, and with the best shades, you'll get both.
Create Comfort: Bathroom Necessities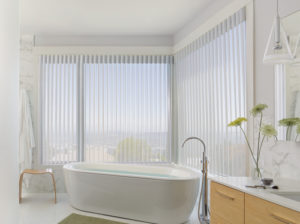 Along with your bedroom, your bathroom is a place of privacy. You need to feel comfortable, but you don't want a cave-like environment. The best shades for your bathroom will maximize daylighting and allow for easy adjustment. Having shades that are easily adjustable will save you time and give you the maximum amount of privacy. The balance is important, and with the best shades, your bathroom will be rejuvenating and comfortable.
Fashion and Function: Living Room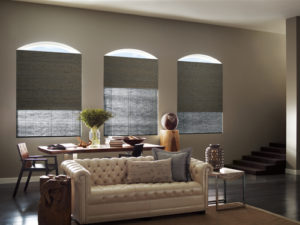 Living rooms are used for so many activities. What do you use yours for? Maybe you spend your morning here, sipping coffee and preparing for your day. Is this room your go-to movie spot because of its big couch and fluffy blankets? Perhaps it's Saturday night, and your family is piled in the living room ready to play a board game. No matter how you use it, it requires a functional design. The best shades for your living room will give you just that. You want natural light, but not enough to cause a glare. You need privacy, but still want to enjoy the view. There can't be too much sun exposure, or else the UV rays will harm your furniture. What this room needs is balance. Rocky Mountain Shutters & Shades has beautiful Hunter Douglas window coverings, and with our help, we'll pick out the best shades for your living room.
A Successful Environment: Home Office Essentials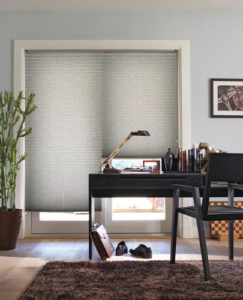 Imagine working in a home office that doesn't have window coverings. The room is overexposed, there's a glare on your computer screen, and the temperature is way too warm. How could anybody be productive in an environment like that? With the best shades, your office will feel great, which will help with your productivity! It will be well-lit, and when you need a break, you'll have your outside view to enjoy without feeling like you're staring into the sun. Light management is key to creating a successful, productive, and refreshing home office.
The Best Shades: Refresh Your Home
It's important to find a balanced environment for your space, and with the best shades for each room, you can completely revamp your home. No more annoying glares, lack of privacy, or overbearing light. We're here to help you find the custom window treatments you deserve. Contact our team at Rocky Mountain Shutters & Shades for a free, in-home consultation. Let's start your home transformation today!