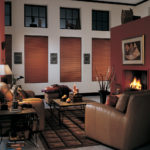 It's almost December. That means holiday celebrations are filling up your calendar, and, tucked among all those parties, is the first day of winter. Here in the Denver area, winter brings with it cold temperatures and less daylight–which can sap energy from your home and increase your monthly bills. While you most likely feel powerless to stop this, you have more control than you might think. At Rocky Mountain Shutters & Shades, we understand your desire to have an energy efficient home. So, we've put together some information and tips that will save you energy and money this winter and make your home a cozy haven for you and all your loved ones.
Tip 1. Keep Heat In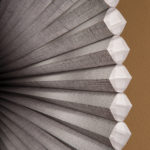 When the weather gets chilly, have you ever felt like it's colder by the windows? Well, it is. As heated air flows around your rooms, it brushes up against the windows. When it does, some of its heat energy escapes. As the air moves back into your rooms, it's colder than it was before, and that's why you feel a chill by the windows. Unfortunately, that colder air circulates throughout your house and causes your home's temperature to drop. Then, the heater kicks on, and the whole process starts over. You don't have to live with chill and costly heating bills, though. You can stop heat from going out the windows with insulating window shades. Window coverings, like Duette Honeycomb Shades, that have a cellular design trap warm air in pockets right at the window–which creates a barrier. When heated air bumps up against the shades, it stays warm, and that means you and your home stay warm too! Window shades with insulating properties work hard so your heater doesn't have to. Not only do they give you a more energy efficient home and save you on your heating costs, but they add incredible style and sophistication to your home's decor.
Tip 2. Use Smart Technology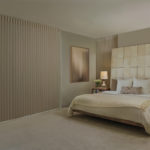 Here in Denver, we're lucky to get a fair amount of sunshine all winter long. Its warming power makes colder temperatures bearable, but watch out if the sun goes behind a cloud. Brrr! Do you find that the same thing happens in your home? When the sun is shining in, your rooms feel toasty warm, but, when it isn't, a frosty draft makes you shiver and your heater run more. With the revolutionary technology of PowerView automated window shades, you can effortlessly take advantage of solar heat in your home and avoid feeling the cold. Just set and save shade positions throughout your home and then schedule them to occur automatically. You can even use PowerView's ability to determine sunrise and sunset times in your area to program your shades to move with the sun. That's it! Your shades will open to invite in the sun's warmth and close when evening cold rolls in. You'll save energy, money, and time this winter–all while living your life in a cozy, comfortable, and energy efficient home.
Tip 3. Turn Lights Off and Let Sun In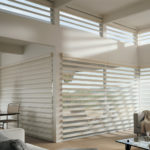 Even though the sun is often out during the day in the winter, do you feel like you're always having to turn on lights in your home? When it isn't dark outside, harsh glare can have you covering your windows and switching on lamps. Besides racking up electricity costs, using artificial lighting means you lose out on the mood-boosting effects of natural light. It doesn't have to be this way. With the right window shades, you can save energy, money, and your spirits. Pirouette, Silhouette and Nantucket shades are some of the best products for combating glare and enjoying comfortable, natural light in your home. They diffuse, filter, and allow you to direct incoming sunlight. This means you can turn off your side lamps and chandeliers and savor the perfect daylighting and an energy efficient home that will have you smiling all winter long.
As the first day of winter draws near, now's the time to prepare. We'd love to help you create a more energy efficient home that will save you money and make you feel snugly comfortable this winter. Whether you're looking for insulating shades, convenient operation, maximum light control, or something else, our experts are here to help you find just what you need. Stop into one of our three showrooms or let us come to you. Contact our team at Rocky Mountain Shutters & Shades for a free, in-home consultation.