The atmosphere of your dining space will define it. It sets the first impression and carries the tone throughout the day. Over the years, your dining room has been an important part of family gatherings, cherished memories and unforgettable milestones. Take a look around. Does it need that something special to make it shine? We found our top 10 dining rooms to inspire design in your home. Take a look!
#1 Industrial Lighting
Steel, zinc, metals…we love all things industrial. This light fixture is perfect in this minimalist space. These box-like pieces are one of the hottest light fixtures in the design world this year, spanning all style types. And, in dining rooms, they are sure to be a hit!
#2 The Ideal Contrast
The sparkle of this chandelier offers the glitz, while the greenery of the centerpieces bring a sense of calm. Totally chic. We love how the blue walls surround the space without making it seem dark.
#3 Refined Elegance.
Dining rooms can be beautifully tailored, while still providing comfort. We love how the grasscloth wallcovering warms up this space for a welcoming atmosphere.
#4 The Perfect Backdrop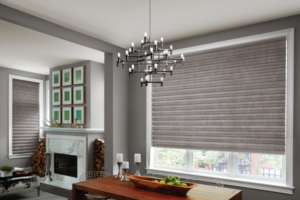 Large windows and doors are gorgeous in the dining room…until direct ,sunlight, draft and glare get in the way. These Solera shades in defining textures provide a backdrop of style and function–the structured fabrics insulate at the window.
#5 Personalized Accents
There's no better way to create a space you love than with dynamic accents. This stunning accent wall adds character, while these custom chairs bring a level of geometric style.
#6 Simplistic Style
Sometimes, the most striking dining rooms offer just a few statement pieces. In this case, the other side of the design spectrum is chic simplicity. We love how the various heights of greenery create dimension and texture with a pop of color.
#7 Classic Designs, Modern Elements
So much of this space brings in timeless design elements–the geometric wallpaper, the gold finishings, the color combination. But, they did this in a way that offers a modern twist. We love how the black accents tie in to the ceiling–the black ceiling speaks absolute style.
#8 Black, White & Stunning
Pure tradition. Stunning elegance. This black, white and grey combination is fabulous. Black walls, a geometric area rug, damask chairs? It's a win-win-win.
#9 Bold Statements
This is one of those dining rooms that reminds us that being yourself is always the best choice. Essentially eclectic and dramatically put together, this space brings bold colors together for a mesmerizing scene.
#10 Bouquets and Bouquets and Bouquets
Ahhhh…fresh flowers. There's just nothing quite like them. Not only do they breathe life into a room, but they add instant style by imbibing color into the space. This space not only adds one bouquet, and not even two or three. They went for it with 5 vases filled with yellow roses. Complete genius.
Inspiring Dining Rooms…
This holiday season, are you ready to host? Do you need window coverings that will invite in gorgeous lighting, help you control the light and bring style elements to your home? Let our team at Rocky Mountain Shutters & Shades help you find the perfect window treatments. Your future gatherings are right around the corner! Contact us for your free, in-home design appointment.