Want to add the wow factor to your home this year? Look no further than Designer Banded Shades, one of the hottest designs coming into the window fashions world. Sleek, stylish and innovative, these window coverings will solve common issues in one swift movement while bringing upscale design to your space. What's there to love? Take a look at our favorite features…
The Wow Factor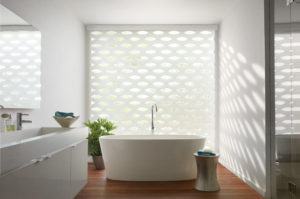 Walk into any room with Designer Banded Shades, and there's nothing more to say than "Wow!" Whether it's the stunning look of geometric shapes across the windows, or the modern look of clean lines, it's a unique style statement that you will instantly love.
The Versatile Design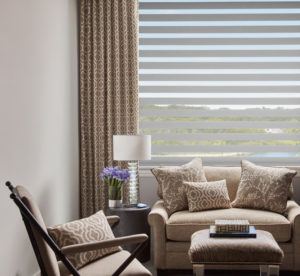 Window treatments are like wardrobe choices–everyone's style is different. Choose Designer Banded Shades. We're placing them in a range of homes, and everyone is styling them differently. They make a striking statement of style and function at the window, but they don't overpower the room. That means, you can create your own look, and these shades will be the finishing touch. Another bonus? The sleek design makes it easy to put Designer Banded Shades anywhere, or layer with other window treatments.
The Sought-after Fabrics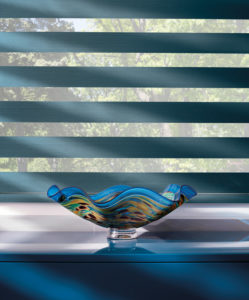 One of the most important factors of Designer Banded Shades, reaching a range of styles, is the fabric choices. From the bold statement of jewel tones, to the quiet elegance of natural hues, the fabrics span from classic favorites to trending designs. And then, there's the textures. You'll have fun creating a look you love, whether that's the smooth look of satin, or the earthy appeal of grain-like fabrics.
The Incredible Function
Can you imagine a roller shade that functions with such instant change of atmosphere. Two layers offer one swift rotation to go from light-filtering to room darkening. Enjoy your view through the sheer fabrics, or block out the world with the opaque ones. This a game changer when it comes to function and solutions. Designer Banded Shades also roll up out of the way into the headrail.
Designer Banded Shades…Find Out More!
We'd love to show you one of our newest products (and favorite designs!) with Designer Banded Shades. The Denver area is known for its gorgeous views and unending sunshine year round. We know you want to enjoy your view and capture natural light, but you need control and solutions. Our team at Rocky Mountain Shutters & Shades can help you find the right balance throughout your home. Contact us today!