It's no surprise that our current culture in this country is looking toward the future. With a hopeful air, full of ingenuity and individuality, The Pantone Color Institute has announced their Color of the Year 2018.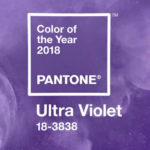 Making a–somewhat political–statement each year with their announcement, Pantone sweeps cultural movements into the next phase. It's become less about what colors will be in style and more about where things are headed. That being said, we are excited to announce the Color of the Year 2018 is Ultra Violet, a dramatic and inspiring shade of purple. What's the life lesson–and how can you capture the essence of this style trend? We've got answers for you!
Enjoy More.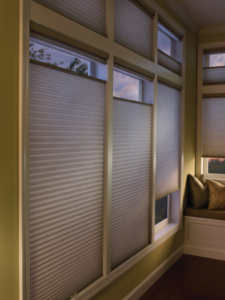 Our digital world can seem like a constant flow of negativity. The Color of the Year 2018 invites you to embrace the good. Ultra Violet, along with the entire purple color family, offers positivity in this chaotic world. Be intentional about surrounding yourself with enjoyment. (Seriously, who can be mad at the color purple?) Take in a sunset. Wrap yourself in a gorgeous indigo blanket. Create your own spa experience with this lavender infused water recipe. 
The perfect way to enjoy your Denver area home more? These custom shades with top down bottom up mean you can improve your mood with natural light, but keep out the intense sunshine and glare.
Stress Less.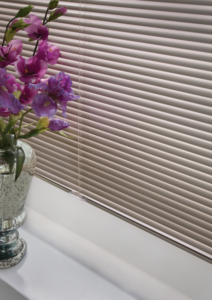 If there's anything we can learn from the Color of the Year 2018, it's relaxation. Purple has long been known to associate with the feelings of calm, mindfulness and peace. We sure could use those aspects going forward. How do you capture that vibe? Choose your favorite shade of purple, and bring relaxation into your life in small ways. Lavender oil, fresh flowers or a beautiful accent piece–this color family is going to find its way into home design and many facets of our lives this year.
Want less stress? Choose automation. With PowerView motorization, no matter the time of day, your window coverings will always be in the perfect position. And, you won't have to lift a finger.
Be Yourself.
There's no better shade than purple to express individuality, creativity and inspiring design. Bring your favorite shade of purple into your home with a look that's unique to you. Choose art, upholstery and fabrics that will surround you with the luxury of purple while highlighting your personality. Patterns are a fun way to incorporate colors while inviting style. If the Color of the Year 2018 is sending a message, it's to be yourself.
Custom shades and blinds allow you to choose the backdrop of your life with gorgeous fabrics and exciting designs. Let your favorite color be your style your home and set the tone of your life.
Let Us Help You Embrace the Color of the Year 2018…
Have the lessons we've learned from the Color of the Year 2018 spoken to you? Is it time you stressed less, enjoyed more, and embraced who you truly are? Let your friends at Rocky Mountain Shutters & Shades help you create a great lifestyle in 2018. We will come to you for a free design appointment where we can introduce you to beautiful fabrics, convenient function and the ideal features for your Denver area home. Contact our team today!