It's August, and that means that Back to School shopping is in full swing! As you get ready to send your little ones, (and your not-so-little ones), back for a brand-new school year, one thing's for sure: Everyone can benefit from a good night's sleep. We have some considerations as you look for ways to improve your family's sleep patterns and habits. With ideas for window coverings that will help you with everything from setting a schedule to the ideal temperature, we can guide you to better sleep solutions for your family.
Set the scene.
Back to school…it's all about the schedule. Summer bedtime and school year bedtime are two totally different things. And getting back on track is easier said than done. Start the school year off right by beginning to revert back to your family's sleep schedule a couple weeks ahead of time. How is that possible when it's still light outside? Set the scene. If you want sleep solutions for your family that will help them prepare for the year ahead, look no further than the innovation of PowerRise Automation. The intuitive technology of PowerView means that your window shades will be set to a schedule that fits your family's lifestyle. By creating and saving your favorite scenes for each room throughout your home, you have the ultimate control of light and atmosphere. Even if the sun is not down, your child's room can adjust to darkness fifteen minutes before their new bedtime. If you have teenagers, there's no better way to wake them up than scheduled sunrise streaming through their windows. They'll be down at breakfast before you know it.
Light control is key.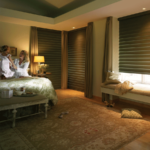 There's nothing more important for a good night's sleep than the right atmosphere. Without light control, you risk interrupting sleep cycles and making it hard to even fall asleep in the first place. From the consistent shine from a street light just beyond the window, or the occasional high beams of a passing car, light in your child's room should be diminished. Window shades that offer sleep solutions for your family include those that feature blackout and room darkening fabrics. Light control can also be extended to devices, as phones, computers and iPads provide their own interference with sleep. Keeping electronics out of the bedroom is important when trying to reduce small amounts of light. You will be amazed at the improvement in your family's sleep when light control removes these distractions.
Comfort counts.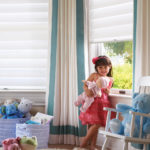 The start of a new school year involves a mixture of emotions, ranging from anxious to excited. Calm those nerves and increase your family's ability to relax with an atmosphere of comfort. There are small ways to improve the overall feeling and experience sleep solutions. New pajamas and a high quality pillow can have dramatic influence. The window shades within your home also play an important role. Window coverings that offer features of energy efficiency provide the consistency of a comfortable temperature. If your family resides in a busy part of town, sound absorption may be important feature of the window coverings you choose. Let the members of your family relax in their very own sanctuary of calm as they head back to school this year.
As much as we hate to admit it, another Denver area Summer vacation is coming to an end in the next few weeks. It's time to get your ducks in a row so that your family can experience sleep solutions for a good night's sleep. You have enough to deal with. Start the school year off right by creating an atmosphere that improves their sleep. If your family needs the amazing benefits of window shades, we would love to help! Contact our team, at Rocky Mountain Shutters & Shades, for a free, in-home consultation.