Style and function abound with the stunning look of roman shades. The ability to transcend style boundaries, our Vignette® collection will highlight the design of your home, whether you love the tradition of classic charm or the upscale look of contemporary chic. The best part? Not only are these roman shades the height of beauty, the functional features will leave you wondering how you ever lived without them. The key is in the customization. Exceed your expectations for what window treatments can do for your lifestyle with Vignette Modern Roman Shades.
A Beautiful Backdrop
It's time to love your floor-to-ceiling windows again. Your view is amazing, but not 24/7. What about the unyielding glare, the lack of privacy, the uncomfortable temperatures? You need window shades that will create just the right atmosphere – whenever you want it. Vignette Modern Roman Shades allow you simplistic function so you can enjoy the view and natural light when you want, closing them at just the right moments as well.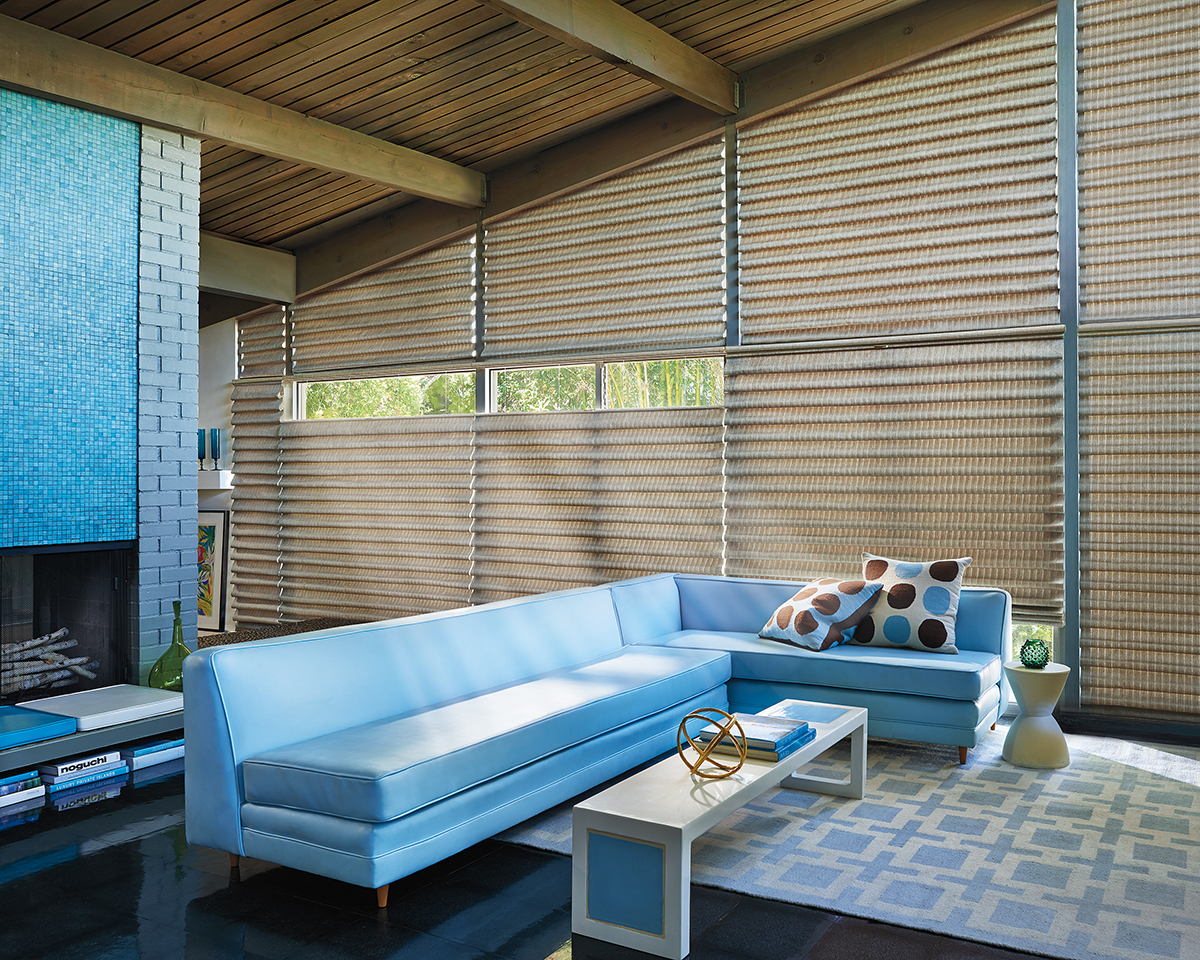 The striking look of roman shades for your floor-to-ceiling windows is the perfect backdrop for your home, adding the functional features of energy efficiency, light control and privacy. Easily customizable with specialty shapes and large windows, your home will be dressed to the nines.
Complementary Styling
You want the stylish look of your home to simply flow, especially in open concept areas. Vignette Modern Roman Shades will help you make a coordinated statement. Fabrics are designed for complementary styling of windows and doors within a shared space. Perfect for the low profile of patio doors, while functioning easily for an adjacent window, these roman shades will bring together design elements for the perfect touch.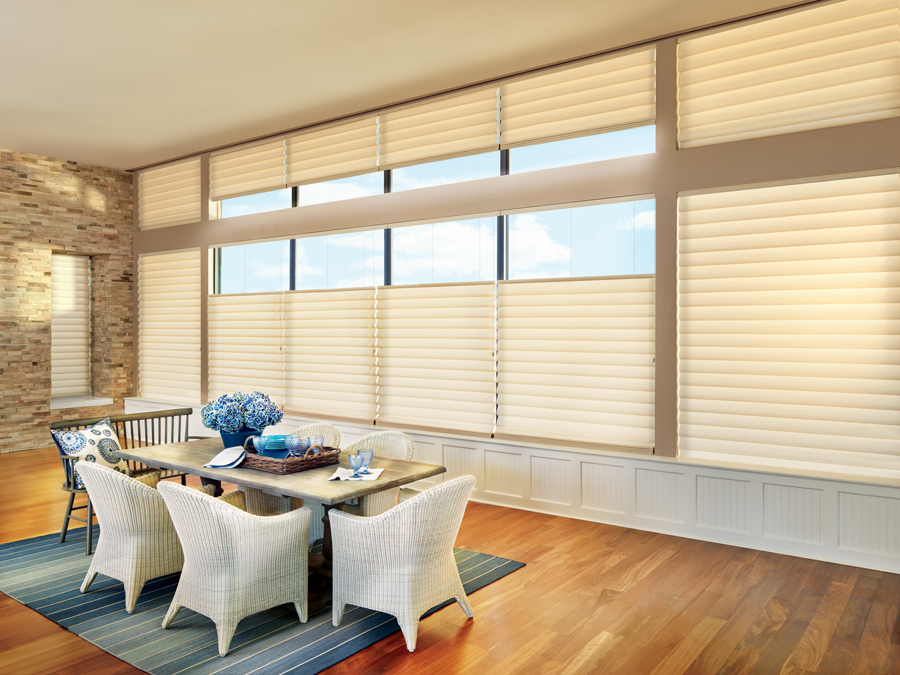 And enjoying the beauty of natural light has never been easier with top down bottom up. Privacy still exists while you enjoy daylighting throughout your home. Speaking of fabrics, roman shades make it easy to style your home. The beauty and softness of fabrics will look stunning. Plus, you'll enjoy the functionality of a window shade. It's the best of both worlds.
The Ultimate Convenience
Whether it's been a busy day, or you're a creature of habit, PowerView automation is the ultimate convenience for your roman shades. Yes, it's easy to operate Vignette Modern Roman Shades. But with the touch of a button on your Pebble remote, or your favorite device, PowerView automation makes your lifestyle effortless.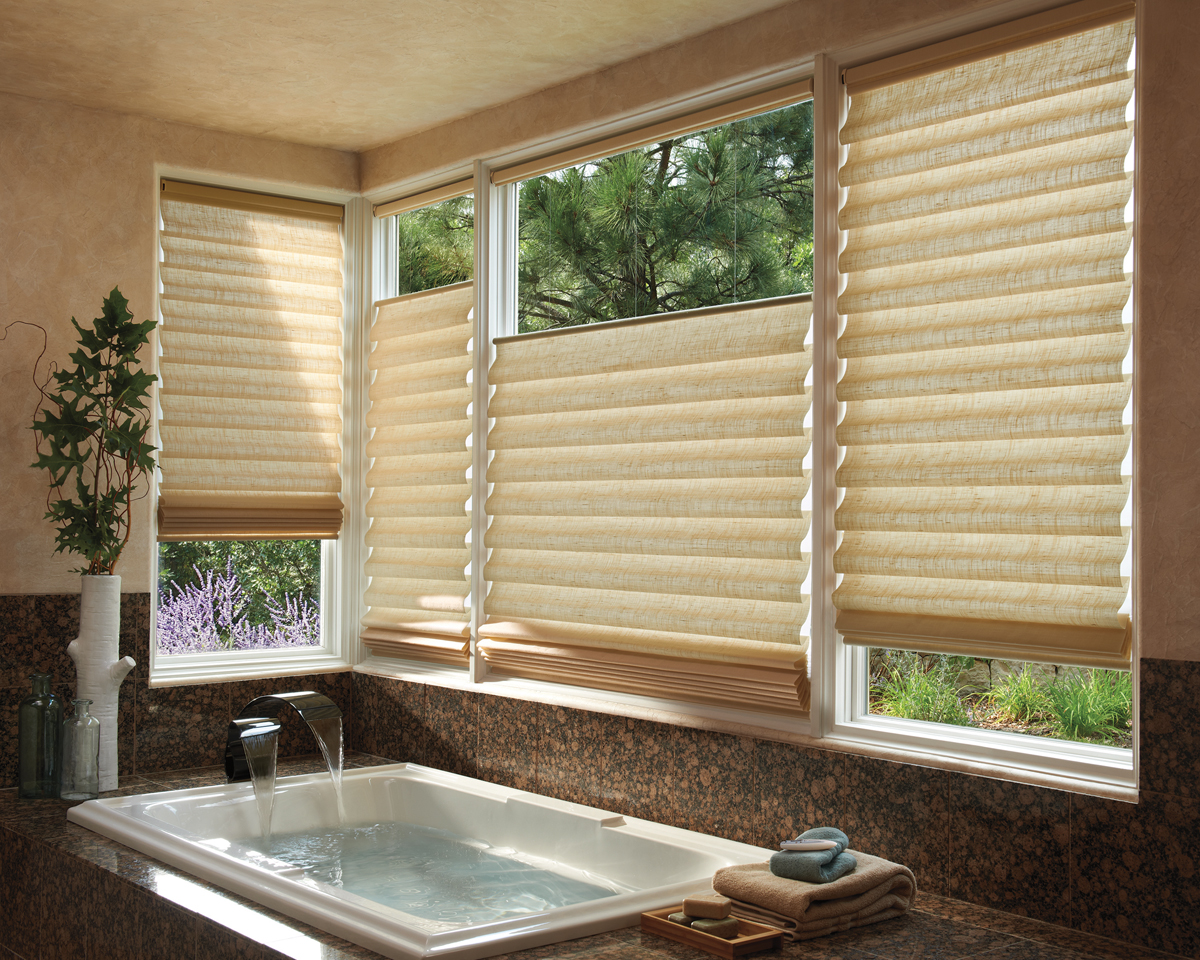 The amazing benefits of light control, privacy and energy efficiency are yours in an instant. And with the PowerView App, you can set schedules and save your favorite scenes for a flawless atmosphere. You deserve it, and your home does, too.
These timeless shades have the ability to bring style and function to any room within your home. Outstanding features of light control, energy efficiency and privacy will be highlighted by the sheer beauty of fabrics that complement the styling throughout the rooms in your home. Ready to customize the look and function of your home? Contact our team, at Rocky Mountain Shutters & Shades, for a free, in-home consultation.