It's all about natural light & incredible views when it comes to those large windows in your home! And, while they're amazing, the list of frustrations can begin to get lengthy. Let us help you discover the best solutions while you can still enjoy all the benefits…
The View Out & The View In
The landscape views out of those large windows of your home can be breathtaking. After all, we live in what's considered one of the most beautiful spots in the country. But, a view out can also mean a view in. When you want to catch some of the views–like mountaintops and sunny skies, but want to block any possible foot traffic, take a look at Top Down Shades.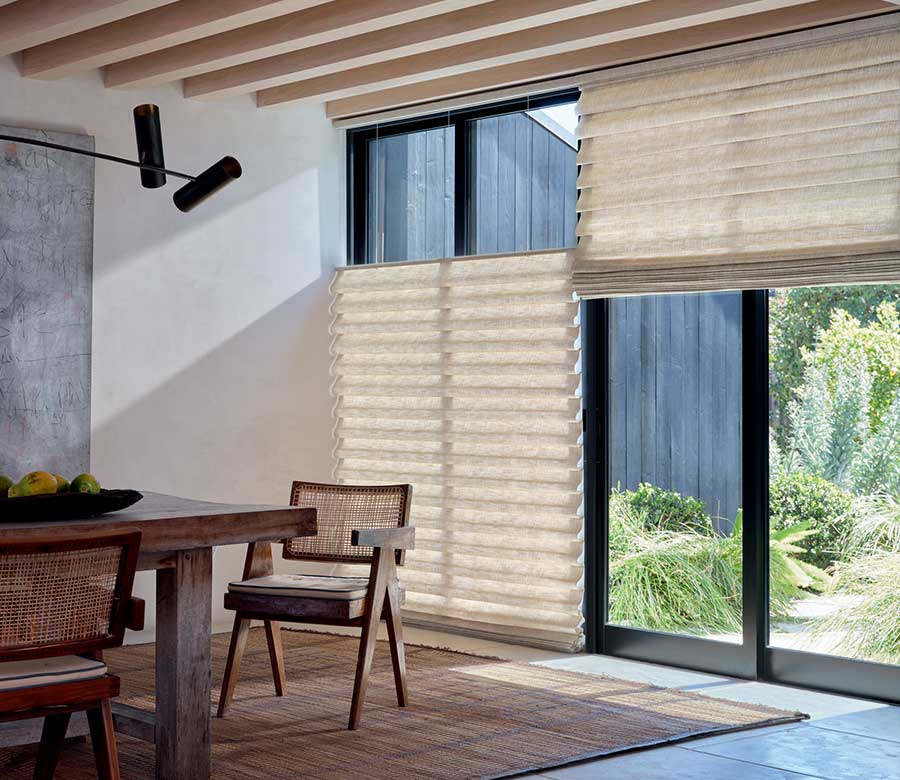 Enhance the View
Speaking of this area's gorgeous landscapes, you might be hesitant to cover those large windows for fear that you'll lose that view. We totally understand! But, if you want to save the view, but get some privacy and loads of light control, take a look at this recent blog post about the 5 Best Shades for Enhancing the View.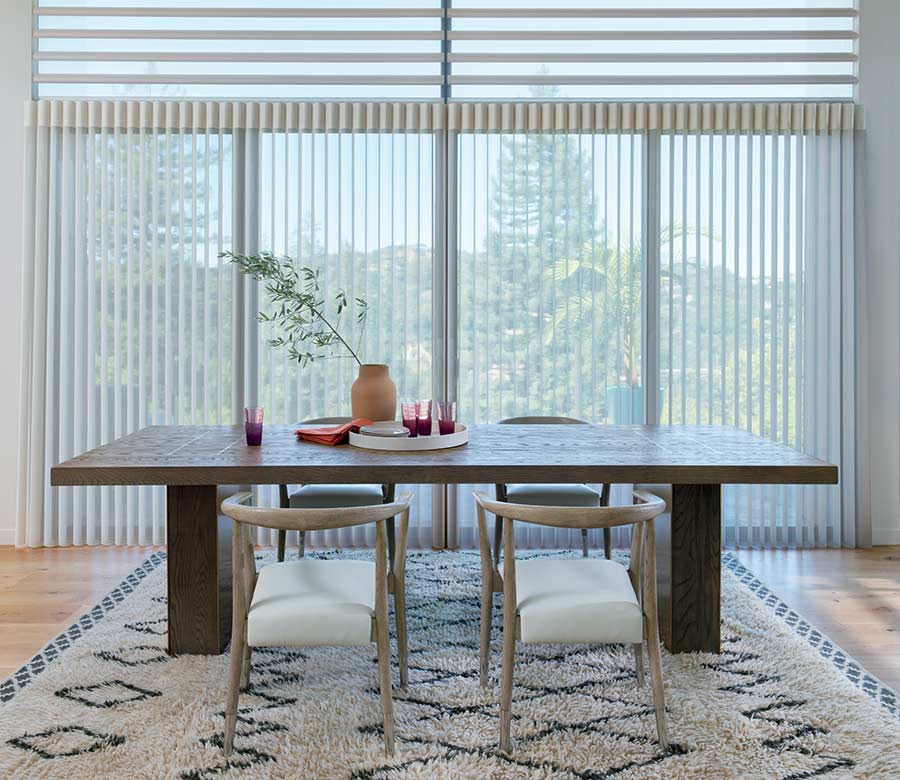 Get Custom Coverage
Your windows deserve top notch coverage, and many times, that means they each get what they need. That can include large windows with special features, like arches or angles. It's also possible that on your wall of windows, you have transoms. Guess what? Custom coverage means that you can cover the portions you want, while keeping others bare. Our window covering specialists will help you decide what will help create the best atmsophere with benefits that also cancel out the issues.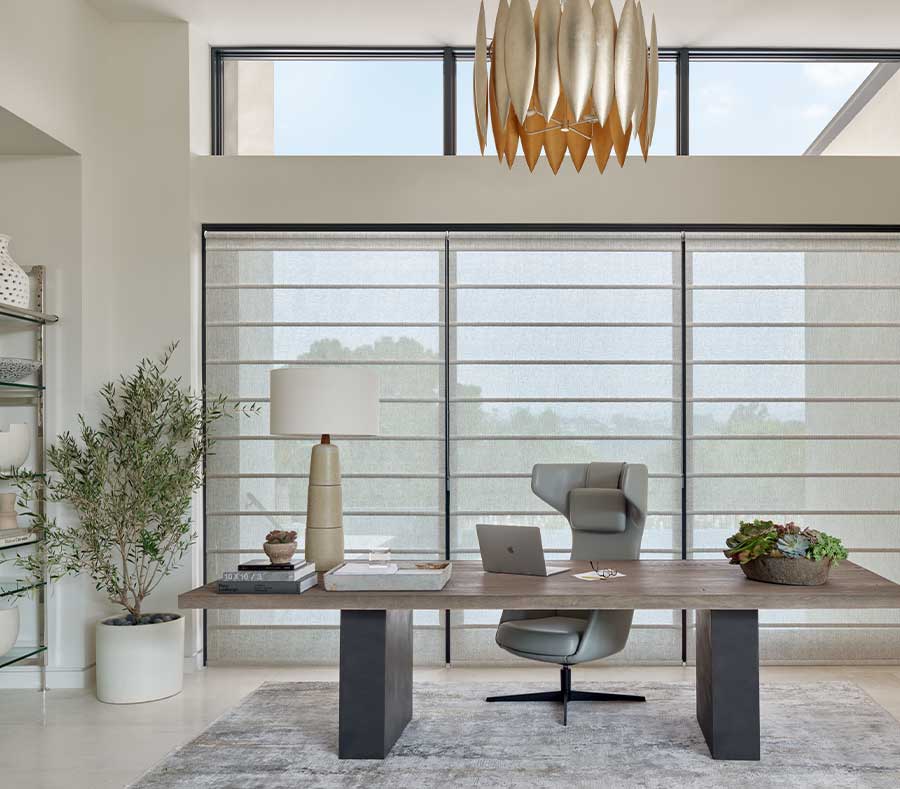 Soften the Space
One way to soften the look of those large windows, while also having the ability to block out the light and heat is with draperies. No matter which window coverings you decide upon, softening the look with fabrics is always a good idea. The base window coverings can be chosen for light control, privacy or energy efficiency, while the draperies add tremendous function and tons of style/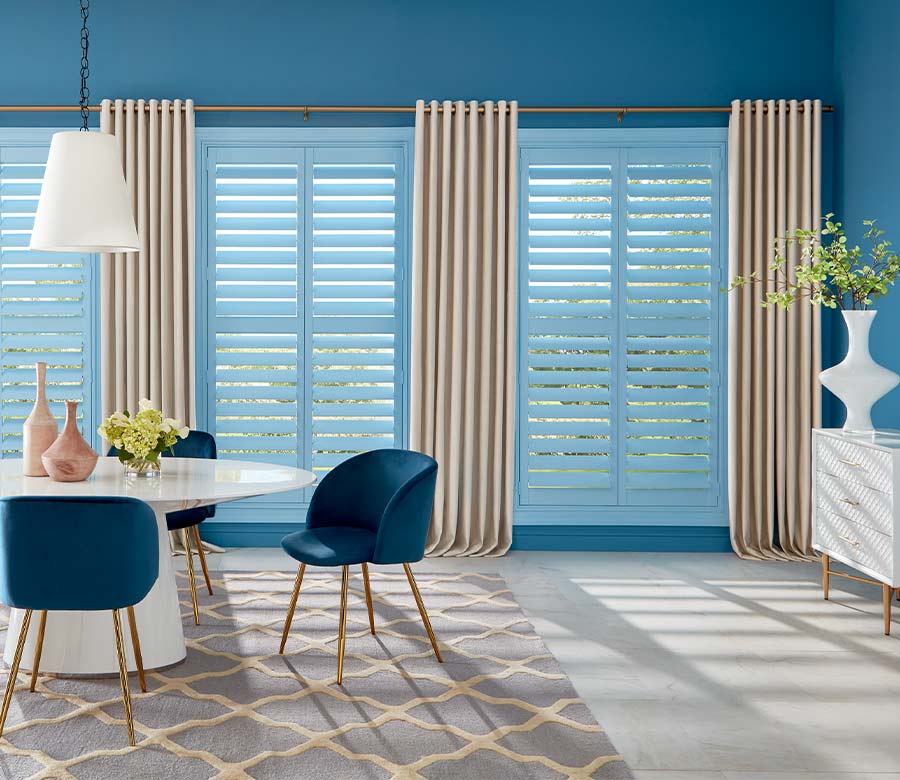 Make Adjustments Simple
The largest windows in your home demand large solutions, and that can seem daunting. But, wait! With today's most popular innovations, adjusting large, hard-to-reach window coverings is as simple as saying, "Alexa, close the shades." That's right–one of the most popular operating systems, motorized shades, can–not only–be adjusted with a tap, but also with voice command or pre-set schedules. Take the frustration out of controlling the atmosphere of your home. All that will be left is enjoying that beautiful view and amazing light.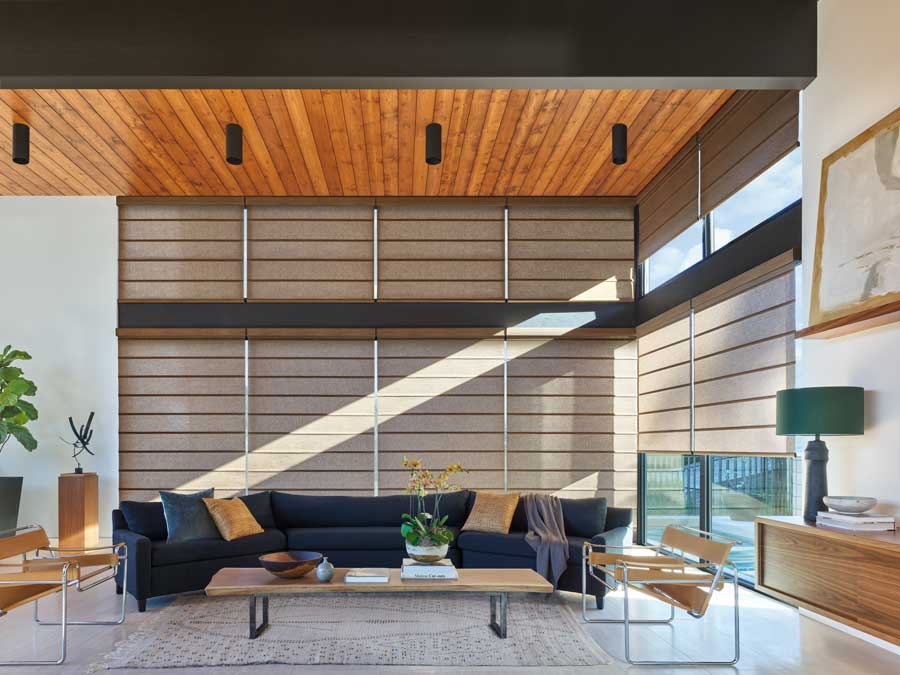 Need to Cover Those Large Windows?
We've got ideas! At Rocky Mountain Shutters & Shades, our team is here to guide you to the best ways to enjoy your home while controlling the frustrating parts. Come visit us at one of our window treatment showrooms to see things up close and in-person. Get advice from a window covering specialist. And, invite a designer to your home to find out what's possible. Get in touch for your FREE consultation.