With spring just around the corner, the change of season may have you looking forward to being able to open up some of the doors and windows in your home for fresh air. While that may be perfect throughout the day, there are certainly points in the day or evening when it's more comfortable to close up the house again. Covering doors with window treatments doesn't leave you feeling shut in, instead it allows you flexibility with natural light, privacy, and energy efficiency.
The Importance of Privacy: Covering Doors
The importance of privacy via your front door isn't suddenly lost in the spring when it finally gets sunny again. With more people outside in the neighborhood again, it's likely more important than ever. Does your entryway door have sidelights? We even have the solutions for those narrow windows!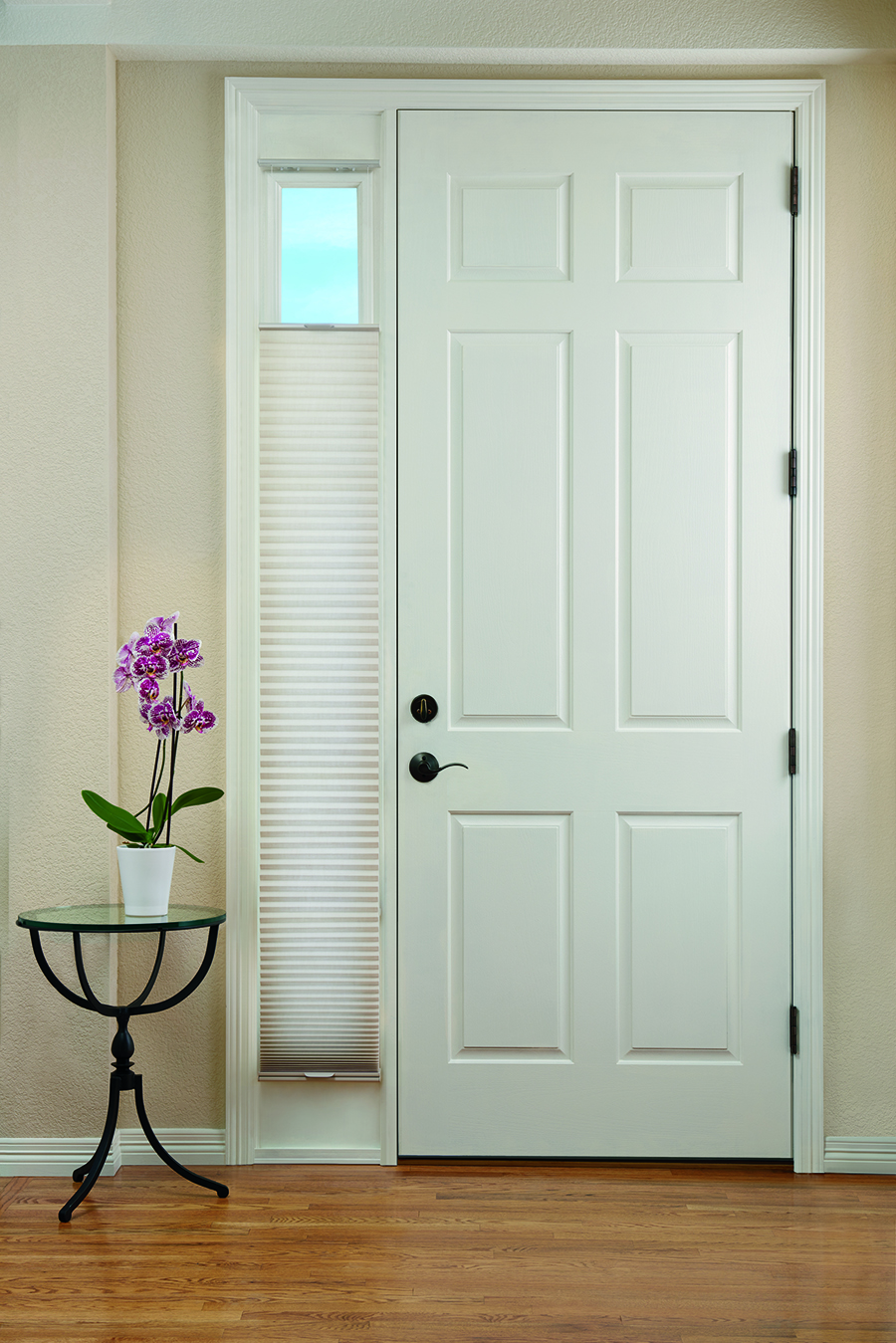 Honeycomb shades are one of our top suggestions for front doors. They can be opaque, which allows for complete privacy when you desire it. These shades also come in the top down option, meaning you can let the natural light flow in through the top while still keeping the bottom closed up. 
Patio Season is Upon Us
The days of relaxing on the patio are not too far off in the distance any longer. This can be a tricky door to cover, due to being such a high traffic area. Plus, you'll surely want to keep the indoor-outdoor living feeling.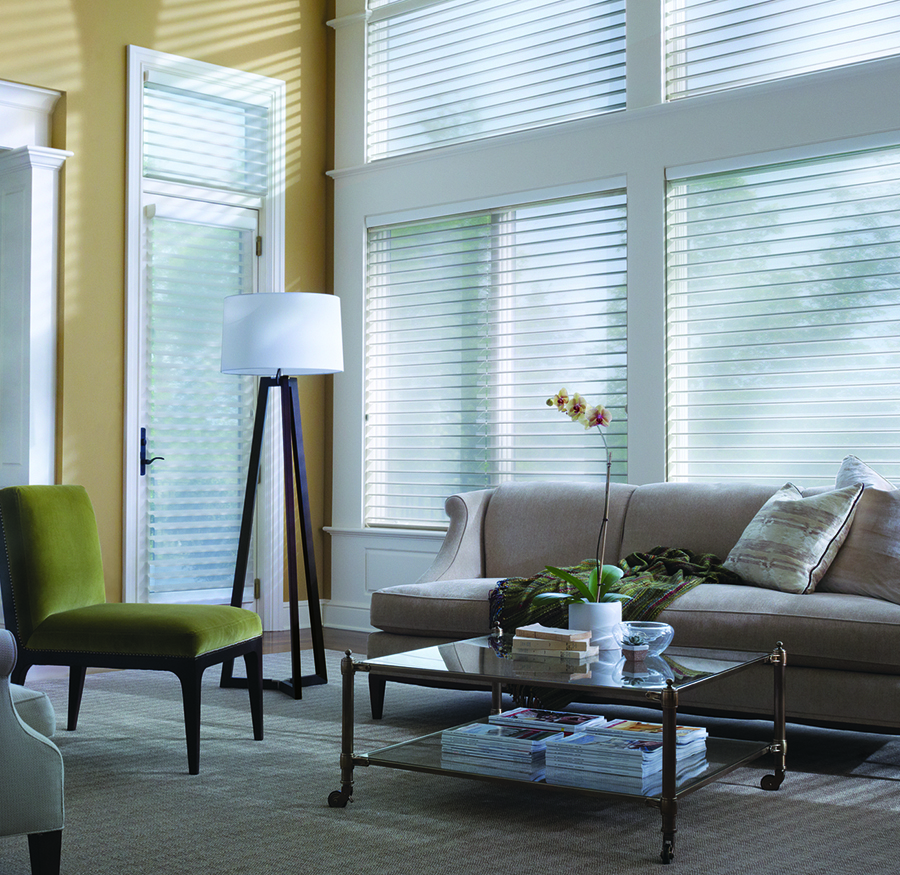 It's with these factors in mind that we have a couple of favorite recommendations.  Sheer shades or roller shades for covering doors leading to the patio can provide a beautiful backdrop for viewing the landscape and bringing in natural light. These two options also offer slim design for the door to function with ease.
Treatments for Sliding Doors
Sliding glass doors provide a stunning view of your yard. These "large windows" are such a dreamy luxury to have in a home. However, there are a few things to keep in mind. Without being dressed with window treatments, there will be little to no privacy,  harsh glare, and damaging UV rays flowing in. That's why inspiration for covering doors is highly searched! Which choice fits your home best?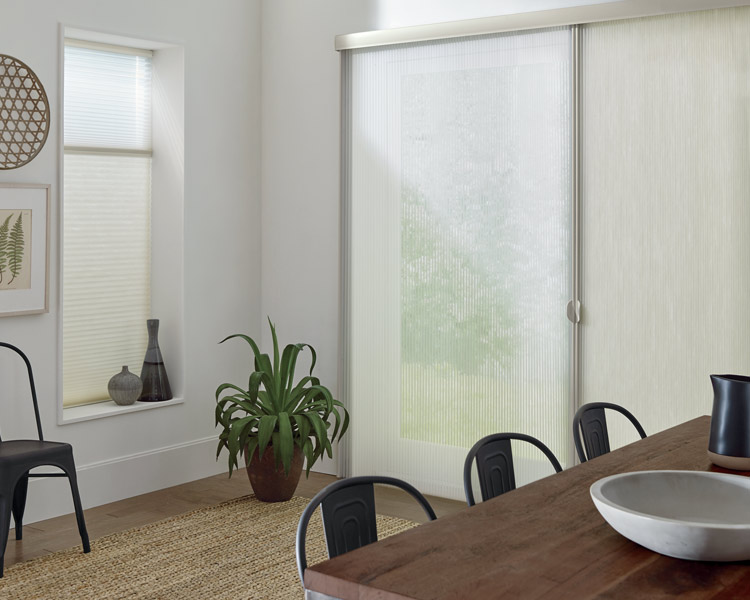 It's important that sliding door treatments don't get in the way and don't block the view–unless you want them to! Smart shades are a great way to ensure that they'll always be convenient and never become a hassle. You control the view out, the view in and the amount of light entering.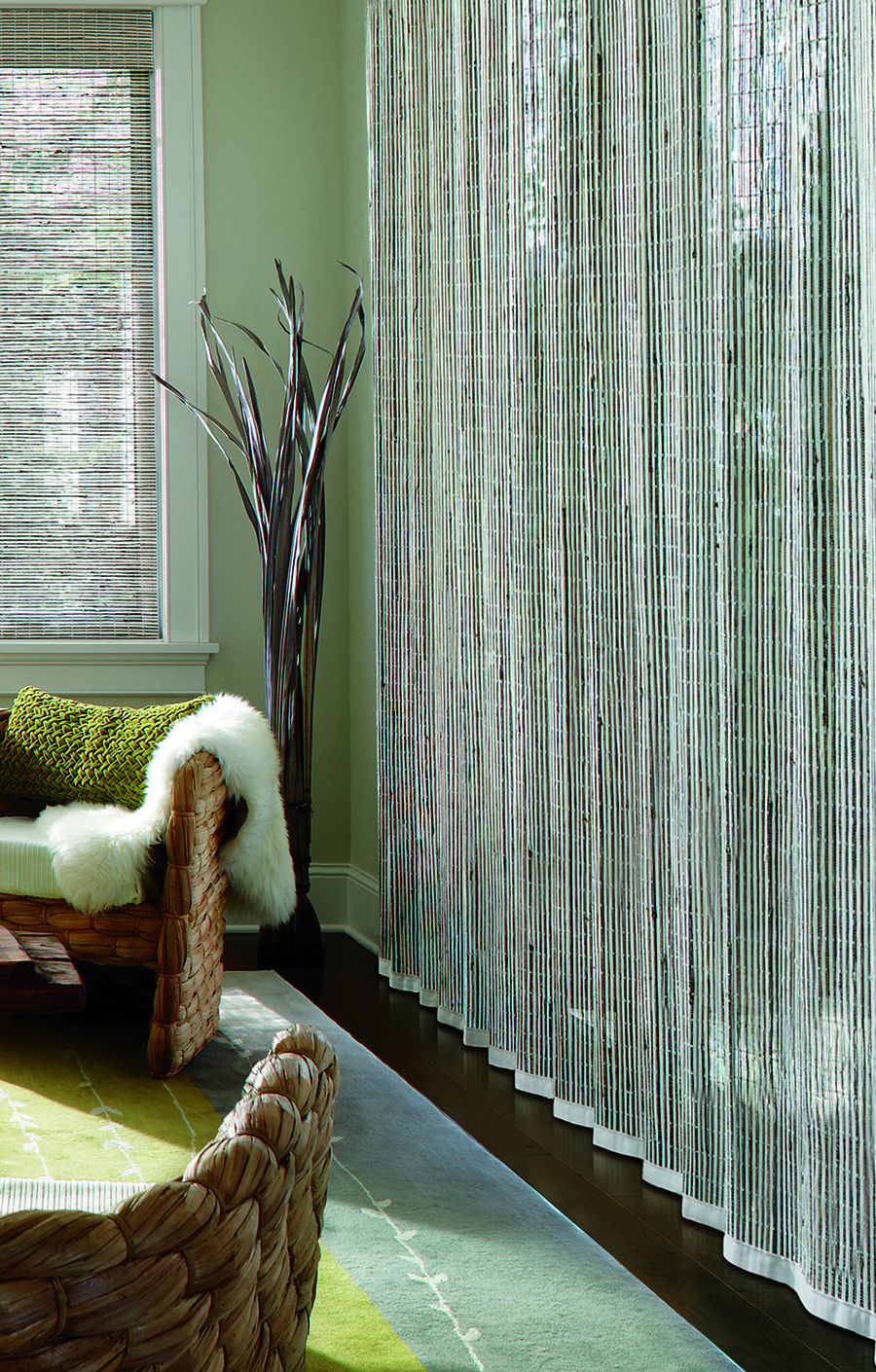 With the simple click of a button, or voice command, you can control your shades to perform how you need them to. You can also set a schedule to work with the sun and keep your home at a consistent temperature.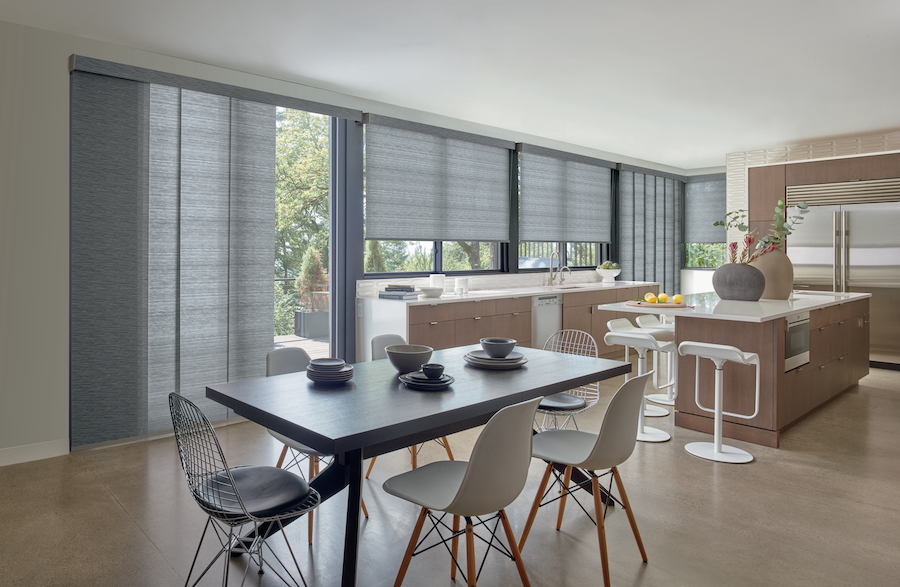 French Doors
There's no denying the look that french doors add to a home. We have treatments that will only help to add to their value and will not cover and hide their character. Beautiful fabrics highlight the style of your home, and with the right opacity, they can reveal the beauty of the doors as well.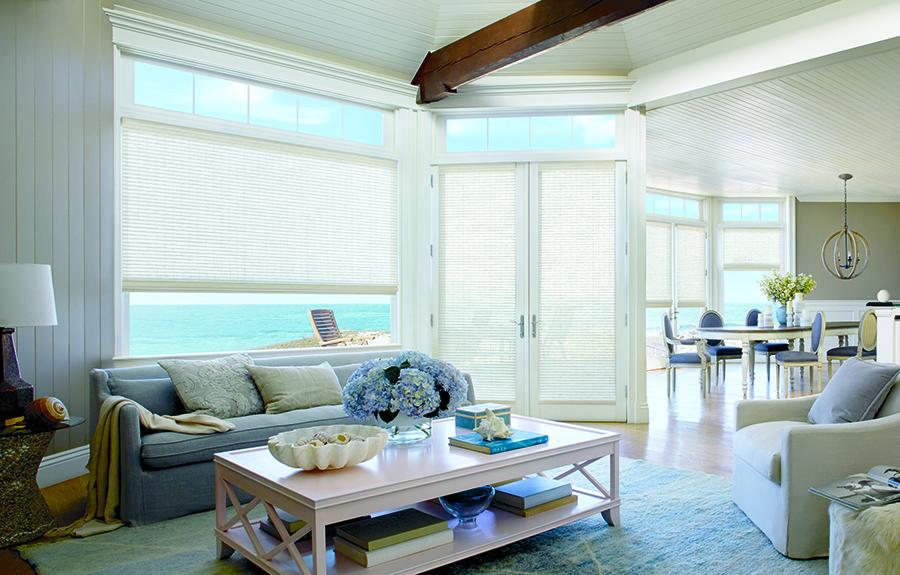 Plantation shutters are another fabulous choice for french doors. The wooden louvers match the classic look that comes along with french doors, yet they also add functionality. Whether your trim is white or natural wood, we offer both white shutters and options in wood stain. These can also be also designed with handle cutouts so they never get in the way of opening the doors.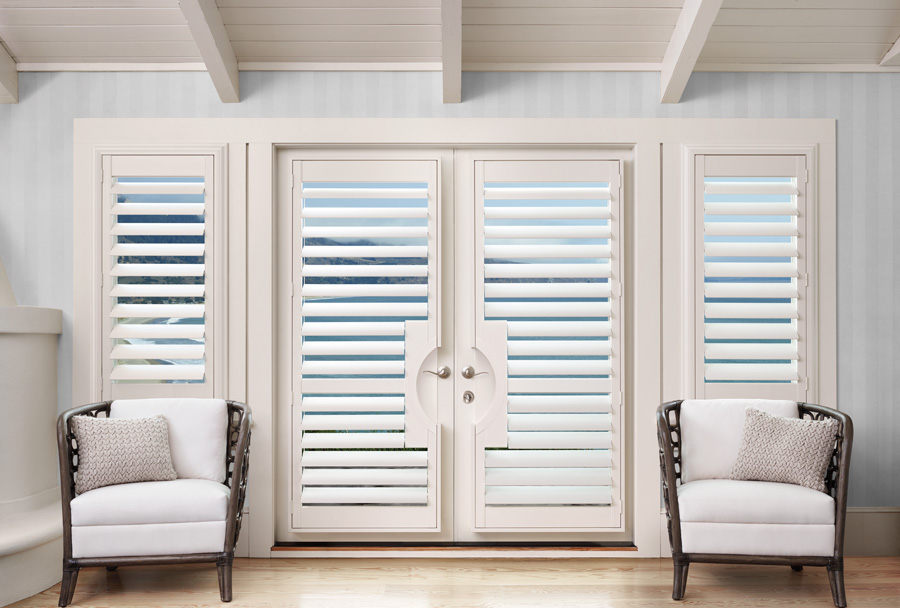 Draperies are another great way to frame out french doors. These are one of the easiest treatments to use and come in virtually any style, color and texture.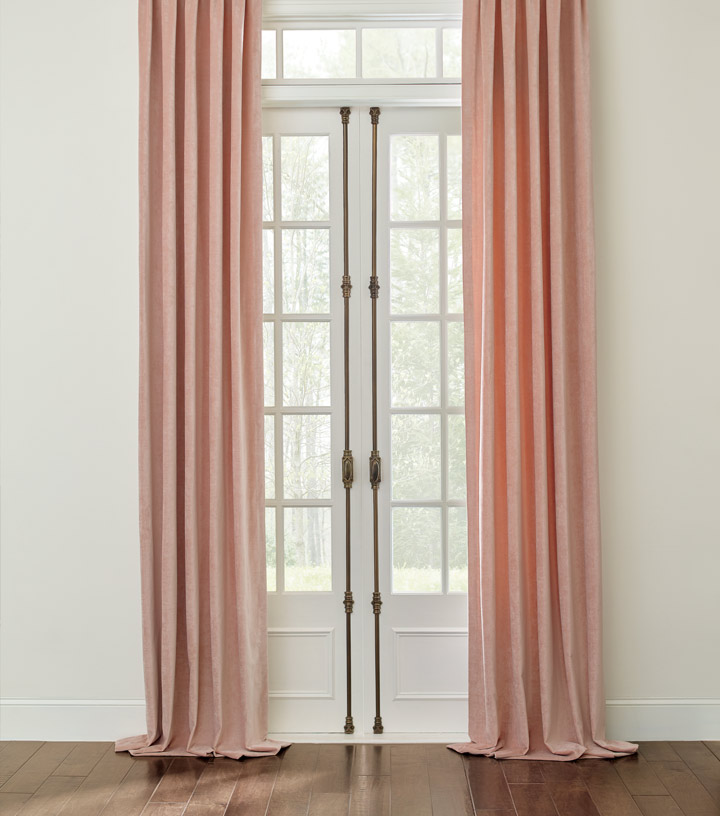 Spring is a Great Time for Covering Doors
While you and your family will be spending more time outdoors in the coming months, it's important to be able to come and go with ease and also control the levels of natural light and privacy while you are indoors. No matter if you're searching for solutions to cover some doors or just for any other windows in your home, we're here to help. Contact our team today for your FREE consultation.