What's your style? Summer is just around the corner, and with all of the new Spring lines in store windows and across the web, do you feel Style-ready? What about your home? Your favorite spaces in your home are the perfect places to insert your own personality into the decor. Your windows can play a big role in the style structure of your home. From window coverings that add color, patterns or textures, to those that add more subtle features and structure, you can heighten the style of your home while also enjoying lifestyle solutions. It's time you took a look at Designer Roller Shades and Designer Screen Shades. With bold colors, contemporary patterns and the stunning look of textures, you will put your style and your amazing view on striking display in your Denver home this Spring. 
Say it with color.
There is no better way to add emotion to a room than color. Paints and accents can provide just the right look and feel. But what about your window coverings? Designer Roller Shades offer an abundant selection of fabrics that allow you to choose exactly the splash of color you are looking for. While in the lowered position, you will have the dramatic backdrop of style in your perfect color choice to add to the decor of your home. With the easy operation of Designer Roller Shades, open them to reveal your beautiful view, styled with a headrail that will match or coordinate your space. From bold colors to subtle tones, find what speaks to you.
Stylized patterns, designer prints.
Large florals, geometric allure. The contemporary appeal of these patterns and prints will add a personal touch to every room. Consider the flat, low profile of Designer Roller Shades your new canvas. Like artwork, these window coverings will take the style of your space to a whole new level. Designer Roller Shades are perfect for pairing with your favorite window treatment, whether you prefer the structured look of cornice boards, or the flowing feel of drapery panels. With options for big sweeping figures, or intricate markings, you will make a statement at your windows.
Natural view, natural expression.
Surrounded by some of the most breathtaking landscapes, the views in the Denver area are amazing. Don't sacrifice one of the best parts of living here. With the automated features of PowerRise, make the operation of your Designer Roller Shades instantaneous. In just a click, the artwork at your windows is the world beyond. Bring in a bit of nature with woven textures that showcase the harmony of the natural world. With Designer Screen Shades, enjoy the beauty of your view even while your window coverings are in the lowered position. Made to filter the light, with levels of privacy and UV protection, you won't miss a thing!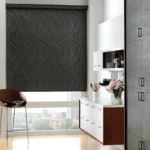 We would love to help!
Complete your look with the sleek styling and contemporary appeal of Designer Roller Shades. From the beauty of Hunter Douglas come fabrics that cross over collections to provide your home with coordination and complementary looks – regardless of window covering choice. If you are looking for design inspiration in the Denver area this Spring, we would love to help! Contact our team, at Rocky Mountain Shutters & Shades, for a free, in-home consultation.