There are many ways layered fabrics can elevate style. Consider your wardrobe for example, by adding a pair of red heels and a patterned scarf to a plain black dress, you have become a style icon. You can do the same for your home with layered fabrics at the window. Today, with the help of textile designer Marcie Bronkar, we can teach you how to take your home from ordinary to extraordinary with layered fabrics. 
Distinctive Design
Marcie Bronkar looks to history for inspiration when designing. Her textile patterns are the perfect combination of past and present. Her collection will feel classic and familiar, yet new and exciting all at once. We love to infuse her sought after designs into our style plan for your home. If you're looking for something fresh and new that will complement the traditional look of your home, look no further. We have an everlasting look and distinctive design available for you!
See more inspiration with Custom Window Treatments.
The Softer Side
Even though Denver is known for its sunny days, we still love soft, light colors to brighten the home. Insert, the neutral palette. With colors such as beige, gray and white things can get a little boring if you let them. Our designers have found that by creating height and dimension at the window with layered fabrics, you can have it all. Look at the design below. Nailed it.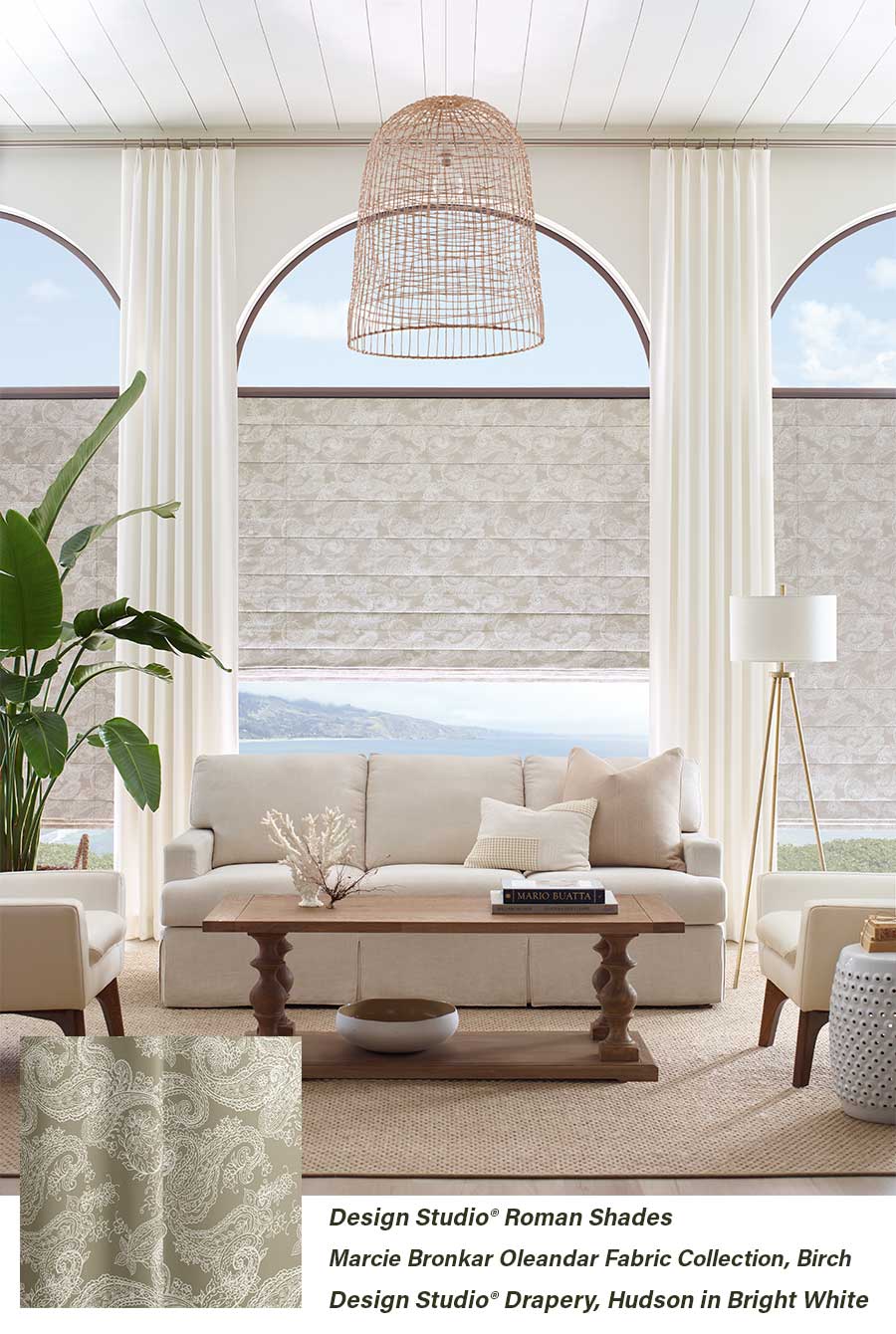 So, by hanging the draperies up toward the ceiling, your eye is drawn to the stunning arched windows. We wouldn't dream of covering up that incredible detail. The base roman shades provide light control and privacy without you even noticing. 
Get in the Mood
It seems like every look is on-trend these days, including dark and moody. But there is a time and place for everything and with a moody aesthetic you have to know when to say when. This is where Marcie Bronkar's design patterns come into play. When you are using a darker palette, try layered fabrics to even out the look. Mix patterns with solids to strike that perfect balance. But, there's one more important step.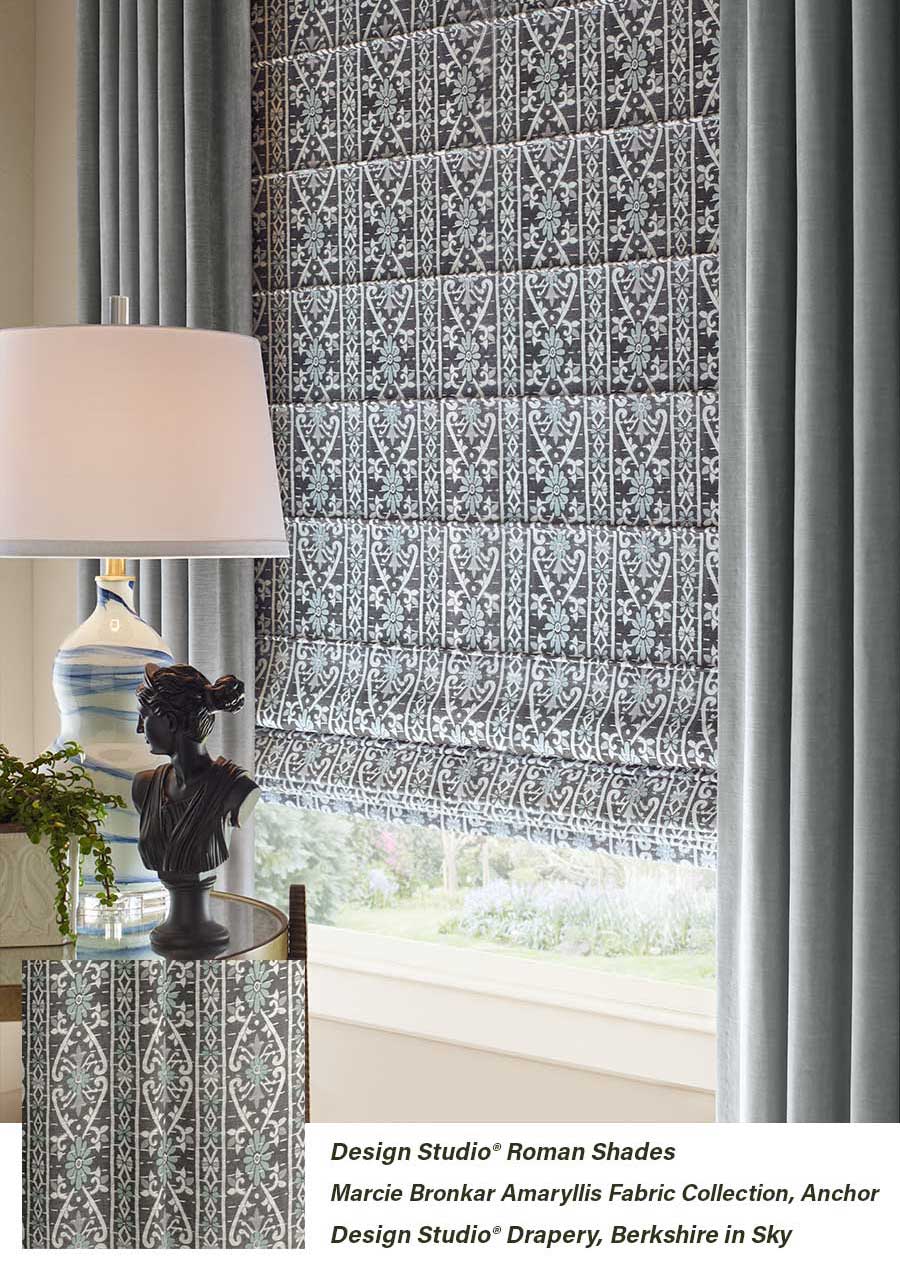 To complete the style, bring in plenty of light colors. Choose a pattern such as Bronkar's Amaryllis, here you see a moody color and a soft neutral color living together in harmony. By layering a solid color drape on either side, you've elevated the style and added function to the window treatments. Function? 
Style + Function
Yes, you can add functions such as privacy, light control and energy efficency into the design of your window treatments. Layered fabrics don't only look incredible but can improve the comfort of your home in so many ways including room darkening or automation. We can help you think of everything.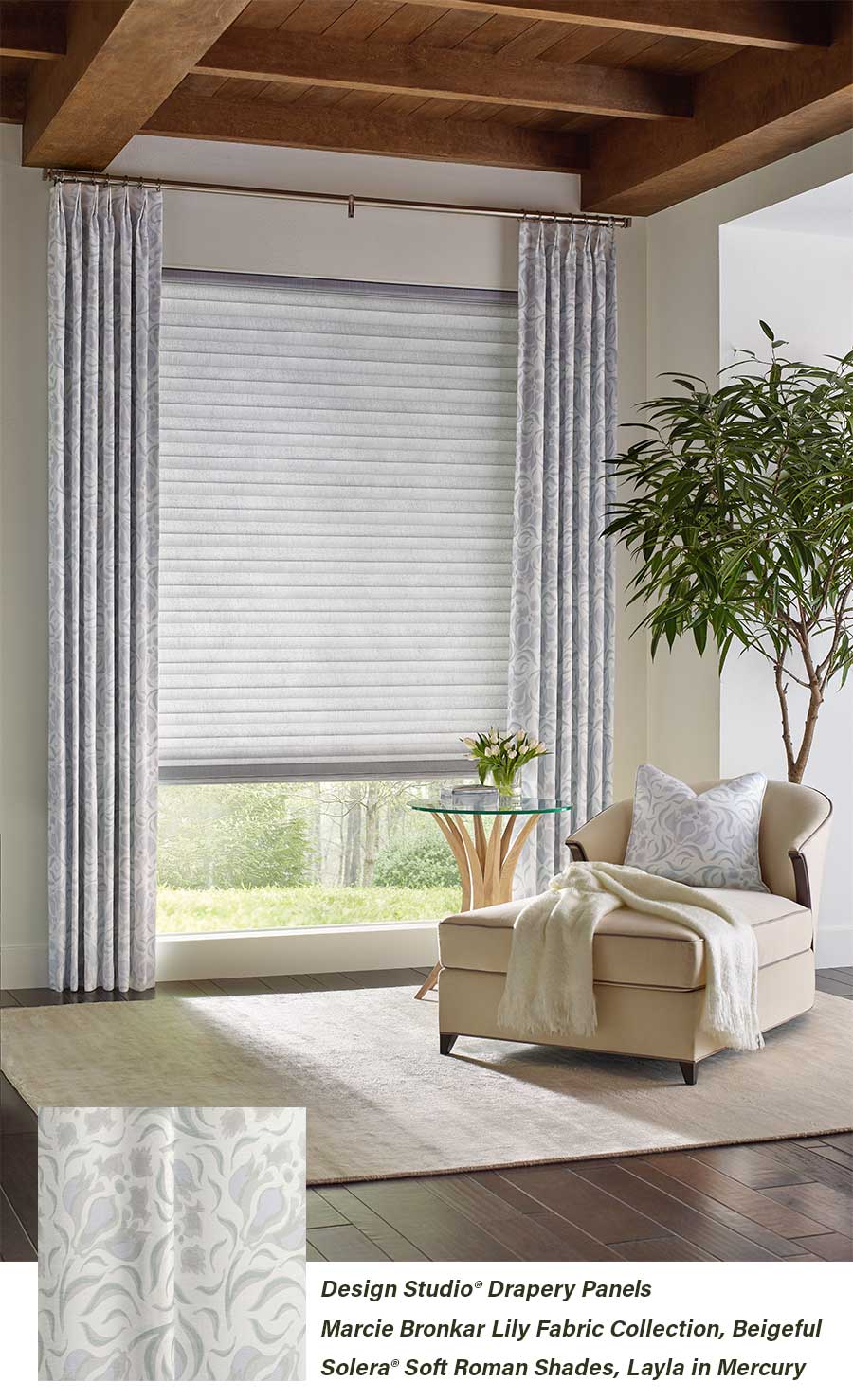 Now that we have considered the function of your treatments, the fun begins! Make your space look amazing with a mix and match of colors and patterns from our collection. This window style takes a common solid shade and makes it extraordinary, simply by layering it with patterned draperies. Amazing. 
Layered Fabrics in Your Home
With a little bit of help, you can get the look of layered fabrics in your home. We are experts in home design and can style each of your windows with privacy, light control and energy efficiency in mind.  Why not make your home look great AND feel comfortable too. Get in touch with our team today, we can visit your home for a FREE consultation. Or, if you prefer to visit our showroom to see what we can offer, we'd love to meet you.