The incoming light can make or break your home's atmosphere. We know this–and you might, too! If you get too much light, it causes frustration and discomfort. The right amount? You'll experience happiness, mood enhancement and an overall blissful feeling. One of the best innovations to come out of the window covering industry is Dual Sheer Shades. Why? They deliver the best of both worlds. Take a look…
What Are They?
Simply explained: Dual Sheer Shades combine the soft, light-filtering atmosphere that comes from sheer shades with the light-blocking that results from room darkening shades. Put them together on one headrail? You've got a match made in heaven. Another plus? They don't take up more room at the window. With a range of window treatment collections now available with this incredible innovation, you also have your choice of favorites.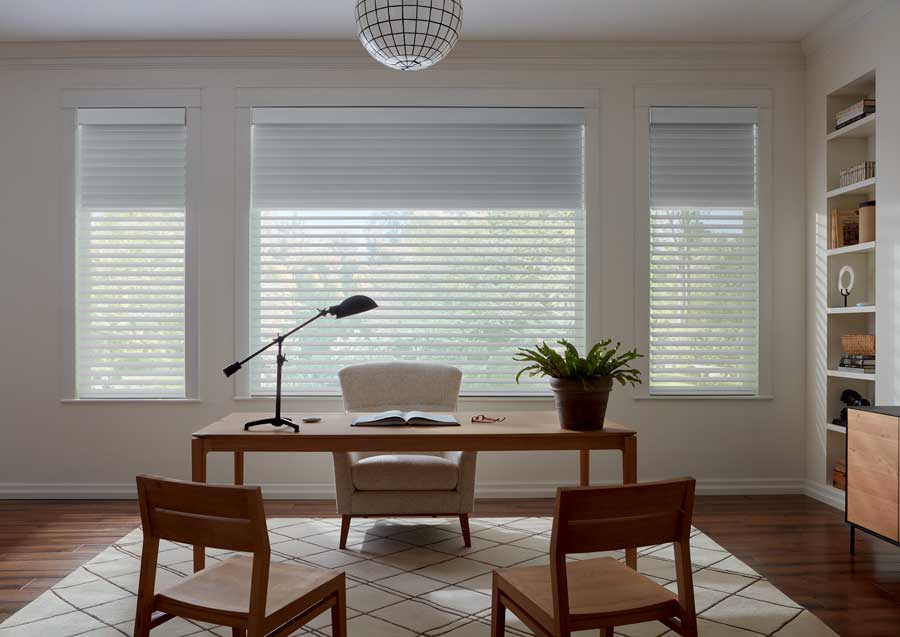 Window Coverings with Dual Capabilities
Designer Roller Shades & Screen Shades
When you choose roller shades & screen shades, it's most likely due to the sleek simplicity of the shades. The low profile design and operation is an easy choice for windows in your home. But, how do you choose the opacity? If you'd like to expand your control, from viewing the landscape and enjoying soft light, to blocking out the light with room darkening, it's all possible with the innovation of Duolite.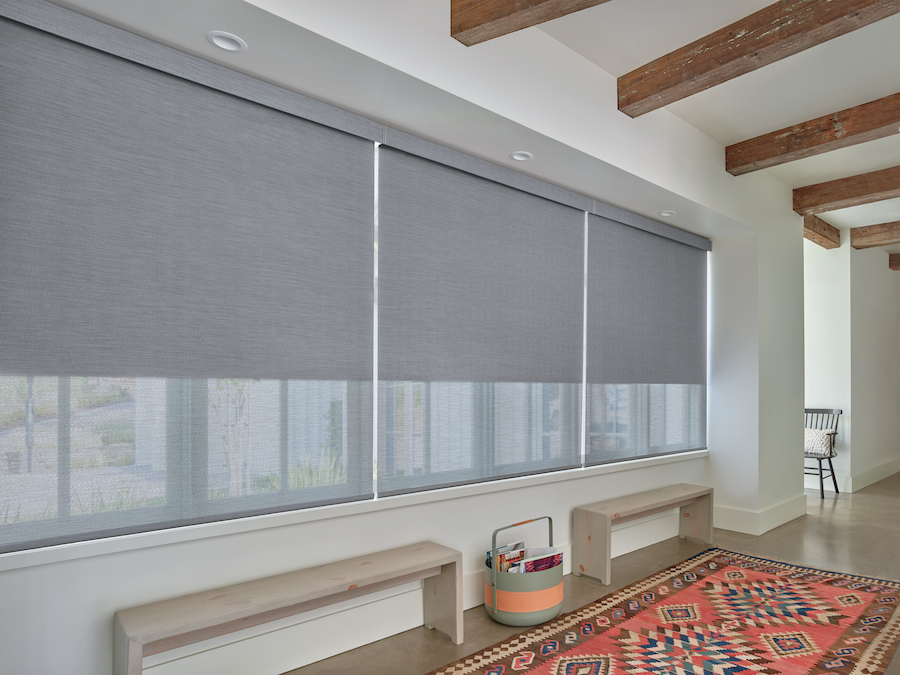 Silhouette Shades
Both favorites among sheer shades, Silhouette & Nantucket shades reveal a stunning landscape when the vanes are opened. Sheer fabrics invite light into your home, but not just any light. The sheers filter and soften the light, reducing glare and adding UV protection. Vanes close to block the views and add additional light control. When you need a wider range of control, the dual sheer shades feature will add room darkening to the list when the secondary roller shade lowers into place.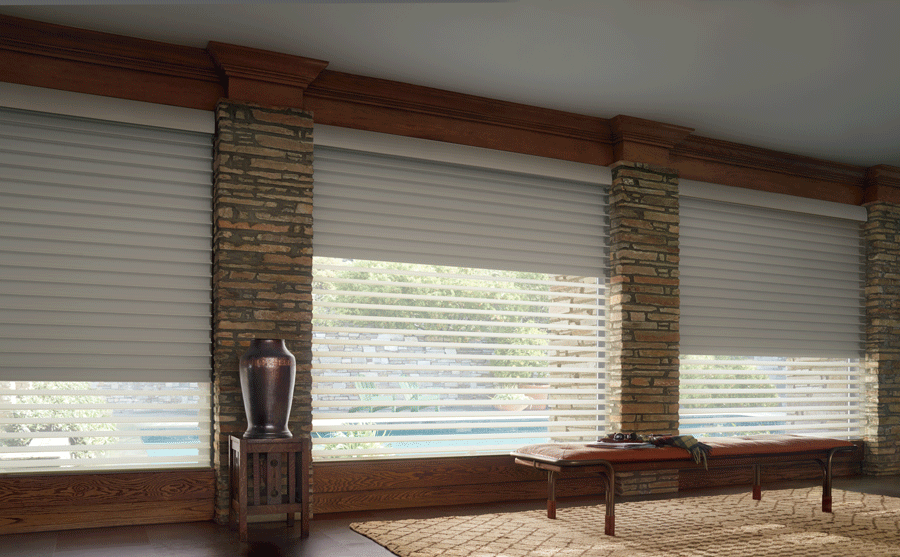 Pirouette Shades
It's ONE shade, with dual function. The solid vanes can close–appearing similar to the look of romans, while offering light control–even room darkening if you'd like. But, when those solid vanes fold in place? A sheer backing takes over, creating an amazing atmosphere. Soft lighting, reduced glare and dynamic view-through are all characteristics of this all-in-one shade system.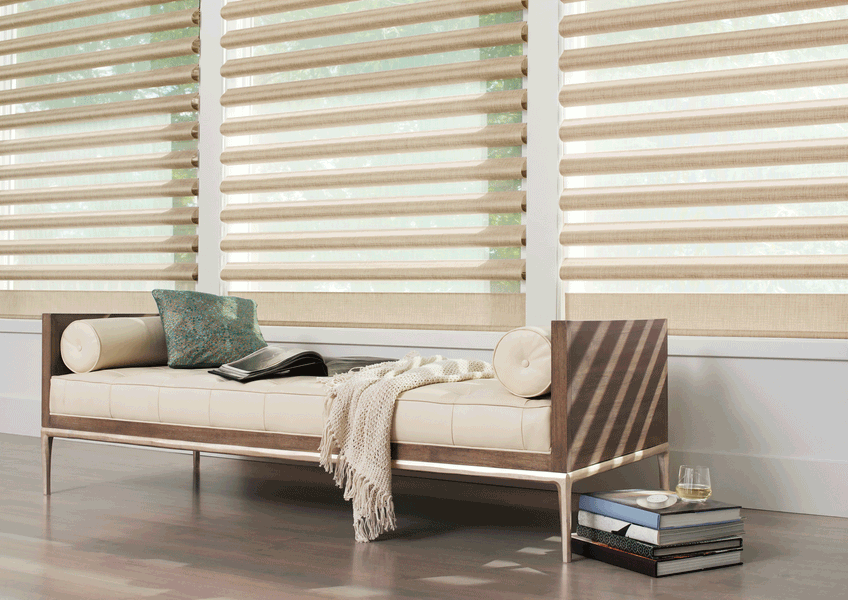 Designer Banded Shades
You don't have to choose dual features to get the best of both worlds with Designer Banded Shades. This shade system is comprised of two layers of fabrics that rotate. Sometimes referred to as Zebra Blinds, you can choose striped patterns of solids and sheers. Other options include geometric designs for art at the window. In position one, you'll see through the sheer fabrics and enjoy the look of these shades. With one quick shift, the solids alternate, blocking the view and even blocking the light. Similar to the function of roller shades, they roll up and out of the way.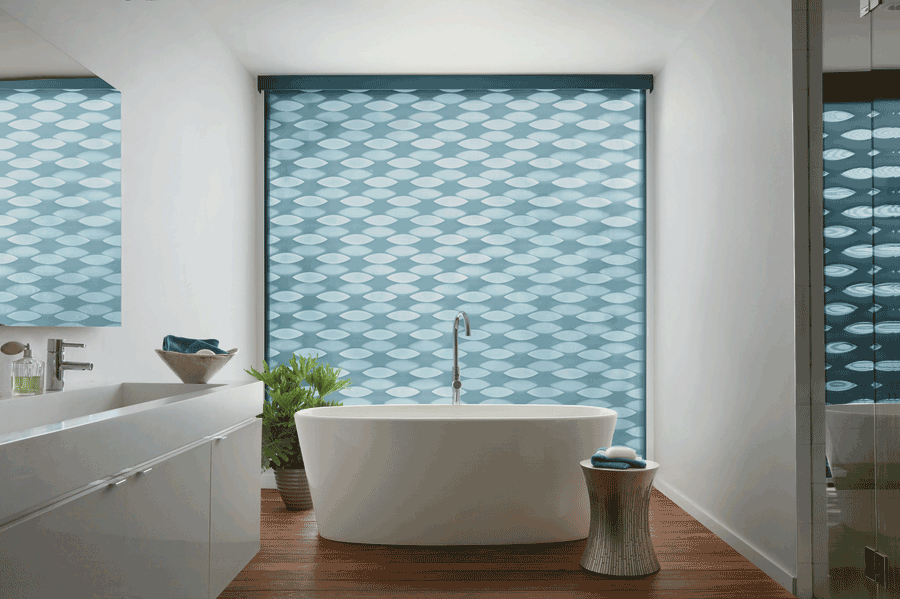 Vignette Modern Roman Shades
Roman shades as sheers? Yes! With Duolite, you can have the widest range of light control, yet still enjoy the styling of romans. With a sheer opacity, you can choose the front light-filtering shade to bring the view and soft lighting into your home. When you want to block everything out, the room darkening roller shade lowers in place for the ultimate in light control.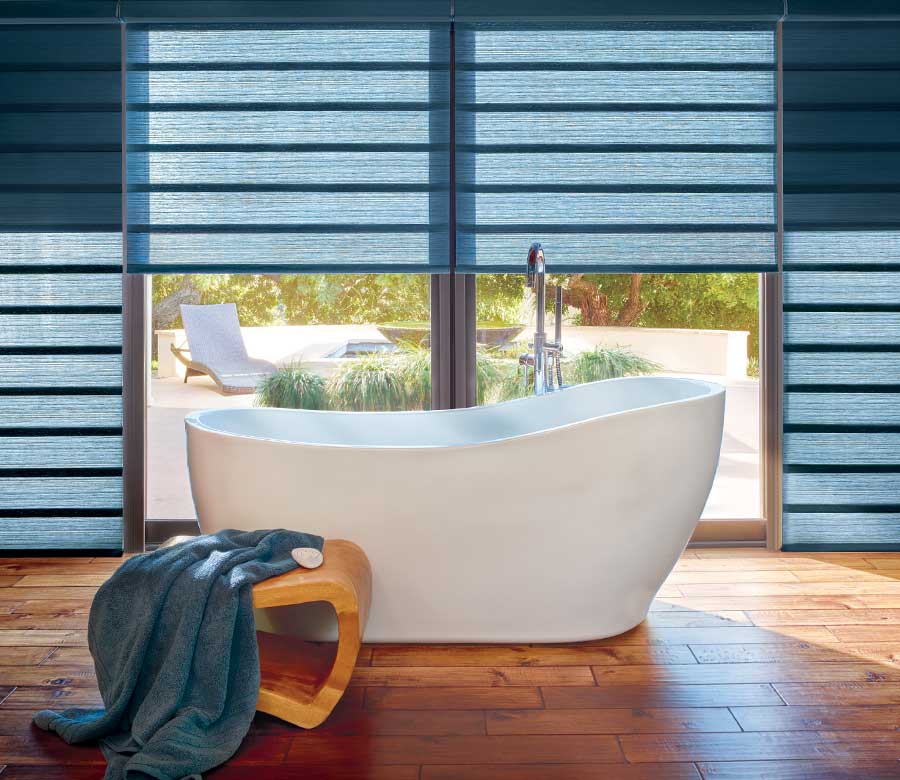 Are You Loving Dual Sheer Shades?
This innovation has become a fast favorite, and there's no secret as to why. With the option to take your space from soft, yet bright, lighting–all the way to room darkening, it's the widest range of light control out there. Get in touch with our team at Rocky Mountain Shutters & Shades for your FREE consultation.