Can you believe we're right on the edge of the most colorful time of year here in Denver? With summer seeming to linger quite long this year, it's hard to believe that autumn will soon be visible all around us with trees ablaze in red, orange, and classic aspen gold. It'll be here before you know it, though! Now's the time to start planning the fall style trends you want to enjoy in your home this season. Not sure what's going to be hot this year? Don't worry. We've got you covered. Here's what's trending in home design this fall.
Styles that Contrast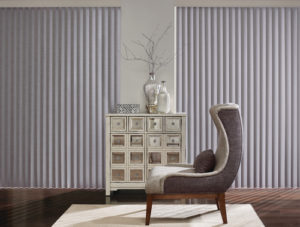 Contrasting colors have been trendy for awhile now because they're so intriguing and vibrant. We've seen blue and yellow pair for eye-catching charm, and green meet up with orange for alluring appeal. Then there's the classic coupling of black and white that's a timeless mainstay in home design. Fall style trends are taking contrast to the next level this year. Moving past just colors, we're seeing contrasting styles enter the scene. Minimalist pieces become showy–dressed up with unique and stand-out finishes. Metallics and mirrors play off of distressed wood, and soft paint colors come together with industrial finishings. It's surprising how well these opposite work together for an upscale, beautiful look. You can bring this look to your windows too. Hunter Douglas has recently introduced new colors, textures, and finishing elements that speak to this year's biggest style trends and will mix in perfect contrast to bring designer style to your home this fall…and all year long.
The Warmth of Textures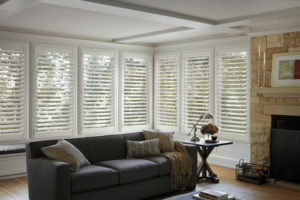 Wrapping up in your favorite throw, sipping warm apple cider, and lighting a fire in the hearth are just a few of the things we relish about autumn. Crisp fall nights and brisk, cool mornings make us long for cozy warmth, and fall style trends are following suit. Warm, cozy textures are in this year. Sweater-like textures for accessories, like blankets and pillows, are both fashionable and wonderfully functional. Rustic textures bring natural warmth too. Accenting with autumn flowers and foliage and displaying fireplace logs in a wicker or wire metal basket are perfect ways to draw warmth into your spaces. Another way is with your window coverings. Plantation shutters are a gorgeous backdrop for your home, and their genuine hardwood craftsmanship makes them completely on-trend this season.
Rich Autumn Colors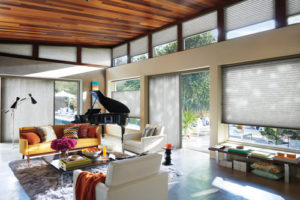 There's nothing quite like the stunning beauty of Denver's landscape in the fall. Rich colors are everywhere. As you look around, your eyes swim in a sea of burnt orange, rustic red, and glowing gold. Bringing those colors into your home–in mighty ways or just small bursts–is a fall style trend that'll add distinct and dramatic appeal. While solids are probably the first thing that come to mind, patterns can work equally as well. Patterns on fabrics, area rugs, and even window coverings create visual interest and sophisticated style. Hunter Douglas has colors and patterns that can put the gorgeousness of fall on display in your home. Autumn Harvest, Luxe Gold, and Toasted Almond are just a few of the selections on offer.
Get Ready with Fall Style Trends
Say goodbye to summer and welcome autumn with beautiful fall style trends throughout your home. Do you love the creative design of contrasting styles, the snuggly warmth of textures, or nature's magnificent colors? We'd love to help you with whatever you're excited about in home design. Make us a part of your next project. At Rocky Mountain Shutters & Shades, our custom window coverings can give you the function and chic sophistication you're looking for. Let us come out for a visit with ideas, inspiration, and expert advice. We'll listen and guide you toward products that are just right for your unique home. Contact us for a free, in-home consultation today.