Are you living the dream of floor to ceiling windows? You're not alone. Gorgeous panoramic views, gleaming natural light, and a sense of boundless freedom into your home might seem like a dream. But, unfortunately the harsh reality is more of a nightmare. Plagued by too much light, extreme heat, and zero privacy, do you just want to escape? You need floor to ceiling window solutions! Allow your grand view and beautiful light to take center stage, while all the problems melt away…
Too Much Light
In your dream, you see glowing sunshine flowing through your floor to ceiling windows and filling your home. It highlights the beauty of your artwork, furniture, and flooring. It's simply stunning and heavenly, but it's not reality. Sure, there are times that the sun does add a gorgeous gleam throughout your spaces, but often there's just too much light.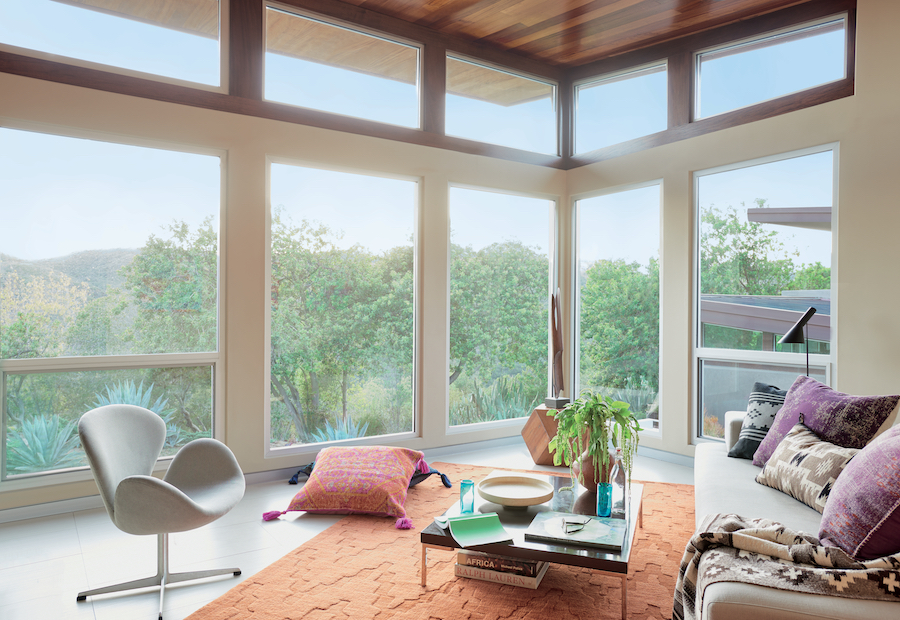 Direct rays shine intensely, and the glare can give you a headache. Plus, there's the fact that all that light pouring in means a whole lot of UV damage is happening. So much for your decor! It's fading and wearing faster than you even know.
So, What Do You Do?
The answer: Control the light. You don't have to block it all out or cover your view completely. That'd create a whole new set of problems. The key is for YOU to decide how much light you want or don't want entering…not the sun. The latest innovations in window coverings offer sheer shadings that let you adjust for the ideal light control.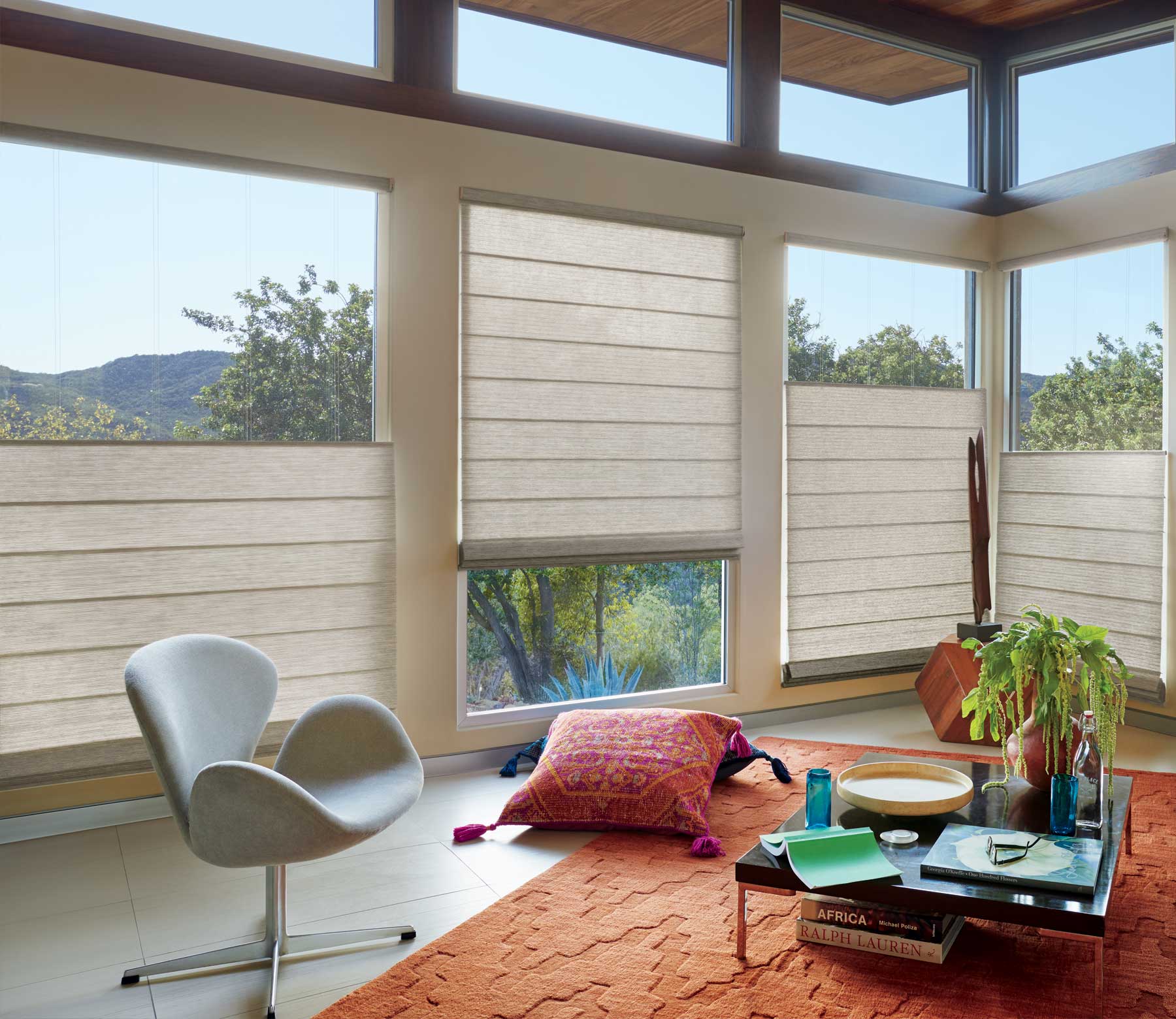 From maximum view-through to blackout, sheer shadings let you experience the ultimate atmosphere, no matter the circumstance. Another innovation in light control? Top down bottom up shades! They're an exceptional choice for floor to ceiling windows because they allow you to position your shades exactly where you need them. You can block direct rays, reduce glare, and even cover up for privacy and UV protection when you want, but you can also have your view. Both sheer shadings and top down bottom up shades make "having it all" possible!
Uncomfortable Temperatures
Floor to ceiling windows connect you to the outside world. They often make you feel like you're living right outdoors…quite literally. When it's sunny and hot, you actually look forward to long car trips and dentist appointments because they're all chances to escape the scorching temperatures inside your home. When it's cold, you end up tearing apart every closet because you just know you have to have another blanket around somewhere.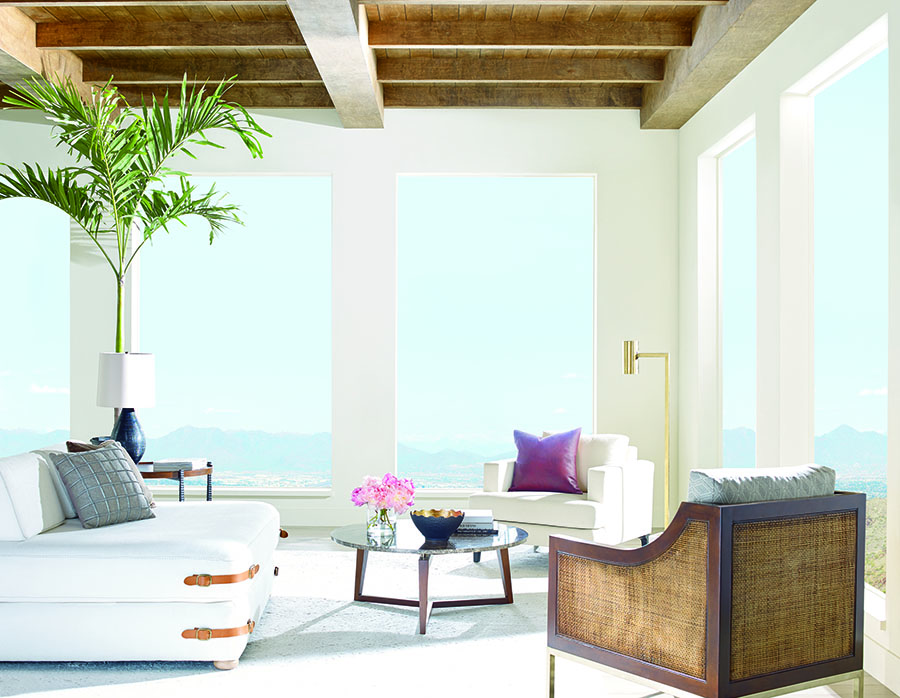 Frustrating temperatures go hand-in-hand with floor to ceiling windows. When part of your home is made from a wall of glass, how could it possibly be any different, right? Well, energy-efficient window coverings will make it different. The insulating cellular design of honeycomb shades helps maintain a comfortable temperature in your rooms–regardless of what's happening on the other side of the glass. We also have fabric options for roman shades that help keep you cooler in the summer and warmer in the winter. What's more?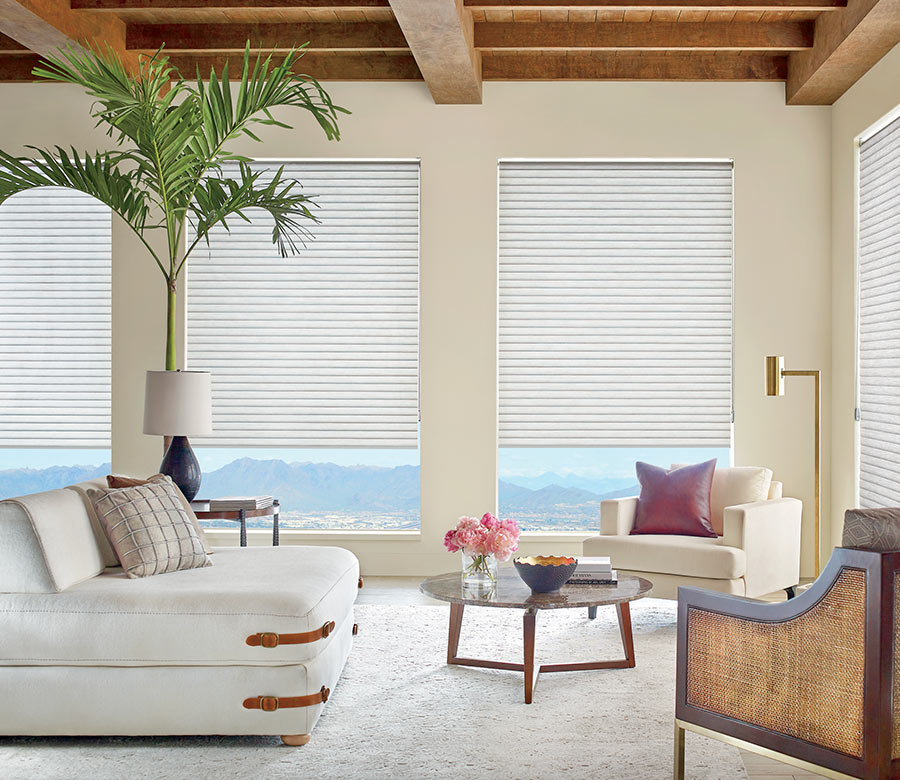 By scheduling your shades to move with the sun through the innovation of PowerView Automation, you can enjoy maximum energy-efficiency and incredible convenience. And, when the weather changes in an instant–because you know it will–use your phone or tablet to make adjustments. Don't live another day in uncomfortable temperatures. Get the energy-efficient solutions you need!
Fear of Losing Your View
Your largest windows–and the view they provide–are probably big parts of why you fell in love with your home. While you're fed up with having too much light, frustrating temperatures, UV damage, and no privacy, you don't want to lose that awesome view. It's understandable…and you don't have to.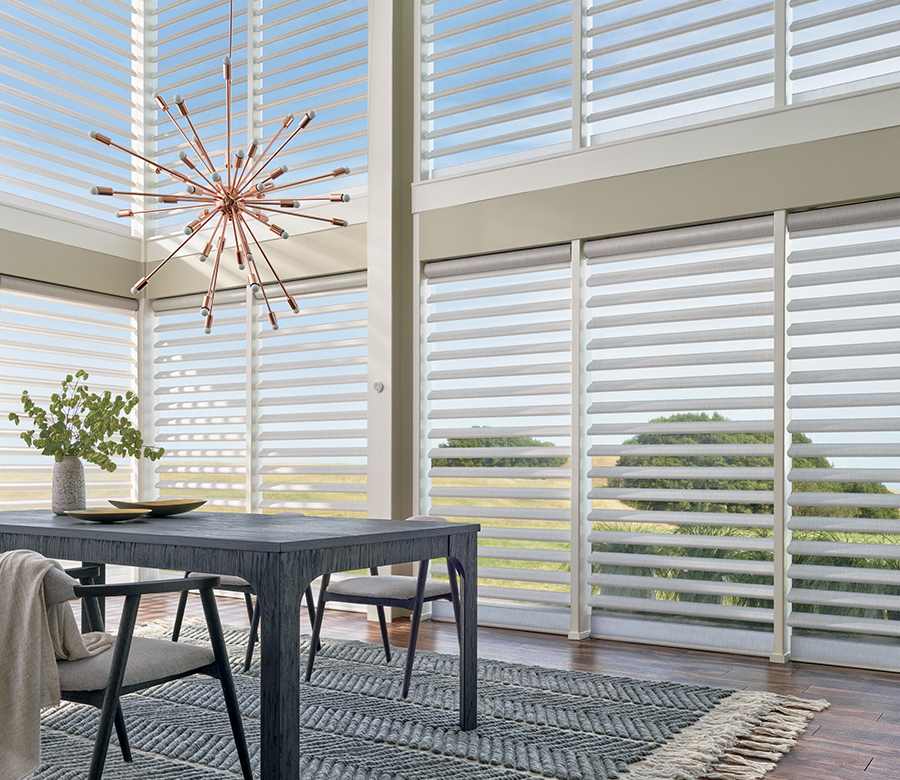 Our collection of sheer shadings give you the benefits of window coverings and keep your view intact. It's the best of both worlds! Sheer fabrics shield your home from excessive light, glare, and UV rays, but they still allow maximum view-through in the lowered position. They also offer options for privacy and, with dual functioning shades, you can enjoy a range of solutions–all the way from from light filtering to room darkening.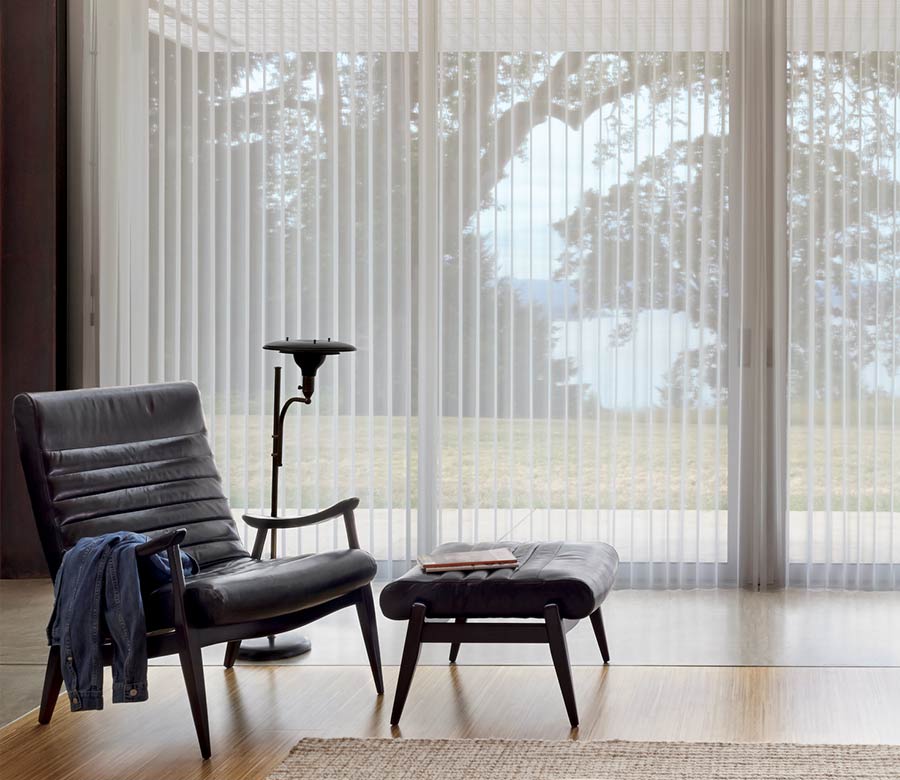 As if that's not enough, sheers are simply gorgeous! You can make each glass pane count toward designer styling in your home. With sheer shadings for your floor to ceiling windows, you'll have all the solutions you need, a magnificent view, and a captivating look.
Floor to Ceiling Window Solutions: Your Dream Come True
You deserve to be living the dream of floor to ceiling windows. We have a wide selection of window coverings for large-scale windows to help you do just that. Don't suffer with all the annoyances and frustrations that come with big expanses of glass. Get the solutions you need and fall in love with your windows again! Contact our team at Rocky Mountain Shutters & Shades for a free, in-home consultation today.