Finding the right bathroom window treatments may seem like a tricky task at first. You spend a good amount of time in the bathroom—getting ready in the morning, adding finishing touches to your makeup before going out, or taking a warm, relaxing bath. Do you need window coverings that will allow light into the room, but won't leave you feeling nervous about lack of privacy? Of course. You should have control over your window coverings so that you can feel like you're starting your day off right and ending on a positive note.
Bathroom Window Treatments: Find Your Best Fit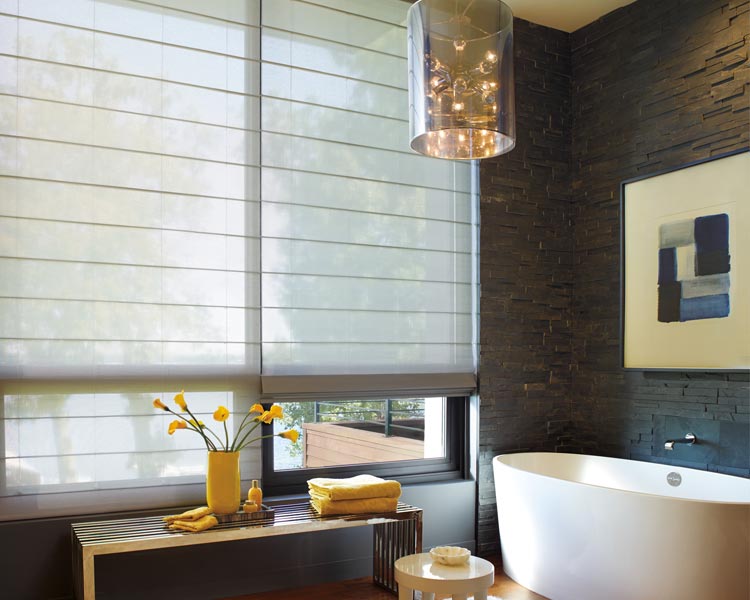 If you haven't discovered the ideal bathroom window treatments, you're not alone–and we've got three of the most common issues our clients are facing. Take a look at some of our recent projects in the Denver area. We'll come right to you to help you find the perfect bathroom window treatments for your home.
Issue #1:
I Want Natural Light, But I Need Privacy.
Like most people, you probably don't realize how much time you spend in your bathroom getting ready. Showering, shaving, ironing, makeup…all normal parts of getting your day started. The biggest issue our clients face is not having the proper amount of natural light. Bathrooms are a vital part of preparing for the day, as well as unwinding, which is why you need to find the best bathroom window treatments for your lifestyle.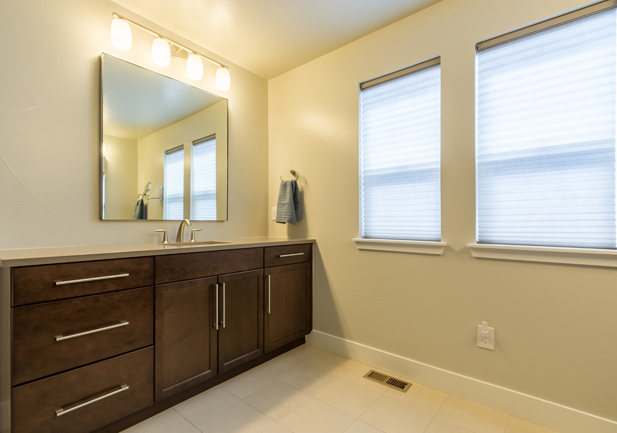 But a view out can also mean a view in, and you deserve privacy. Our Duette shades would be a great option. These window coverings offer varying levels of opacity, so you can choose the right amount of light filtering. They're also available with top down bottom up, which means you get to decide the amount of natural light that comes through, as well as which direction you want it to flow. You can easily manage the privacy, which lets you feel secure and comfortable in your bathroom.
Issue #2: My Bathroom is Too Bright.
Let's face it, not everybody is a morning person. Yes, some people love to wake up at the crack of dawn, watch the sunrise, and prepare for the day before the birds are even chirping. Others…not so much. Does waking up and getting ready in a super bright space sound awful to you? You need the best bathroom window treatments that will help you start your day out right.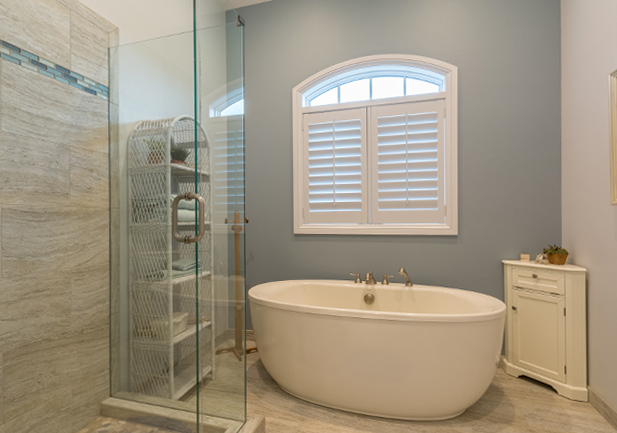 Your bathroom window may be facing the rising sun, which means too much light, way too early in the morning.  A great solution for this common issue would be plantation shutters. Simple adjustment of the louvers lets you direct the light and control the amount, while the UV protection keeps harmful rays out. If heat and humidity are a factor–and in bathrooms, they tend to be–plantation shutters could be a great fit. They're water resilient and won't fade from the sun.
Issue #3:
I Need Solutions, But I Like My View.
It's difficult to decide between having a view or privacy, which is why you shouldn't have to pick! Do you have a marvelous view from your bathroom that you don't want to part with? With the right bathroom window treatments, you don't have to. Silhouette window shades would be a wonderful option for anybody who enjoys the view of their landscape.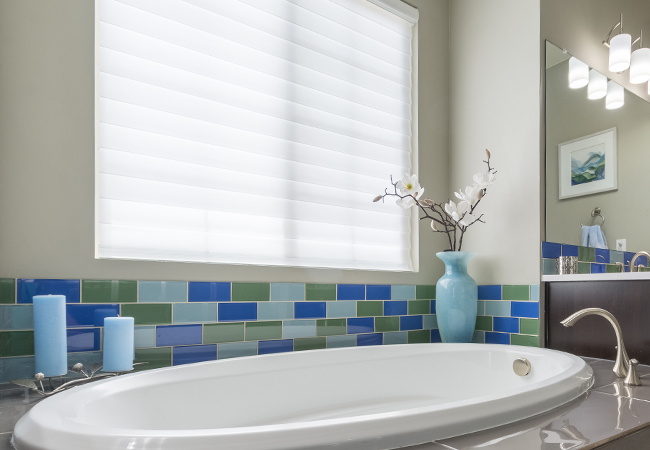 You can maintain your great view, all while bringing in natural light, but diffusing the harsh glare. And, during the day, even when the vanes are adjusted open, the sheers offer you levels of privacy as they reflect outward. Do you want extra privacy at night? Our Silhouette shades can feature a second blackout roller shade, known as Dual Shades.
Issue #4: I Want a Designer Look, But Simple Operation.
We find that bathroom window treatments, more than any other room in the home, are the ones that get adjusted the most. You need solutions that will allow you to change the lighting, privacy and view options as frequently as you would like–without hassle. Our bathroom window treatments aren't just gorgeous, they are easy and convenient to manage!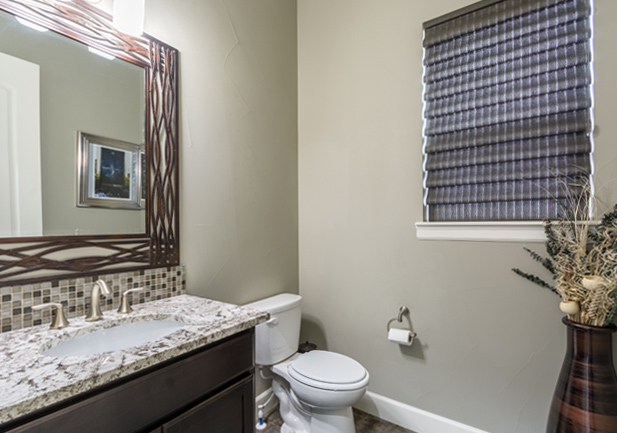 Our operating systems allow you to adjust them quickly. How about the layout? Does your bathroom make it tricky to reach the windows? No problem. With PowerView® automation, adjustment happens at the touch of a button. No muss, no fuss.  
Let Us Help!
Your bathroom window coverings should complete your space. Your bathroom is an important part of everyday, which is why you need the perfect coverings for your routine. Whether you like the bright sun flowing through your bathroom early in the morning, or a more private space, our team is ready to help you find the best bathroom window treatments to fit your lifestyle. Contact us today at Rocky Mountain Shutters & Shades for your free, in-home consultation.