Is there anything more fun than adding design elements to your decor? Patterns have been on the rise in the design world. And, we're here to show you simple ways to incorporate them into your home. Whether you want to keep it simple or give your home a makeover with bold designs, there's a pattern for you. Take a look at our ideas for decorating with patterns.
Bold or Subtle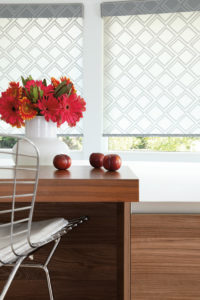 Decorate with patterns that speak to your design style! You can go striking and bold or keep it simple and subtle. Woven patterns, like trellis, have been a popular choice in the design world this year, and we can see why! The interlocking, versatile designs create a bold appearance. Make it even more striking by pairing a bright color with crisp white. Choose a muted tone for a more subtle design. Whichever you choose, your new pattern will bring energy and detail into your space.
Mix and Match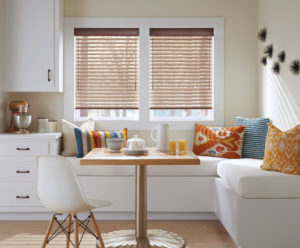 Layering different patterns can take some practice, but it's worth it! Combining your favorites will enhance your design like no solid color can. Start by mixing neutral designs, like stripes and polka dots. Different sized dots can create a custom look. Another great place to start is with geometric shapes. The key is to pick patterns with similar thickness. Or, focus on a color palette. Choose your favorite hue and coordinate your accent pieces based on the color. Contrast with white for a sharp, clean design. Feeling bold? Florals and sharp edges will bring a drastic change into your home.
Big or Small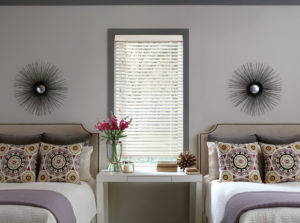 You don't need a room full of patterns in order to make a statement–but, if that's your style, we say go for it! Adding a small touch will certainly go a long way. Search for a pattern you love and incorporate it into your living room or bedroom by decorating with throw pillows. Paired against solid colors, your pattern will pop, making it the center of attention. If you want to go big with your favorite pattern, splash your walls with a new wallpaper. Create an accent wall or cover an entire space. One great way to incorporate patterns is with your window treatments. Designer roller shades offer fabrics with gorgeous colors and designs. We'd love to show you!
Incorporate Patterns With Our Help!
What patterns do you love? Let our team help you create a fresh design with your favorite pattern. Whether you need some advice or want to experience window treatments with a unique design, we want to help! We can show you the latest fabrics. Come visit one of our showrooms or contact our team at Rocky Mountain Shutters & Shades for a free, in-home consultation.