The sun is rising, but everyone is sleeping soundly. The bedrooms in your home are dark and quiet…until it's time to wake up. It's not an alarm that sounds. With motorization, the light gently enters the bedrooms as the shades adjust open. Your home begins to awaken, calm yawns and stretches throughout. Does this sound like a dream? If you have never experienced living with the amazing benefits of automated control, it might be your dream. But right now? It's a very attainable reality! Motorization offers incredible control–it'll change your life.
Motorization for Every Room
Wondering about the possibilities? We're talking major upgrades by way of levels of lighting for every circumstance, privacy, comfort, security and convenience. Not only do the automated shades offer transforming benefits, but the integration of your shades with your smart home system with allow you to set a rhythm to your everyday schedule. Which rooms would benefit from motorization? We picked a favorite feature for each space to help you see the life-changing possibilities.
Bedrooms: Enjoy room darkening, scheduled to fit your life, no matter the time of day.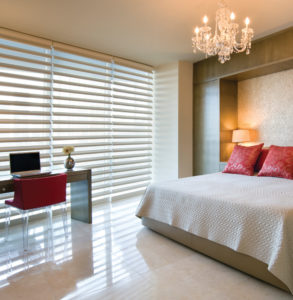 Living Room: Control the temperature in your home by closing off large windows to sunshine during the hottest parts of the day.
Entryway: Bring in the light to start your day off right while not compromising privacy with features like top down shades.
Bathrooms: Privacy happens at the touch of a button for your comfort.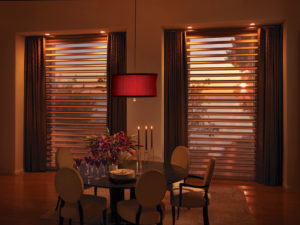 Family Room: Movie night is a breeze with shades that block the glare, or even make it "theater dark" with one simple adjustment.
Office: Reduce glare on the screens in your office while still allowing energy boosting light–easy adjustments from your Apple Watch or smartphone.
Kitchen: The push of a button allows you to bring in natural light to start your day out right with a bright, cheery breakfast environment. And then, one simple adjustment leads to productive food prep without glare.
Dining Room: It's instant atmosphere. Shades welcome dimmed lighting for the ultimate dining experience. Great lighting while enjoying the view.
Favorite Features of Motorization
There are so many things to love about the motorization of blinds and shades. But, we all have our favorites. The short list? We talked with some of our clients who have been enjoying motorization for awhile now, and this is what they said:
"I love how the schedule I set for adjustments perfectly aligns with our life. We're busy, and I no longer have to worry about letting in too much sun or heat during the day."
"It's room darkening in a snap. It doesn't matter what time of day I need it to be dark–with one quick tap on the remote, we've got the perfect environment for sleep!"
"My kids touch the shades a lot less now. They love the push button control to open and close–especially on the sliding glass door, which is a high traffic spot in our home."
Wanna Be Our Next Happy Client?
Do you need the benefits that motorization can provide in your home? Do you want to experience the style and convenience of an automated lifestyle? At Rocky Mountain Shutters & Shades, we can guide you to the best type of control for your home and your life. From simple remote access to fingertip control from anywhere in the world, you can transform your life. Contact our team to bring this innovative control to your Denver area home!