Think of your favorite vacation. Does it conjure up images of lush greenery, sandy beaches or a mountaintop view? This planned time off doesn't just provide soothing images, but the peaceful calm that comes from escaping your daily stress. What if we told you that you could experience the personal serenity of vacation in your own home? With the right elements of home design, a "staycation" in your own home could be your new vacation…
Find Elements You Love.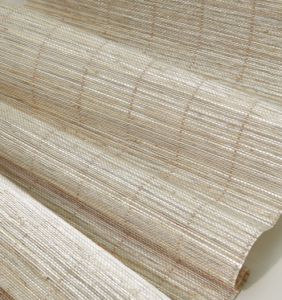 Are there elements of home design that you're drawn to? When it comes to the textures, fabrics and colors throughout a space, they all contribute to the overall atmosphere. Your perfect staycation is exemplified when you coordinate perfect pairings and cozy comfort. This ideal combination can be found in the fabrics, materials and accents you use, so be sure to choose those that bring out your style to create the space you've always dreamed of.
Fall in Love with Your Great Room.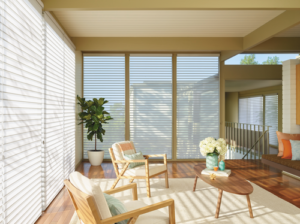 It's often the gathering place of the home. Commonly referred to as the Family Room, or the Living Room, the Great Room sees ever-changing circumstances throughout the day. Whether it holds the comfort of a quiet morning cup of coffee, or family game night filled with laughter and friendly competition, this space is vital to the overall mood of your home–and your life. Because of the nature of this multi-purpose room, you need options for home design that bring comfort and control.  
What's Important: Because it's a gathering place, seating is an important consideration. Conversational seating encourages interaction. But, customized comfort is just as important. The right atmosphere plays such a large role throughout the day, and proper light control will allow you to customize the space no matter the moment's activity. Motorized shadings offer seamless integration with the other elements of smart home technology in your home. This touch of a button–or simply scheduled–control allows instant access for ever-changing needs. And, let's not forget about the awe-inspiring landscape just beyond the windows of your Denver area home. This gathering area in your home is the perfect spot to enjoy the view…with the right window coverings, you can still have view-through without the frustrations that bare windows can bring.
Create a Sanctuary in Your Bedroom.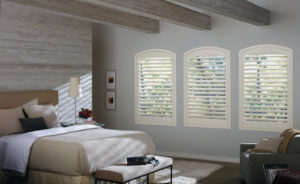 Sleeping in late, surrounded by plush bedding and gorgeous elements of home design, you deserve a space that lets you take a deep breath and relax. This space is special when you want to escape, and there's better way to de-stress your life than both starting and ending your days in your own personal sanctuary. The home design elements should speak with colors that calm and textures that add comfort and softness.
What's Important: Sleep and privacy are the two most important aspects of your bedroom. With the right window treatments, you can achieve high levels of both! Blackout and room darkening options are available across all of our collections. Top down shades bring in natural light while preserving your privacy and comfort. Go ahead, sleep late on the weekends. Then, bring your shades down just enough for the perfect daylighting. You'll finally be able to try out that yoga video you downloaded–don't worry, no one's watching! Let the stress just melt away.
Enjoy the Company of Your Favorite People.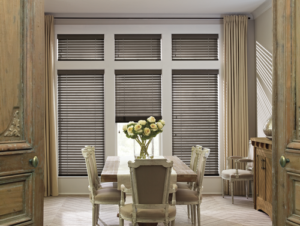 When you think of well-loved memories, they may be filled with moments from past vacations, but what makes them cherished thoughts are the people you shared them with. When you consider creating a beautiful home design, you'll want to add elements that allow you to invite the most important people in your life to share them with. Your dining room is the perfect spot to sit back, wine, dine and share laughter with those you love.
What's Important: Lighting is everything in this space. You'll want a comfortable glow that illuminates without going overboard. How to get it? Dimmable lighting is an ideal way to create a custom environment, along with adding a chandelier or pendants that speak to your design style. How can we help? If you haven't seen the soft glowing atmosphere that's possible with our premiere shadings, you absolutely must experience what the right window coverings can do. Whether it's the filtered view-through of Silhouettes and Pirouettes, or the time-honored tradition of Plantation Shutters, your dining space will be stunning.
Let Your Home Design Wisk You Away!
If you want to make your home your favorite destination, your home design should feature the ideal combination of style and function. With help from our design experts at Rocky Mountain Shutters & Shades, we can transform the atmosphere of your home. Contact our team today to schedule your free, in-home consultation. You'll be on your way to the staycation of your dreams!