It is well known that the kitchen is one of the busiest rooms in the home. Individuals tend to gravitate to this space and spend a good portion of time in it. It can be said that the kitchen even has its own unique personality. Why not make it shine? One way to do this is through kitchen window coverings. They help create a happy atmosphere where your personal style, light control and energy efficiency come together.
Above the Sink
A common feature in homes is a window behind the kitchen sink. This is ideal if you are hand-washing dishes and want to have a beautiful view to look at while you complete this task. However, the invention of the dishwasher eliminates the hours that we would spend at the sink. While the view can be great and a welcomed change of scenery if delicate place settings are involved, there are homeowners wishing to cover these windows. This is mainly due to privacy, glare, heat of the sun and too much natural light.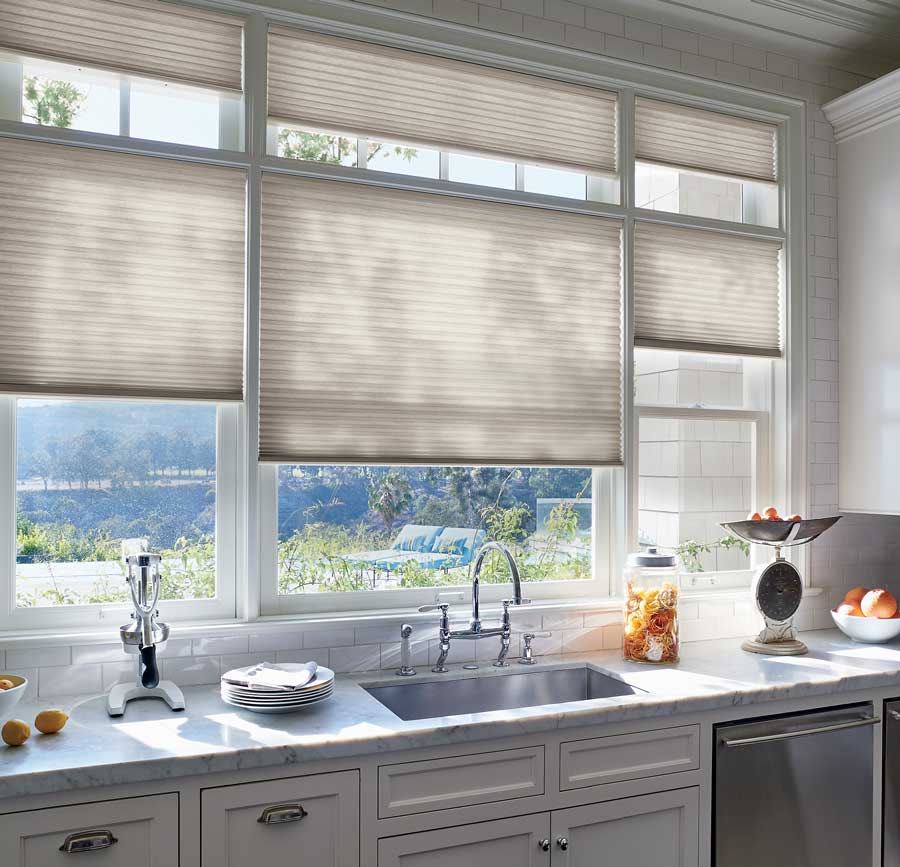 Coordinate Your Windows + Doors
The kitchen is a shared space. While you have windows in your kitchen, you may also have doors that lead to the backyard or side of the house. These could be patio doors, a set of french doors or even a sliding door. If you have any of these in your home, it can be difficult to determine the best kitchen window coverings for them. One solution is to use the same window treatments on both the windows and doors. However, this is not a requirement.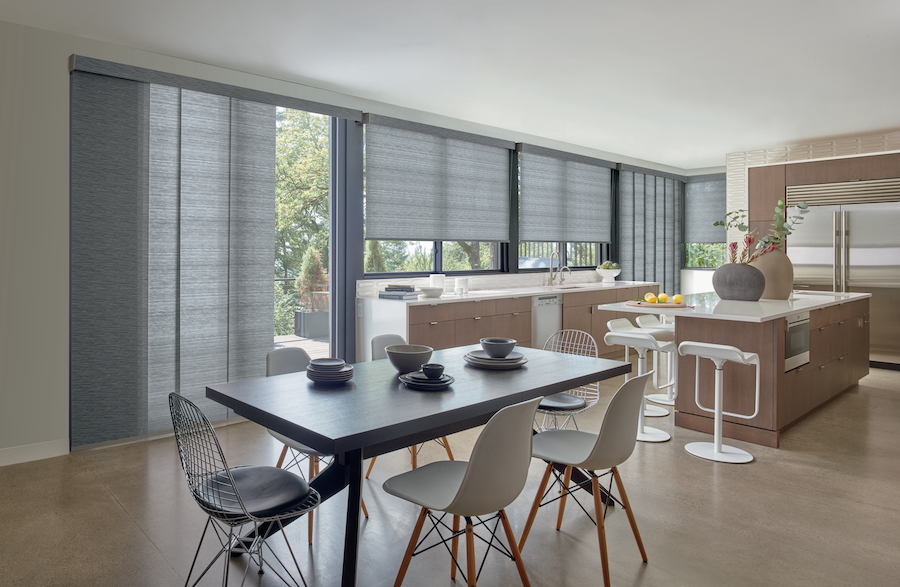 You can consider coordinating your windows and doors with similar matching fabrics. These can be vertical or horizontal shades. Not only will the slight difference in look be eye-catching to you and your house guests but it will also allow the movement of the shade to match the movement of the door and windows.
Eat-In Area
If you have a dine-in area in your kitchen, you may find that it can be both a blessing in a curse. During certain times of the day, the sun can be in your eyes as you enjoy your meal. If you pick another seat during a different mealtime, you may feel the heat of the sun bouncing off you. Both of these situations do not make for a comfortable eating area. With the right kitchen window coverings, you can prevent the heat of the sun and glare from coming in when you're sitting down to eat.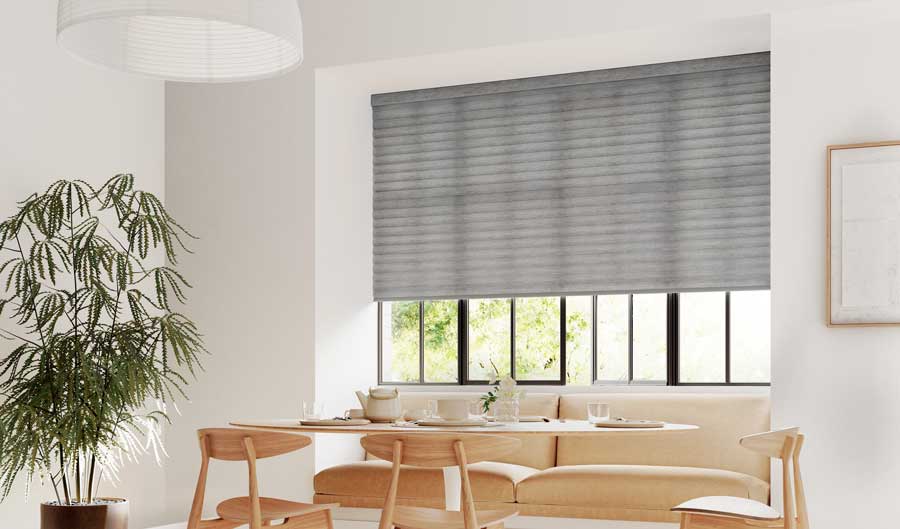 Keep The Kitchen Window Coverings Clean
The kitchen can get messy really quickly depending on what you're making. During the preparation phase, you can experience food debris on your counters, walls and even window coverings. Your window treatment specialist can help you determine the right blinds, shades or shutters for your space. They will know the perfect coverings to withstand the daily conditions of your kitchen.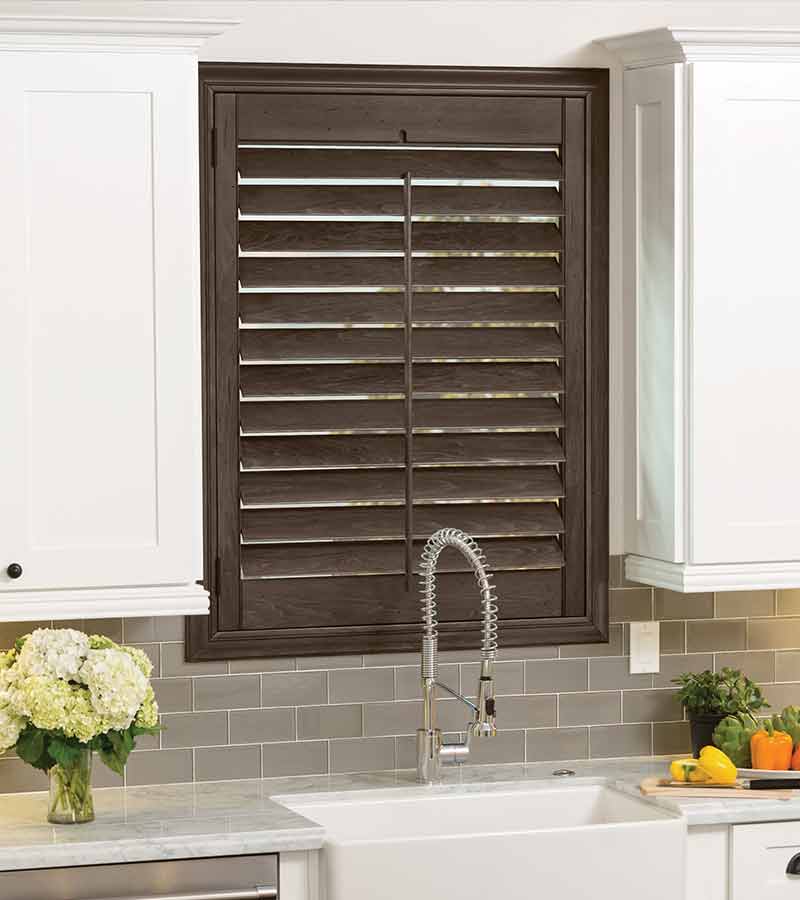 Let's Get Started
At Rocky Mountain Shutters and Shades, we are ready to help you find the best kitchen window coverings for your home. Not only can we assist with determining the ideal options to control the heat, privacy, glare and light but we can do this via an in-home, virtual or showroom consultation. Contact our team today to get started!