As you gear up to find inspiration for those large window covering ideas, know that you've come to the right place. We know that large windows come in all shapes and sizes. Not only do they often become the focal point of any room but they are bold and greatly contribute to your interior design style. At Rocky Mountain Shutters & Shades, we're prepared to be your partners in finding the absolute perfect window coverings for your home. However, it is important to note that windows come in all shapes and sizes. Each one has its own personality. It is key to remember that pairing these characteristics with your choice of fabrics can impact the sizing.
Staying Out of the Heat
Picture this: it's early afternoon and the sun's relentless rays are streaming through your large windows. You clearly feel the temperature increasing, and all you can think about is finding a solution to shield your space from the sun and the heat.  Well, here's where large window covering ideas come to the rescue!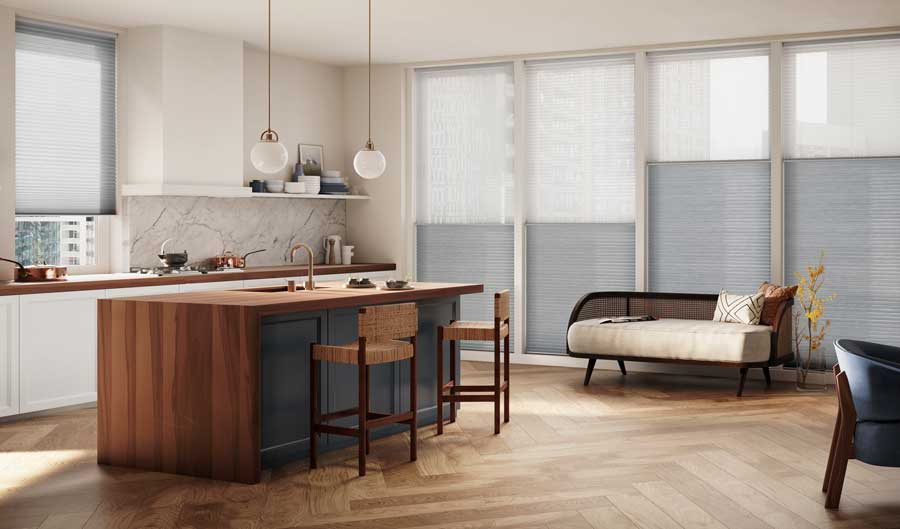 Starting with honeycomb shades, they are your trusted allies in keeping your living space cool and comfortable, even in the hottest months. Honeycomb shades expertly help with temperature regulation, insulating your home while allowing soft light to shine through. Cellular shades come in both horizontal and vertical orientations and perfectly fit windows of all shapes and sizes. An added benefit is that they create a cohesive look that can quickly transform the look and feel of your space.
Horizontal window coverage spans up to a remarkable 14 feet in width and 12 feet in height. Vertical window coverage up to 28 feet in width and 10 feet in height.
Securing Privacy
As you were looking to buy your home, you were probably captivated by the large windows in your home. While these breathtaking views are an added bonus, it does come at a cost. There is a definite loss of privacy. Are those views worth the sacrifice?
By adding sheer shades to your large windows, you will not have to sacrifice anything. They are an ideal solution that allows you to enjoy the views while protecting your privacy.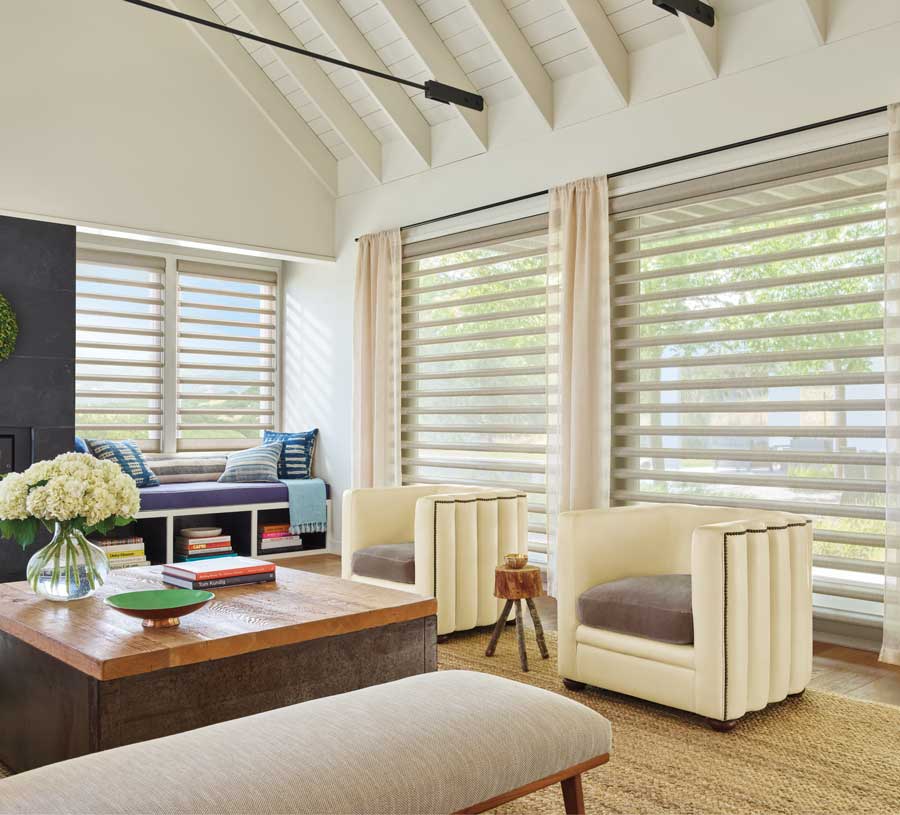 Among the many sheer shade options, pirouette shades are great for this situation. They have a dual shade functionality that can easily unveil your scenic views, provide privacy, and recede into the background. As pirouette shades have sheer backing fabric, they invite sunlight to come into your home while also protecting your privacy. Fun fact: Once the vanes are closed, your room could be bathed in absolute darkness with the right fabrics.
For horizontal windows, these shades can span up to 12 feet in width and 12 feet in height.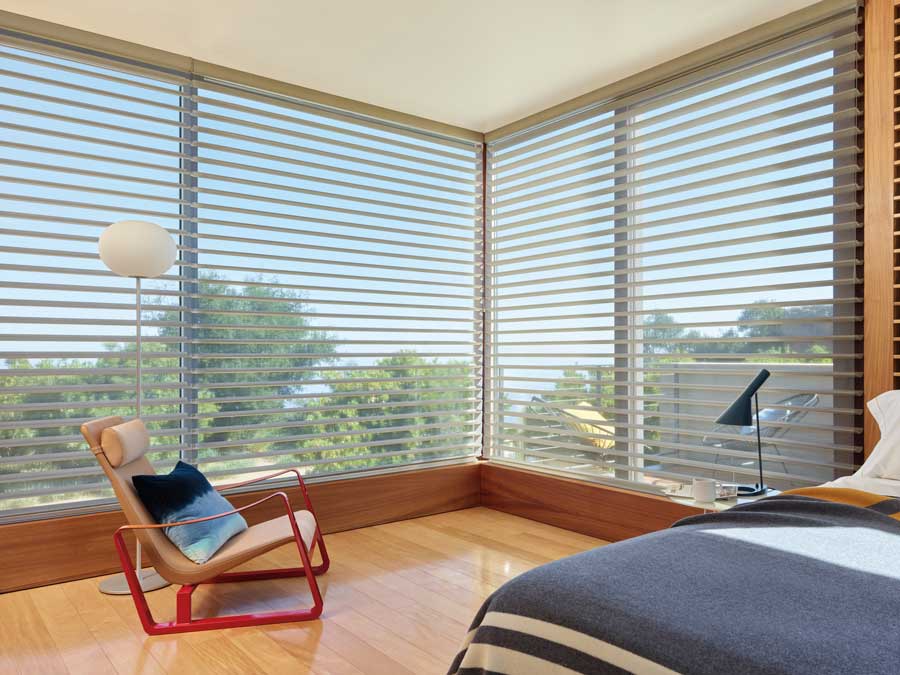 Another excellent option is silhouette shades. They do not fold in place, but their fabric vanes tilt. It showcases unobstructed views while diffusing the light entering through the windows. An additional feature of silhouette shades is that they can be dual shades. This grants you control over the level of light entering.
For horizontal windows, the maximum dimensions extend up to 12 feet in width and a towering 11+ feet in height.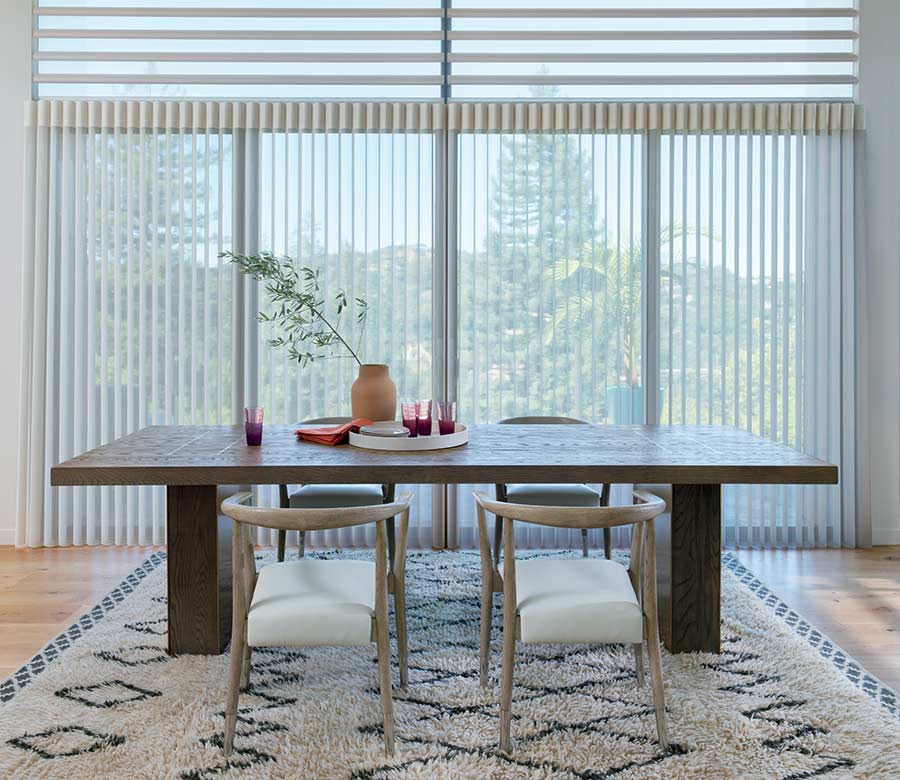 Furthermore, let us introduce luminette privacy sheers. These shades are all about a vertical orientation. The solid vanes adjust to offer sheer views or they can be tightly closed to regulate light. With a simple shift of the vanes, you can achieve room darkening and total privacy.
For both windows and doors, the vertical measurements reach up to a grand 16 feet in width and 10 feet in height.
Enhancing Your Aesthetic
The beauty of your home's largest windows can play a key role in shaping your living space's overall aesthetic. Consider roman shades. They have cascading fabrics that add a touch of visual appeal to any room. Within our Roman shade collections, you'll easily find inspiration for large window covering ideas.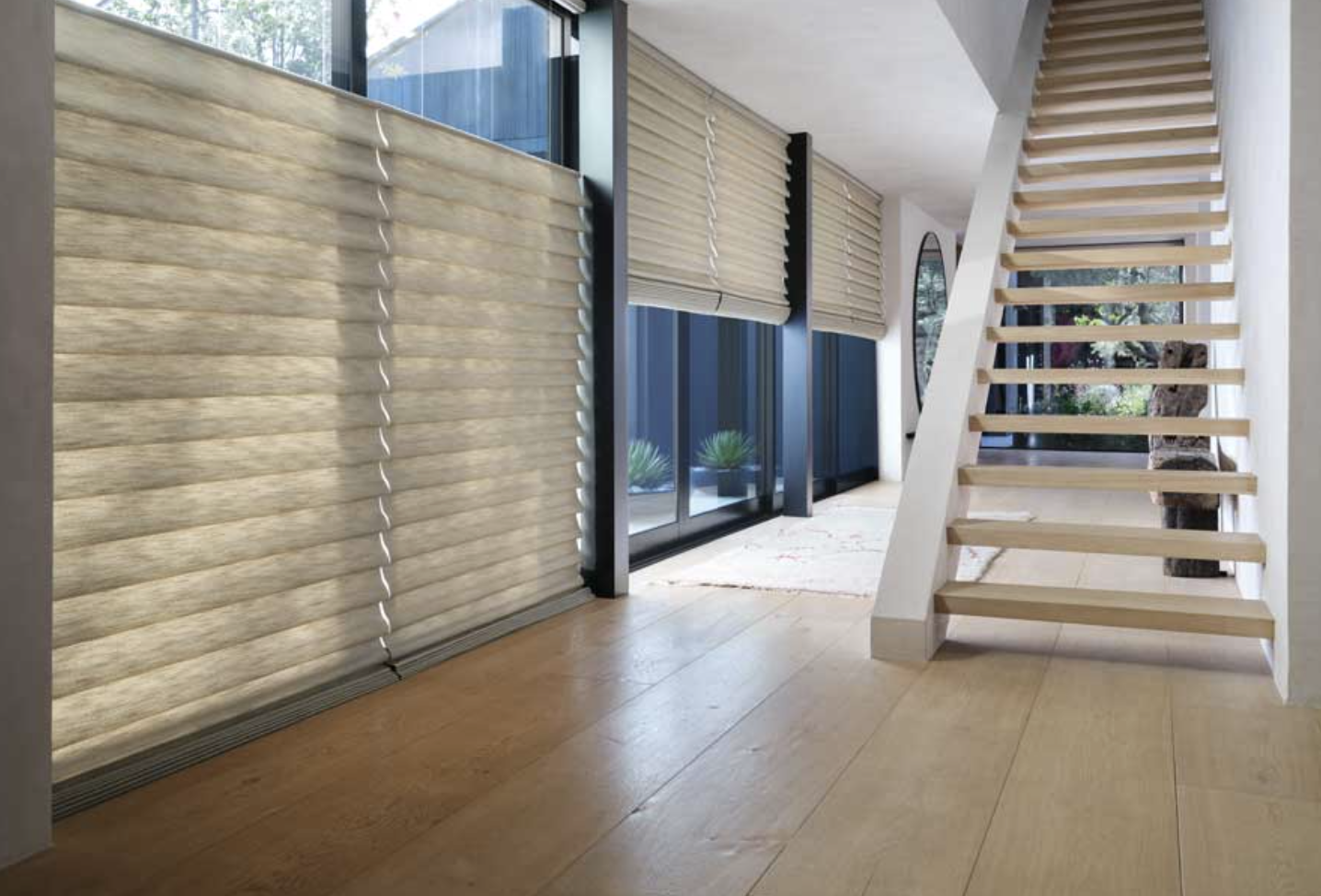 For those who wish to combine light control, style, and privacy for their floor-to-ceiling windows, vignette modern roman shades are the solution. These window coverings manage incoming light, shield your home from harsh sunlight, and offer unobstructed views and privacy.
Horizontal windows can bask in the elegance of vignette modern roman shades, spanning up to 11+ feet in width and 12 feet in height.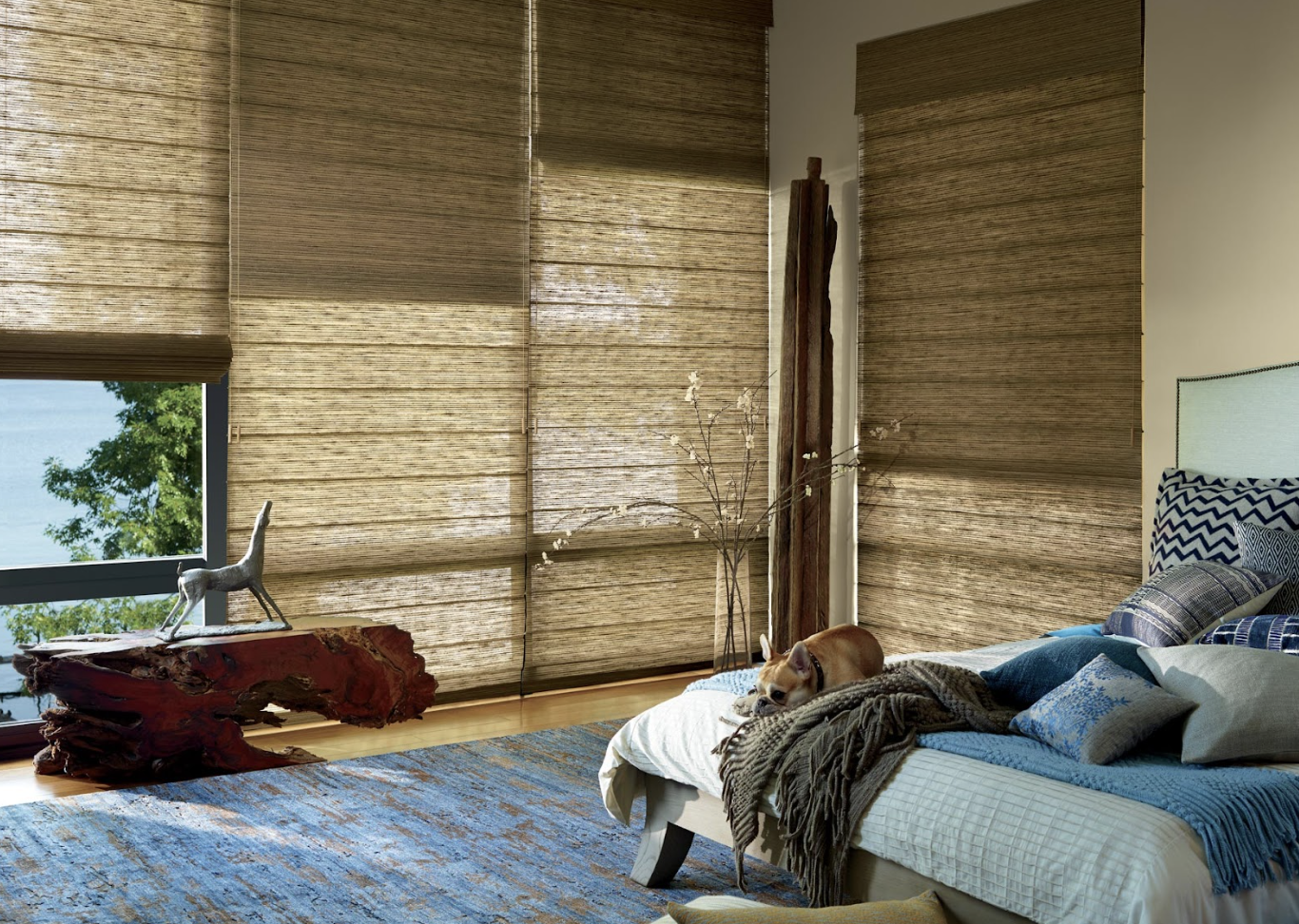 Alternatively, provenance woven woods are a great option if you want to incorporate texture into windows of any dimension within your home. Made from woven materials, these shades filter light while maintaining your privacy. The top-down and dual shade feature lets you tailor your home's atmosphere to perfection.
Keeping it Simple
Within the world of large window covering ideas is a realm of endless possibilities. The best part is that there is no right or wrong choice. Whatever resonates best with your space and your style is what you should go with. If you prefer a more understated look, we've got options for you too! Roller shades are designed to conceal your largest windows. They stay intimately close to your windows and add a clean, minimalistic look to your space.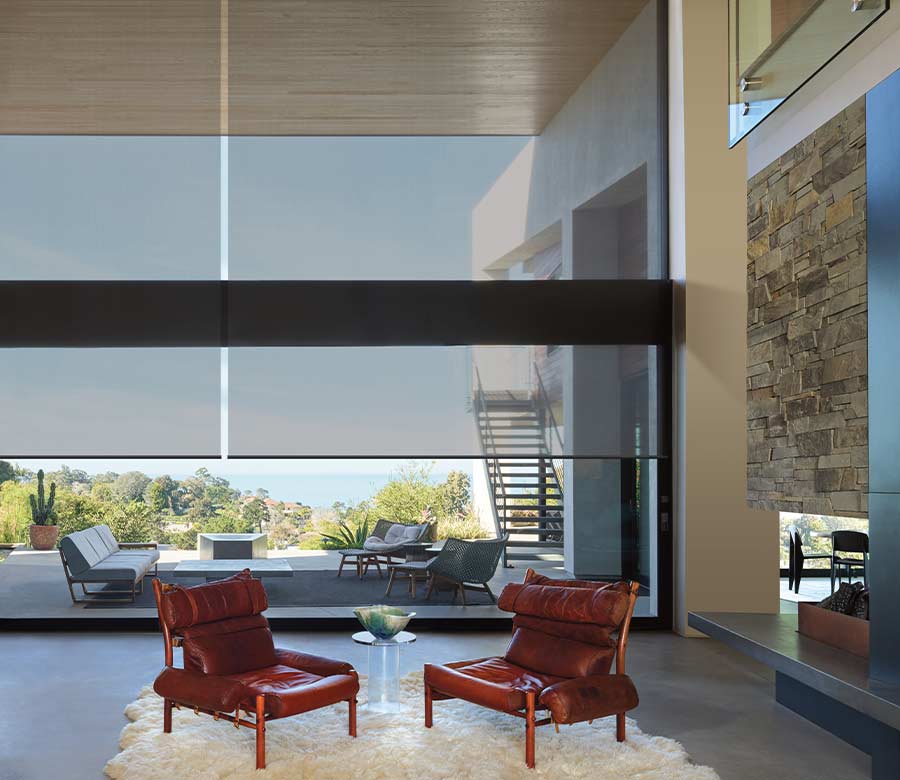 If you wish to shield your large windows from the elements, solar shades are the way to go! They get rid of excessive light and glare while protecting the interior of your home from harmful UV rays. Solar shades are perfect for creating a haven of comfort and serenity. Plus, they offer a range of enhancements, including smart features and dual shades!
Horizontal windows can be dressed with roller shades, spanning up to an impressive 16 feet in width and 12 feet in height.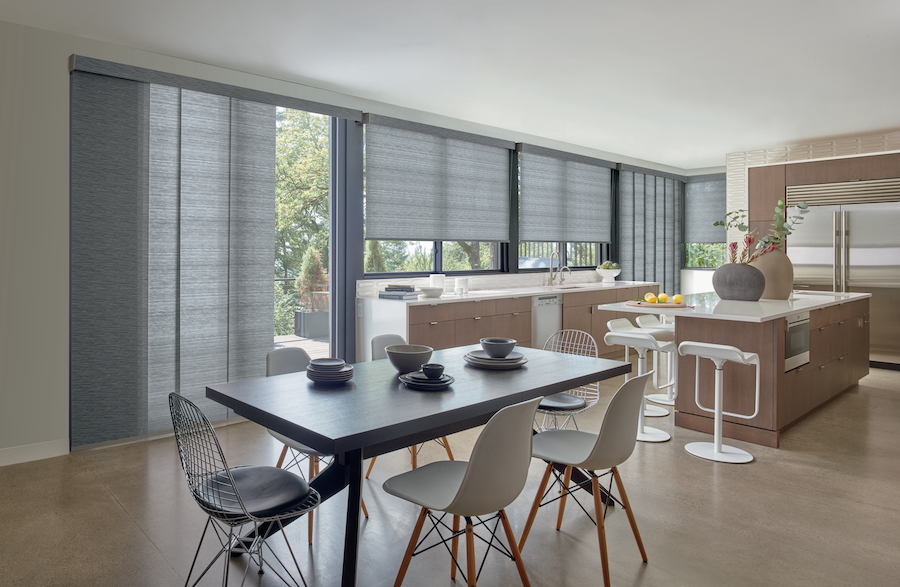 If you are interested in exploring vertical solutions, the Skyline Gliding Window Panels provide coverage for both doors and windows. They create a seamless, cohesive look throughout the home.
Vertical panels are capable of covering windows and doors, up to 32 feet wide, 14 feet tall.
Ready to Find Those Large Window Covering Ideas?
Our team of designers at Rocky Mountain Shutters & Shades is eager to assist you in transforming your vision into a splendid reality. Let's work together to create an atmosphere in your home that perfectly reflects your style. Schedule a FREE consultation today, and let's embark on this exciting journey of large window covering ideas!