Ready to find out the latest innovations in the window covering world?!? We'd like to introduce our newest products to you. From brand new inventions to a geometric twist on an old favorite, come along as we take you on a tour of this year's product launches from Hunter Douglas. Bring designer styling, child safety, energy efficiency and the ultimate in home convenience with the latest upgrades into your Denver area home!
Sleek Lines, Geometric Patterns…Our Designer Banded Shades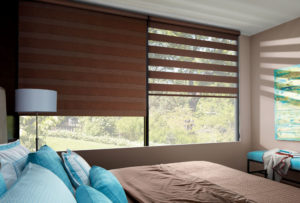 One of our newest products in Hunter Douglas window coverings is the designer styling of our–aptly named–Designer Banded Shades. These window coverings are considered a member of the roller shade family. But the look of them? At first glance, you might think they're one of our premier shadings. One part sheer fabric, one part opaque gives you a stunning look. You've got choices of patterning fabrics or clean lines.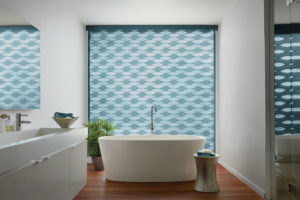 Here's where simple turns dramatic. With two layers of fabric–capable of rotating–a simple turn, adjustment, or click, means that sheer fabric is now backed with opaque. What was–one moment prior–light filtering, is now much darker, available in room-darkening and complete privacy.
Roller + Honeycomb, Our Newest Invention…Sonnette Shades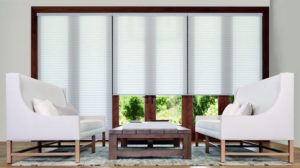 Do you love the gorgeous, dimensional fabrics of honeycomb shades? What about the energy efficiency? And, then there's the simplistic operation, fabulous results and stunning backdrop of roller shades. Hunter Douglas is blowing up the window covering world by offering one of its newest products and a whole lot of innovation.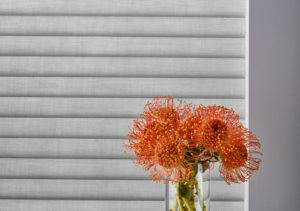 Sonnette shades combine everything you love about both types of shades, bringing them together into its own collection. The dimension, the beauty, the function, the low profile design and the energy efficiency that you've always wanted is here. Simply striking, with dynamic results–it's the ultimate combination for your home.
Taking Child Safety to a New Level…The SoftTouch Operating System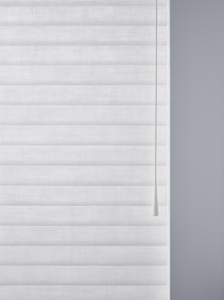 Cord safety and cordless innovation has been of the utmost importance in the last decade. We take the safety of your home very seriously, and that's why we're thrilled to present one more option for you. And–oh–is it ever so cool. SoftTouch is a wand that offers motorized operation for individual windows. It's one of our newest products in operating systems. It's sleek, simple and easy to use. It gives you motorization for the windows you choose. What makes it so innovative in the field of child safety? When pulled on (as opposed to the simple nudge to operate), it detaches–because it's magnetic. No cords, no dangers, just the simple control and convenient operation you get with motorized shades.
Want One of Our Newest Products?
How about all of them? Loads of innovation, designer styling, and the function you need to make your life easier–want to see these in person? In the Denver area, come visit one of our three showrooms for inspiration and advice. Looking for an in-home consultation? We would love to visit you for a free design experience in the comfort of your home. Contact our team at Rocky Mountain Shutters & Shades to make an appointment today!