Why does the intense heat of summer come as a surprise each year? While most of us prefer a sunny day to a snowy one, we have our limits. Our homes need protection from the heat too. It's time to consider the best energy efficient window coverings that will improve our comfort this summer. Let's explore together. 
Consider the Benefits: Window Shades, Blinds, Draperies & Shutters
Not ready to replace your windows just yet? We get it. Some homeowners think the only way to achieve the best energy efficiency is by replacing. Not true. Installing new windows is definitely an option, but you are still left with one major problem-sunshine, not to mention the cost. Examine how window shades, blinds, shutters or drapery can benefit your home and keep it cool in the summer. Here are some things to consider.
Compatible with smart home technology

Invite natural light without heat

Better sleep with room darkening

Adjustable privacy

Reduced glare

Coordinated style with the design of your home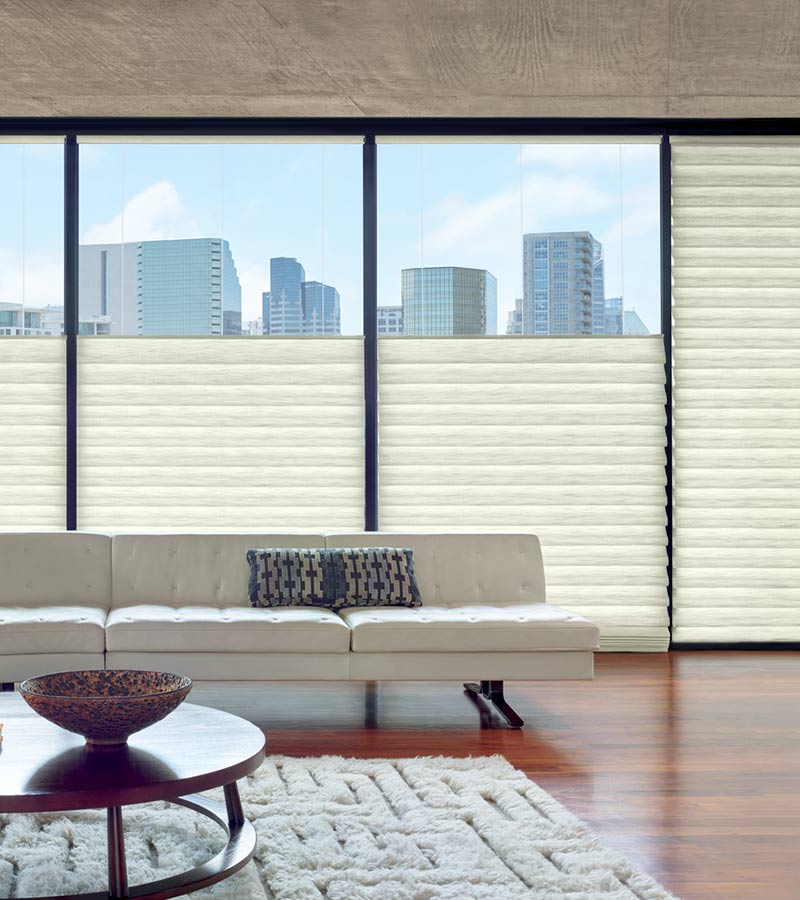 Consider the Features: Energy Efficient Window Coverings
So, if you haven't replaced your shades or drapes in a while, look out. You're entering a whole new world of window coverings. The advancements in technology and new innovative ideas have created amazing features that can greatly increase the comfort, safety, convenience and efficiency of your home. 
Automation: Smart shades integrate with your smart home technology, for scheduled adjustments or voice command movement in an instant.
Dual Shades: Two shades on the same window for soft lighting & light blocking options.
Top Down: The top of the shade lowers enough to let in light, while the majority of the window is blocked.
Tricky Windows: Tilt & Turn windows, specialty shaped windows or glass doors can feature custom coverings to insulate your home
Tell Me More
Wondering how they work? To ensure the best energy efficient window coverings they must do what they are meant to do, right? Here's how.
Insulating Design
First, the insulating design of shades was developed to stop air flow, which can lead to significant energy loss at the window. Cellular shades have been known for years to stop the heat at the window. This prevents heat from entering in summer and from escaping in the winter. 
Innovative Techniques
Interior window channels, that guide the shades, are another way of reducing light gaps and air flow for best energy efficiency. Take a look.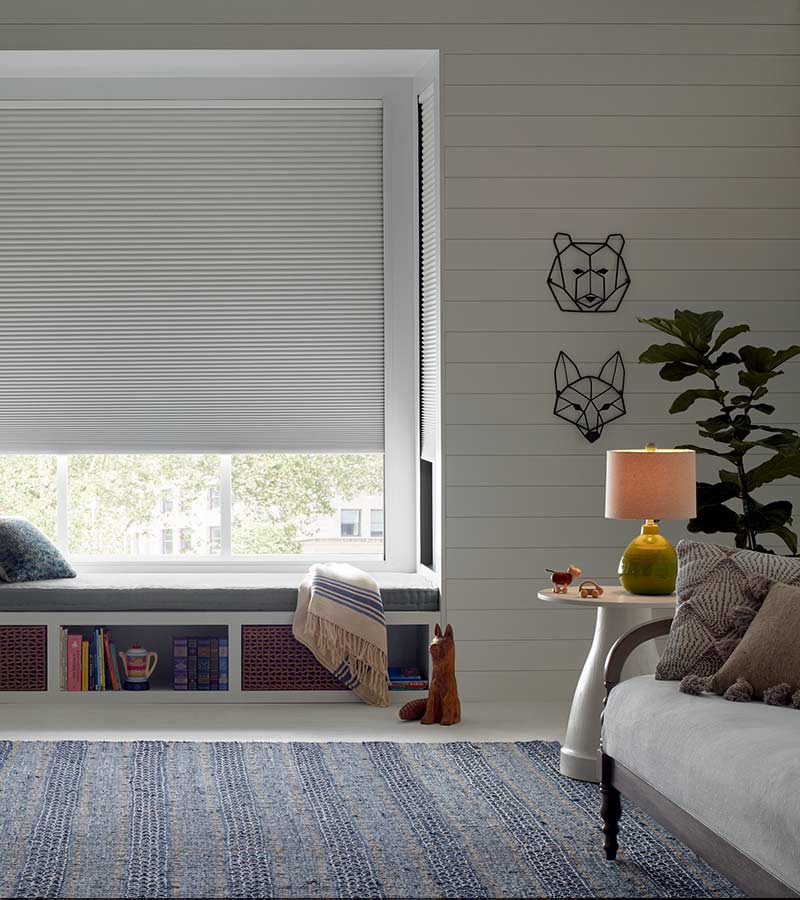 Crafted for Excellence
With modern day advances, even shades you can see through are capable of blocking a majority of damaging rays- new materials are made with UV protection. You wouldn't think of going to the pool without sunscreen would you? Also, the opacity of the fabrics can have a great effect on energy efficiency, especially on the windows that directly face the sun. Ask a professional what they recommend. Keep in mind, innovation has improved the quality of materials used which prevents your coverings from breaking down. 
Smart Home Technology
If you're keeping your shades down all day, chances are you are missing out on the true potential of your home. With the advancement in smart home tech, clients can enjoy setting their window treatments on a schedule to open and close when the time is right. Enjoy mountain views in the morning, but escape the oppressive sun in the afternoons. You'll be amazed at how much automation can affect the comfort of your home and provide one of the best energy efficiency solutions available.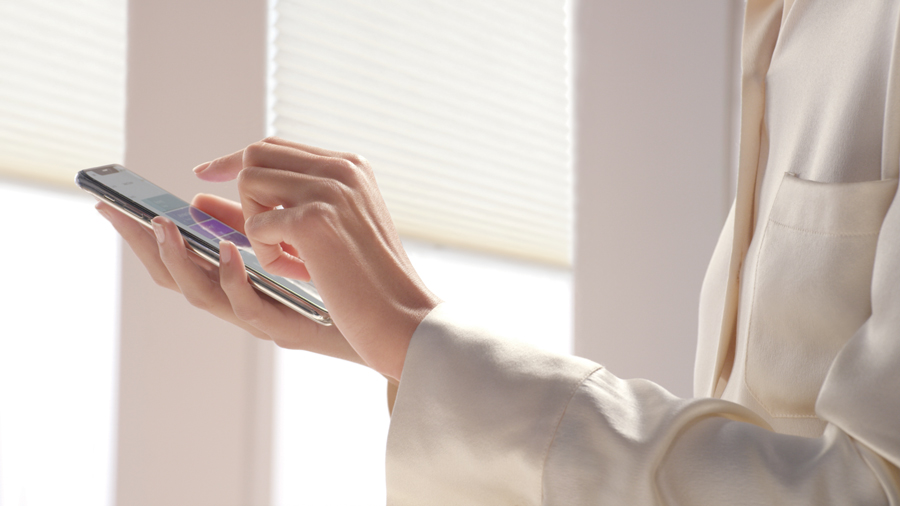 The Best Energy Efficient Window Coverings
Undoubtedly, every household is different but this convenient list of window treatments will include one that is best for you. Visit our energy efficient solutions page to choose a style that will block the sun and prevent energy loss in your home. Here's a preview.
The cell-within-a-cell technology of our honeycomb shades will trap air, preventing energy loss. That means your home stays cool in the summer and warm in the winter. Hunter Douglas offers a range of cellular options to protect your home, based on your home's specific climate and the placement of the window in relation to the sun.
The design of roman shades naturally prevents the movement of air, with layers of fabric at the window. By choosing certain fabrics and their opacities, you can experience incredible control at the window.
Innovative design has led to light-blocking technology. Roller shades are capable of blocking heat that enters the home to damage your furnishings and raise the temperature. With the latest innovation, Hunter Douglas has combined the sought-after efficiency of cellular shades with the simple operation of roller shades with the Sonnette™ collection.
High quality fabrics insulate the windows of your home with light-blocking capabilities. Draperies can frame the window for beautiful design, closing when necessary. Today's draperies can be motorized to harness incredible control over your home's interiors.
From solid wood, to advanced materials, interior shutters have long been known to stop energy from moving. Sealing the window frame, light and heat are prevented from entering. They are an effective way to prevent energy loss. By adjusting the louvers in an upward position, light is directed at the ceiling to illuminate the space without harsh sunshine and heat entering.
Add the Best Energy Efficient Window Solutions
Trying to escape the intense heat of summer? We understand. Even though the sunshine can improve our mood, too much can make us crabby. Especially when it comes in the form of intense heat and damaging UV rays. We can help make things more comfortable and protect your home with the best energy efficient window coverings in the industry. Our window treatment specialists understand the Colorado climate and can recommend the best products for the rooms in your home. Visit us in person at one of our showrooms or contact us for your FREE consultation.