The classic beauty and timeless tradition of shutters offers your home a sophisticated charm. Shutters are an amazing addition to any home. The folks at Rocky Mountain Shutters & Shades understand your love for the look of shutters. We also know that shutters are not always the ideal window covering for every room and atmosphere. The innovation and styling of Hunter Douglas has introduced a "Soft Shutter" to provide your home with the elegance of shutters, but the ideal benefits of shadings. Pirouette Window Shadings stand out as a designer look for any room, while they also offer levels of privacy, light control and protection for your home.  Versatility of design and function…Pirouette Window Shadings will create the perfect atmosphere.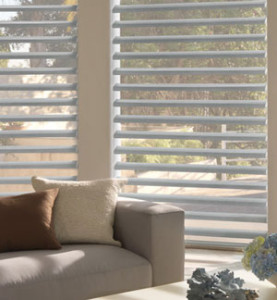 Create a Dynamic Look with Pirouette Window Shadings. Soft, filtered light flows into your home, intentionally directing the natural light for valuable daylighting, while diffusing the harmful glare. With horizontal vanes, similar to shutters, you can experience the classic look you love, with the contemporary feel and benefits of shadings. These soft, shutter-like, fabric vanes easily tilt and adjust so you can attain exactly the lighting your home needs, at any time during the day. The sheer backing, when your shadings are adjusted to the "open" position, allows your home to experience an ambient glow, while enjoying the beauty of the landscape. When you aren't home to enjoy your view, Pirouette Window Shadings easily adjust to a closed position, completely shielding your home from the harmful rays of our intense Colorado sunshine. Pirouettes are also capable of room-darkening, allowing you to enjoy the benefits of complete light control when they are closed, with the option for maximum view-through by a simple adjustment of the fabric vanes. Beautifully styled with an extensive collection of fabrics, the endless opportunities for complementary design allow you to coordinate your entire home.
Here at Rocky Mountain Shutters & Shades, we love the look of shutters. We know you do, too. They appeal to everyone, but they aren't ideal for every room. We want to provide you with the beauty and classic lines of shutters with the options for enjoying your view with soft, filtered, natural light. The versatility of function, combined with the sophistication of design, makes Pirouette Window Shadings a beautiful addition to your home. Contact the professionals at Rocky Mountain Shutters & Shades for a free, in-home consultation. We would love to show you how Pirouette Window Shadings will create a dynamic look for your home.