Plantation shutters have been a smart choice in window coverings for hundreds of years, but if you've never tried them, you may not know about all the amazing benefits and design elements. An unmatched air of sophistication, while functional and economical, shows there's a lot to love when it comes to shutters! This quick overview will show you exactly why so many homeowners in the know have been using shutters to add elegance and ease to their homes, and which style of plantation shutters is right for you!
Made for Each Other
The first thing most people notice about plantation shutters is the customized look. Cut to fit any size or shape, they are a perfect way to show off the beautiful angles and curves in your windows, and give your home a put together look! Plantation shutters can also solve those common issues with light control and airflow that come with gorgeous large windows and high ceilings.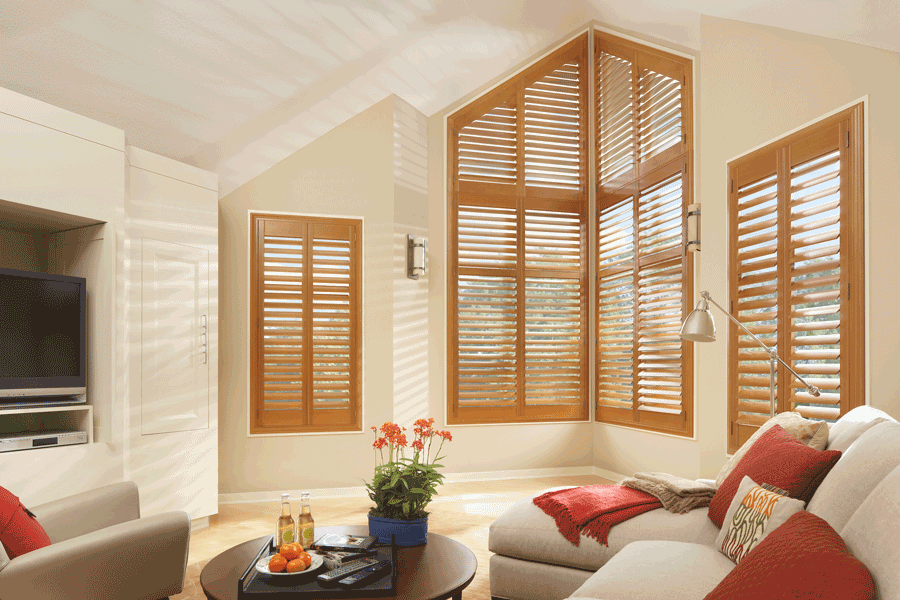 The shutters pictured here are NewStyle Hybrid shutters by Hunter Douglas. They're made with a combination of wood and man made materials. With the look of hardwood, they give this room a classic, inviting feel, and a clean, well thought out look. Because they're value priced, NewStyle plantation shutters keep you beautifully under budget too!
Giving You Control of the Elements
Plantation shutters give you tons of freedom when it comes to controlling the elements. Feel free to open up the windows with ease to enjoy the freshness of air and sunshine. Louvres can be adjusted not only for privacy, but to direct airflow, and keep the natural light you love without worrying about harsh glare.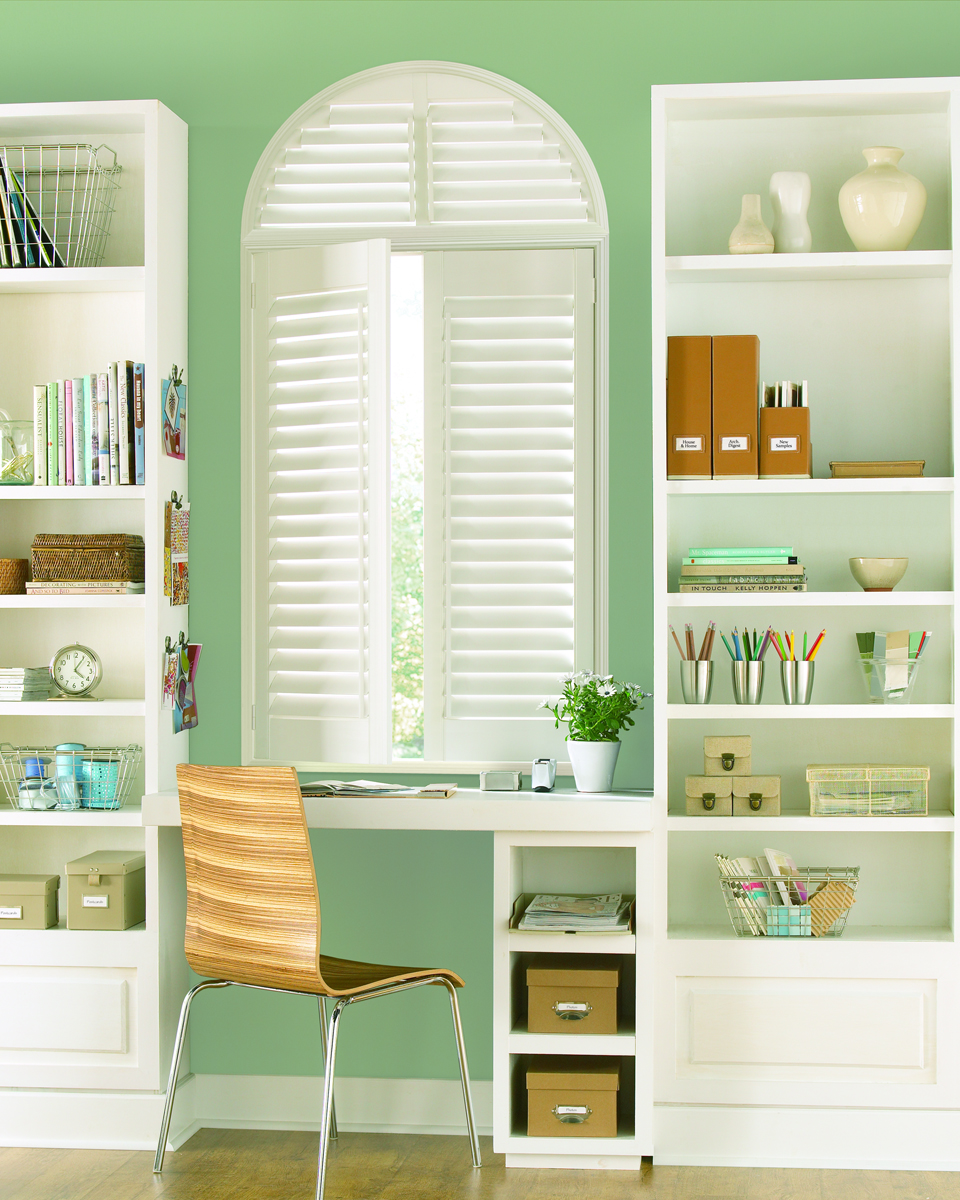 Plantation shutters can be bi-fold, bi-pass, or hinged, as shown here, giving you easy access, and ensuring your shutters will fit into your lifestyle. The charming plantation shutters in this picture are the Hunter Douglas Palm Beach style, which were designed with high heat and humidity in mind. Guaranteed to never warp, crack, or yellow, these shutters can stand up to harsh conditions without worrying about having to stain or paint in the future!
Dramatic Displays and Clever Protection
Plantation shutters can be played up or toned down to add just the right amount of drama and glamour to your home. It's easy to see the stunning elegance plantation shutters are bringing to this room, but what you can't see is that this homeowner is also getting a defense against drafts and harmful UV rays! Plantation shutters act like a layer of insulation around windows, keeping cold winter air from leaking in.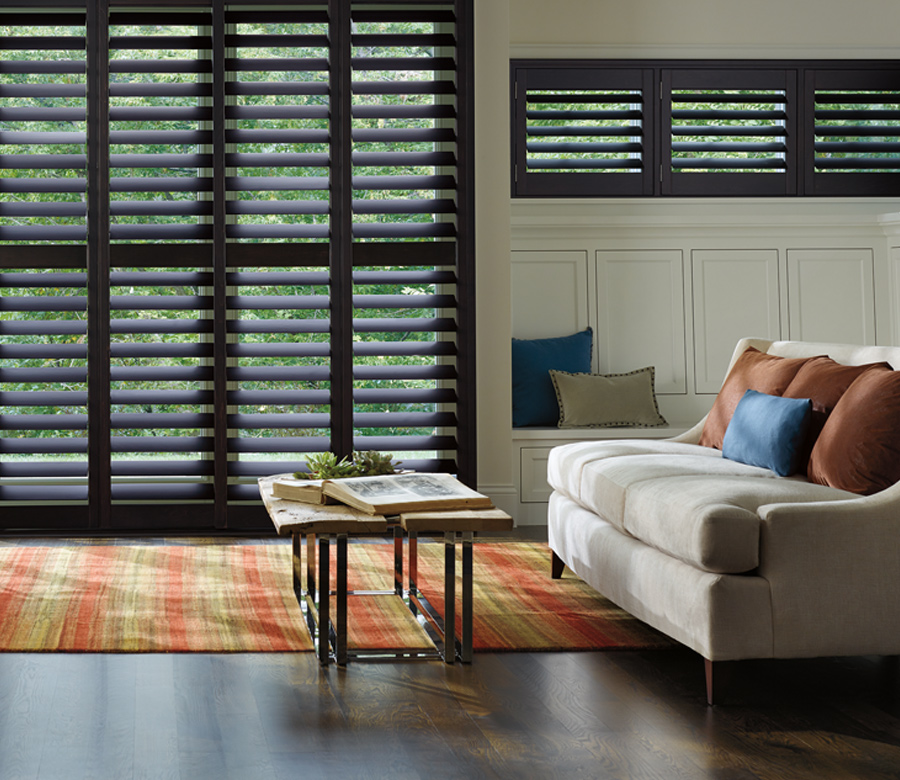 Likewise, when the weather starts to heat up, shutters can help you keep the AC off a little longer by diverting direct light that overheats your home. Left unprotected, the beautiful furniture and hardwood floors in this room would eventually become dulled and damaged. This homeowner is protected though, be cause plantation shutters can be adjusted to block up to 99% of the harmful UV rays that damage furniture and decor. Shown in this picture are the Hunter Douglas Heritance Hardwood plantation shutters. Made of 100% genuine hardwood and expertly crafted, these window coverings have an amazingly long lifespan. Available in six artisanal techniques, like glazed, rustic, or distressed, Heritance Hardwood give you the chance to really express yourself and make something uniquely you!
For custom elegance and sophistication, freedom and control, or peace of mind and protection, there's no better choice than plantation shutters. At Rocky Mountain Shades & Shutters, we've been working to bring our customers the very best in plantation shutters from our beginning. Give us a call to schedule a free at home consultation, and we can get you on your way to enjoying the many benefits of shutters in your home!