Could your window treatments use an upgrade? The right window coverings can play a huge role in not only the look of your rooms, but how you use them, too! The new Solera Soft roman shades by Hunter Douglas are a great example of a window treatment that blends style and function to bring you an all-around solution. The luxurious feel of lush fabric instantly gives any room a stylish ambiance, while a bevy of features ensures your window coverings are working hard. If you haven't seen Solera Soft Shades, keep reading, because these roman shades could be just the change you've been looking for!
 Get the Look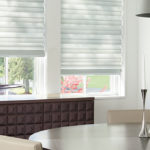 With cellular construction and layers of fabric, see how Solera roman shades add a luxurious, sophisticated look to this room. Solera comes in 5 different fabrics, both woven and non-woven, so you'll get the texture you want. And with 31 contemporary color choices, you're sure to find the perfect complement to your home's decor. Available with options for opacities, choose light-filtering or room-darkening to get just the right atmosphere in every room. A fabric wrapped headrail and bottom rail gives these roman shades a streamlined, completed look, and color within the cells means rich, beautiful color from any angle! Solera roman shades are a great way to add a put-together look to your whole room!
 Get the Benefits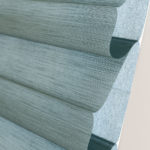 Not only are Solera Soft Shades going to add a sculpted look and air of sophistication to your home, they're also loaded with features and benefits to make your life easier! Blocking overheating direct light and acting as a layer of insulation, Solera roman shades are an energy efficient choice, even for your hard-to-manage large windows! The optional top down bottom up design allows you to get the privacy you want, when you want it. Solera Soft Shades can even help you prolong the life of your furniture and decor by blocking harmful UV rays that, over time, can damage your valuables. Some of the beautiful fabric options can even reduce the intensity of outside sounds, and keep noise pollution out of your home! With efficiency, privacy, and protection, there's a lot to love about these roman shades!
 Get the PowerView Bonus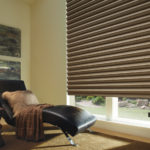 On top of all there is to love about Solera roman shades, you can now get the amazing Hunter Douglas PowerView! PowerView motorization is a wireless remote operating system that gives you the power to control your light and privacy with the touch of a button! Use the stylish Pebble remote, or download the app on your favorite device! You can even set schedules and automate your shades, so they're always giving you exactly what you need, day and night!
With sculpted looks, efficient features, and modern motorization options, it's easy to see that roman shades are a smart choice for your home. Identified by Hunter Douglas as an affordable collection, Solera roman shades are surprisingly easy on your budget, too! So, are you ready to add style and function to your windows? Contact us today for a free, at-home consultation. The process is easy, and soon you could be basking in the beauty of your upgraded room, all thanks to Solera Soft Shades!