If you have skylights, you already know that while beautiful, they are a luxury that comes with a price. Aside from the custom look and a unique way to bring in our gorgeous Denver sunlight, these coveted assets can quickly become a burden. Harsh glare makes rooms unpleasant as unfiltered light overheats and allows harmful UV rays to damage furniture and decor, and energy efficiency issues can cause temperatures to fluctuate, while heating and cooling bills skyrocket. So, what's the secret to enjoying your skylights as you were meant to? The answer is choosing the best shades for skylights. And we've found two options that solve all these problems while adding a dose of style!
Meet Duette and Applause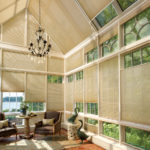 Duette and Applause honeycomb shades by Hunter Douglas are a top notch option for anyone with skylight issues! Not only will these shades boost the performance of your skylights, but the styling will complement  your home with the ability to blend into the ceiling and not distract the eye. Both Duette and Applause have a sleek design and a low profile fit to give your skylights a custom, tailored look. Either of these honeycomb shades, as the best shades for skylights, will add a touch of sophisticated visual appeal, but what about performance? Let's check out how Duette and Applause stack up to the most common skylight problems.
Too Much Light: Glare & Harmful UV Rays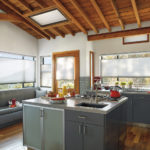 Natural lighting is wonderful, but when you can't control it, rooms can become unbearable. Parts of your space can become overheated and uncomfortable, and it's nearly impossible to use a device with a screen. Not only that, but unfiltered light can affect more than you may think. Harmful UV rays can cause damage to your furniture and decor, dulling the colors of fabrics and walls. The best shades for skylights can block destructive rays and turn that harsh glare into a welcoming glow! Both shades are offered in varying opacities from light-filtering to room-darkening, so you can decide how much light gets through. Want to direct your natural light? With top down bottom up operation, you can put the light exactly where you want it!
Energy Loss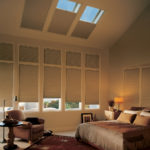 Duette and Applause are both made with a cellular honeycomb design, meaning they trap pockets of air and act as a layer of insulation. When heat rises, your honeycomb shades will be there to make sure it isn't seeping out. Likewise, when you're running the AC, the best shades for skylights are helping keep your inside air in, and outside air where it belongs. And with incredible innovations from Hunter Douglas, the energy efficiency of your home will be improved by Skylift–weather stripping made for skylight shades to protect your home, the atmosphere and the temperature year-round.
Difficult Function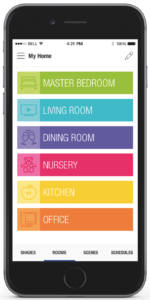 As you can see, Duette and Applause are the best shades for skylights, but there's one more feature that really sets them apart. Skylights are almost always considered hard-to-reach and can be very difficult to manage. With the latest innovation, none of that matters! Duette and Applause are available with the Hunter Douglas PowerView motorization option. This modern upgrade is perfect for homeowners with skylights because it puts control at your fingertips! By using the stylish Pebble remote, or by downloading the app on your favorite device, you can control your hard-to-reach skylights with the touch of a button. You can even automate your honeycomb shades to follow your schedule–your shades are effortlessly where you want them!
If you've been living with skylight problems, you've been missing out on the lifestyle benefits they offer. Isn't it time you managed your home's assets? Contact us a call today for a free at-home consultation. We'll show you just how easy it is to use the best shades for skylights to get the whole home upgrade you deserve!