Have you discovered the key to happiness? We like to think it starts at the window. But then again, disaster can easily meet you there, as well! Of all the decisions homeowners have to make, window coverings are often forgotten, or simply put aside. But, we're here to help you discover your happiness–and you might just find it in one of our collections of sheer shades…
First Impression? Amazing Space.
The characteristics of this photo might feel all too familiar. Whether you've built a new home with big, beautiful, yet bare windows–or you've lived somewhere for any amount of time with the wrong window coverings, you can probably relate to aspects of this photo…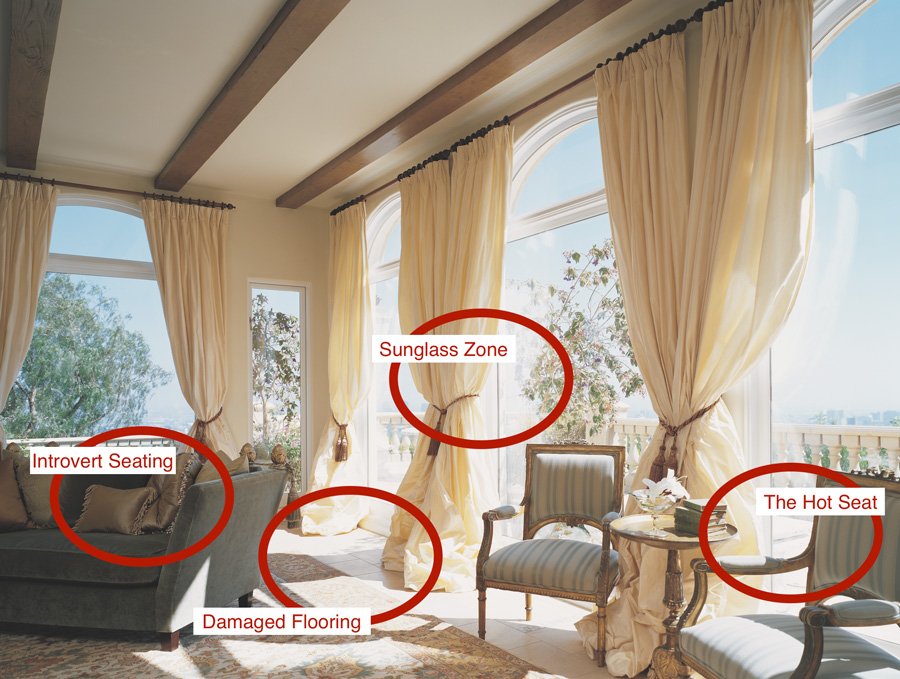 Spend a little time, and you'll realize, there's lots of decisions to be made. To begin with, the room is huge–but when it comes down to it, there's a very limited amount of usable space.
Anyone near the windows is going to need sunglasses, and they certainly aren't enjoying the view.
That conversation spot we've named "The Hot Seat" is discomfort magnified. Temps are raging, you're forced to stare into the abyss of darkness across the room, keeping you from scrolling on your phone or even a reading a book due to the glare.
The couch sits in the shadows. Anyone sitting there will be unable to look at friends near the windows, almost needing a lamp to balance the blinding light of the space.
And, don't even get me started on the damage and fading caused from the harsh UV rays.
Choose a Lasting Impression.
"Ahhhhhhh…" Peaceful. Serene. Inviting.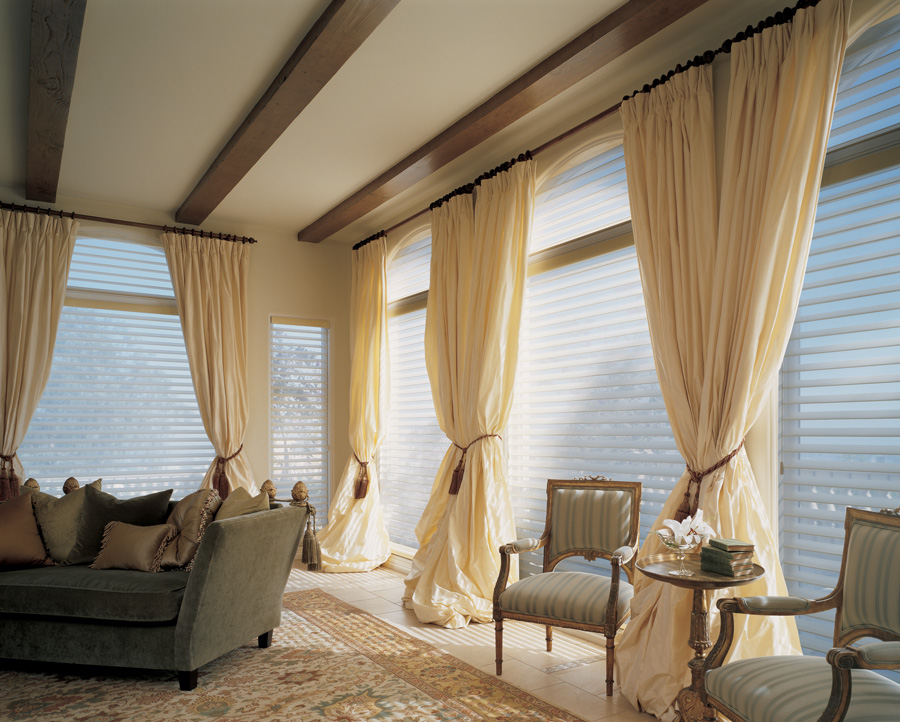 Sheer shades absolutely bring lifestyle solutions to this space with balanced lighting, temperature control, privacy protected while the view is gorgeous (& you can actually enjoy it without sunscreen!) This large space is usable, comfortable and perfect for hosting any number of guests–at any time of day.
Customize Your Home.
With open concept living spaces, the right lighting and ideal solutions–to fit everyone's needs–can be tough to accomplish. Sheer shades offer such a range of light control adjustments, making the impossible…possible.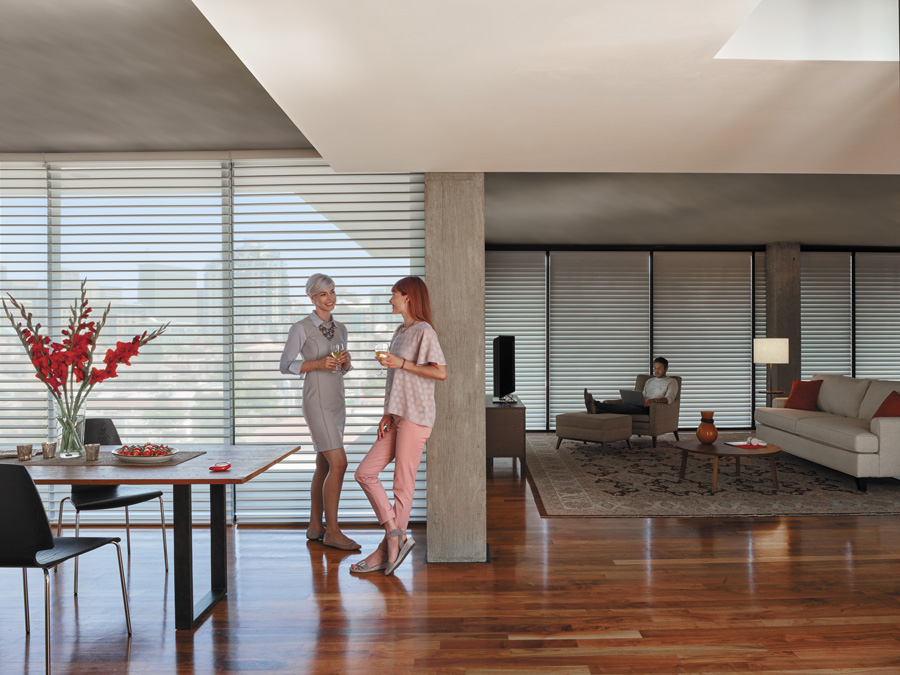 You can entertain in glowing light in the dining area, while the "media" space stays free of glare or blinding rays. And no, you won't have to run around creating the perfect adjustments every time someone in your family makes plans. Your shades move freely wherever and whenever you need them. Smart shades will create the perfect atmosphere every time.
And a Good Night's Sleep?
To top it all off, you can now count on sheer shades to help you–and your family–get a good night of sleep.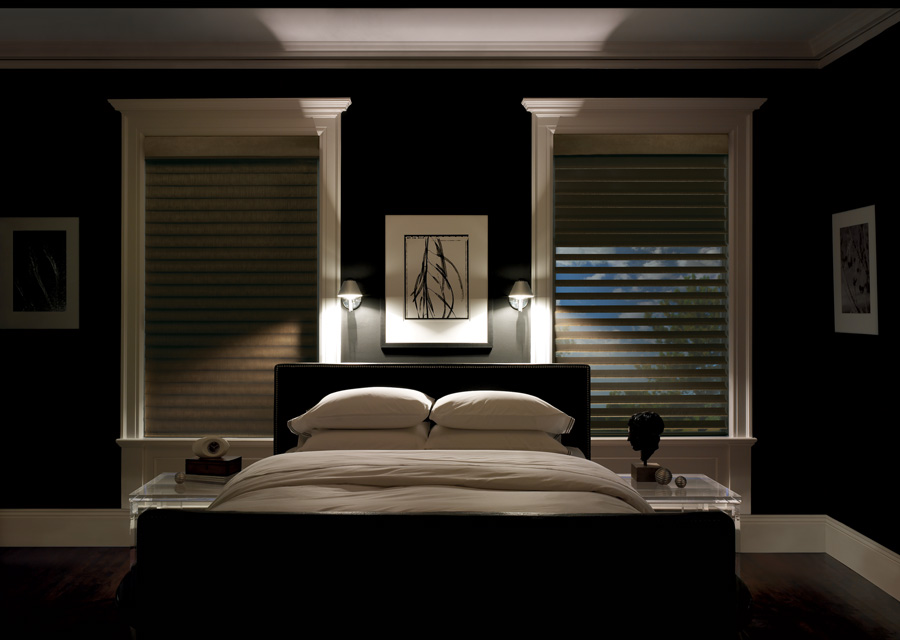 Choose from different systems to create your ideal darkened environment. Dual shade systems slip a blackout shade in place behind the sheer shade. The rotating vanes of Luminettes are sheer in one position and blackout in another. All-in-all, sheer shades are the answer to restful sleep.
Sheer Shades: Make the Impossible Possible.
Could your Denver area home use a sheer shades makeover? How about discovering your happiness? We'd love to help you get closer to both! Our design team at Rocky Mountain Shutters & Shades can show you solutions and operating features that will add beauty and solutions to your home without taking away all that you love. Contact us to get started on creating the best version of your home (& life!) today.