Are you looking for window treatments that will give you light control and privacy while still boasting the view of your fabulous Denver landscape? We can help make it possible with sheer window treatments. At Rocky Mountain Shutters and Shades, we understand not wanting to compromise your view to get other features that you want. Let us show you how our collection of sheer window treatments can give you the light control and privacy you need while still enjoying the breathtaking view you love!
Sheer Elegance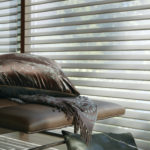 Our sheer window treatments come in a variety of styles, colors and fabrics–all of which will add elegance and style to your home. For this collection, though, the elegance doesn't stop with just how they look. The real elegance is in how they function. Our Silhouette collection, for instance, consists of soft fabric vanes suspended between two sheers that diffuse incoming light–eliminating harsh glare and dispersing a soft, warm glow throughout the room. This effect gives you much needed natural light filtered throughout your home in soft, radiant ambiance. No harsh glare, and a softened–yet beautiful–view to the outside world.
Sheer Privacy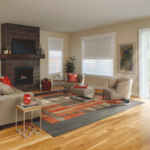 That may sound like an oxymoron, but our sheer window treatments offer plenty of privacy, even in the open position! The sheer backing not only softens incoming light, but reflects it, making it hard to see inside your home during the day. As long as the light outside is brighter than the light on the inside, you will be able to see out perfectly. The only thing people will be able to see from the outside is the clean, organized look of your shades. Simply closing the vanes adds levels of privacy, and we also have the latest innovations in room darkening and blackout features for even more versatility!
Sheer Control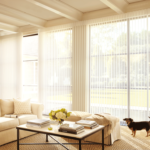 Our sheer window treatments sound great so far, right? There is one thing that will make them sound even better–motorized control! All of the sheer shadings in our collection are available with PowerView motorization–giving you the ability to control your window treatments with a remote control or your favorite device by using the PowerView App. You can control one shade, one room or your entire house at the touch of a button! You can also program specific times or "scenes" for automatic adjustment–transforming your atmosphere to meet your mood morning, noon or night!
Sheer Window Treatments = Sheer Brilliance!
Our design experts are excited to show you all the benefits and beauty that our sheer window treatments can add to your Denver area home! Contact us today to set up your free, in-home consultation, or visit any of our three showrooms. Let us help you get started on learning all of the ways our sheer shadings can transform your home and bring elegance and ease into your life!