Recently, we sat down with the design experts at Rocky Mountain Shutters & Shades to find out which room in the home often provides the most challenges. We were surprised to find that it's the bathroom design and function contributing to frustration and hassle. Here we learn what's most important for bathroom solutions–which will be no surprise–and how to solve them. 
What's the #1 solution people are searching for when it comes to bathroom design?
I'm going to say privacy will always top the list of solutions that people start with, but just solving privacy is easy. It's everything else that can create the challenge for most people. 
What do you mean?
Well, if you cover your windows, you've got privacy. But, for most people, they want balance. That's where the function and features of window coverings come into play. Simply covered windows may give you privacy, but if you also want natural lighting, you're looking at window shades that offer both, like top down shades that bring in light while maintaining that privacy.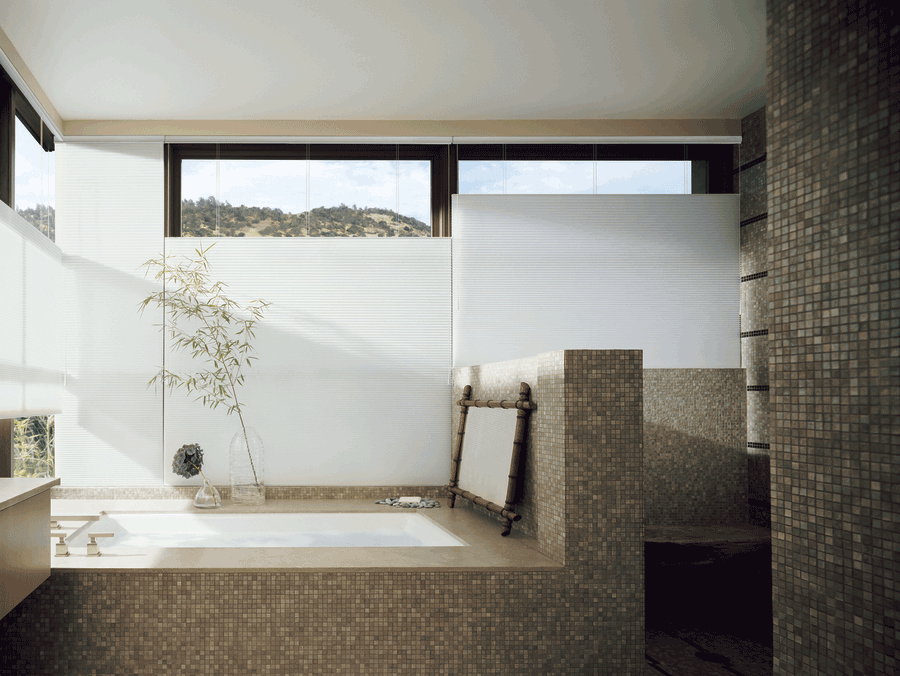 Do you recommend top down shades to everyone?
Not exactly. It really does depend on your bathroom design. Layout can play a large role, as well as placement of the windows. Small windows within reach–many people opt for an easy up and down. It's privacy when you need it and a beautiful with natural light the rest of the time. Windows over the tub–which can be common–can be a hassle to adjust on a daily basis. Top down does offer the option of staying in one position while delivering both light and privacy. But, our plantation shutters can do the same thing with split tilt. So, it really depends on your style preferences, and then you can find the function that fits.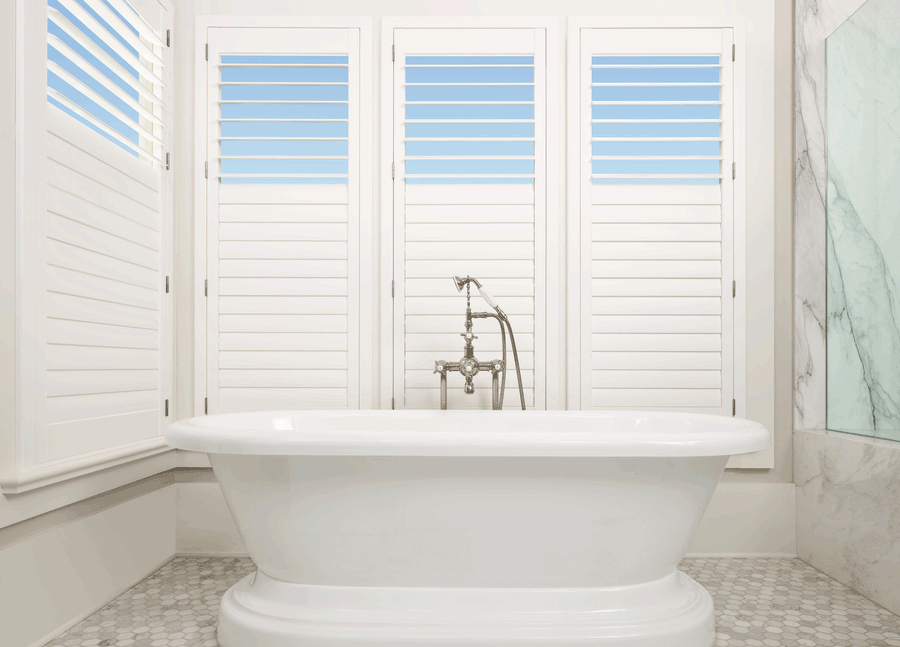 What's another common issue everyone faces?
Another problem we see often with bathroom design is space. Whether you have a large master bath with a tub you can't really access, or a small bathroom that children use, the space (and how it's used) can be a big problem. We find ourselves assuring our clients that by choosing custom fit and features of shades, shutters or blinds, you not only remove the hassles and dangers, but the operating features give you all the function and beauty you want without getting in the way.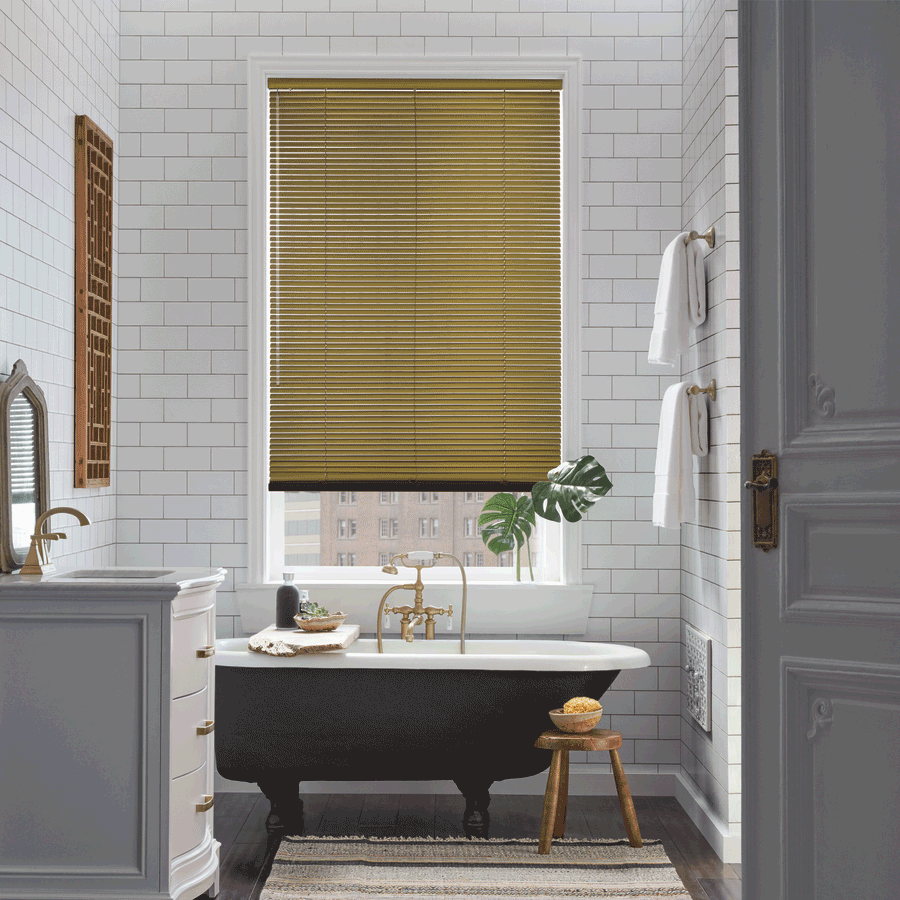 Which operating features do you recommend?
To begin with, if we know children are in the home, we will always recommend cordless and cord-safe–available in all blinds, shades and shutters. Our Literise cordless allows you to push or pull the bottom rail of shades to put them right where you want them. The Simplelift cordless blinds are similar with push button on the bottom rail to adjust, and tilting the slats occurs with a wand, removing the dangling cords you've seen in years past. From there, we find more and more people are choosing motorization in their bathroom design.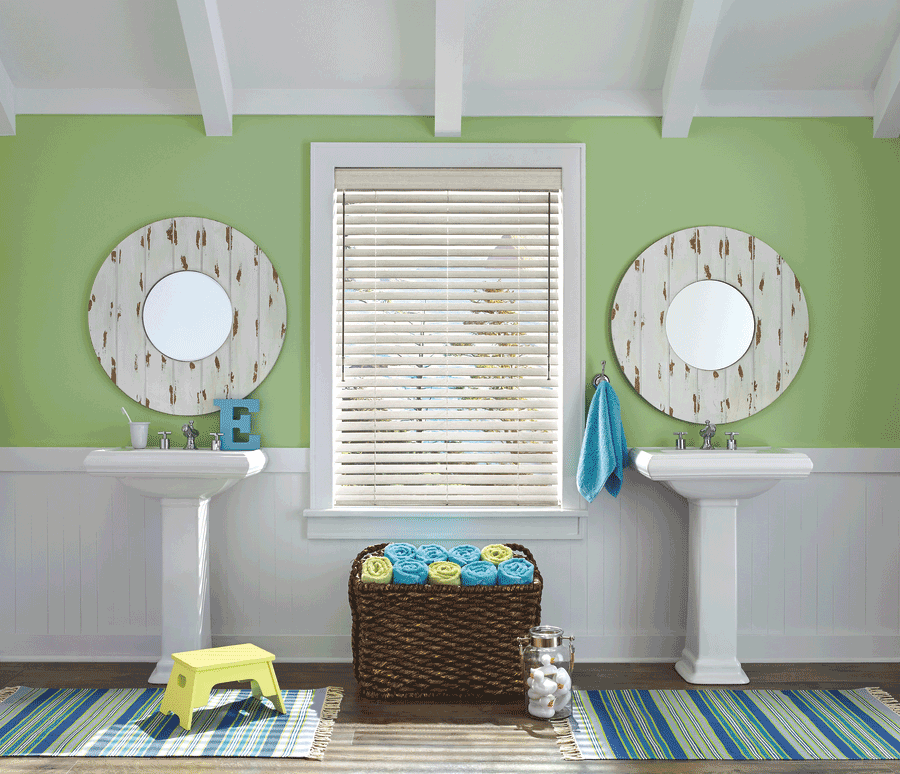 That's surprising–motorization, in the bathroom?
If there's anything you want in this room specifically, it's convenience, and motorized window coverings deliver. And, with the latest technology, like Alexa, Google Home and smart home integration, your motorized blinds fit right in. You can use voice control, scheduled adjustments, favorite settings…the sky's the limit.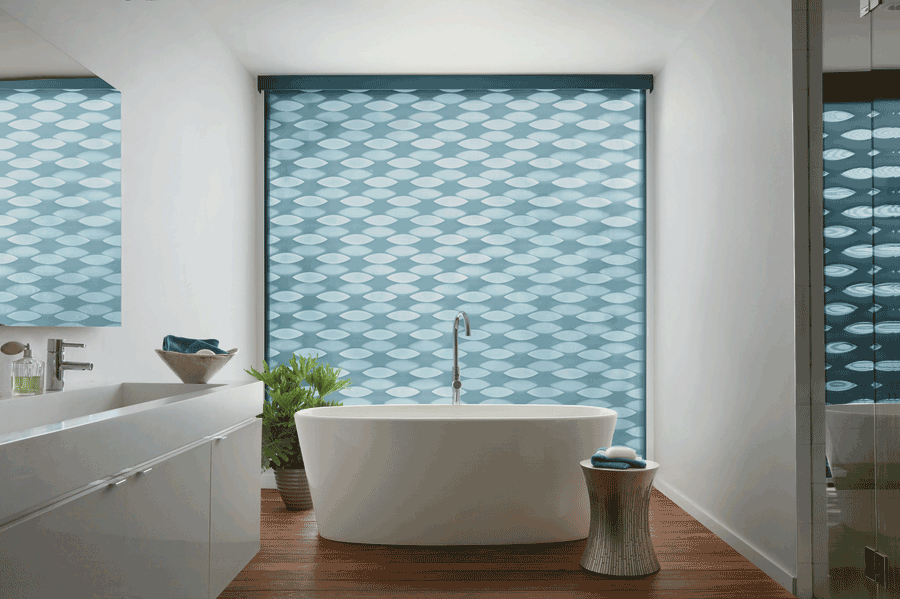 Bathroom Design Challenges…Solved.
From the challenge of privacy to the newest innovations in motorization, the experts at Rocky Mountain Shutters & Shades are ready to help you solve your trickiest bathroom design issues! You can see more photos of recent bathroom projects in the Denver area on their Houzz page. Visit one of their two showrooms in Cherry Creek or Park Meadows for inspiration and to experience the latest operating features and design trends. And, they'll come right to your Denver area home for a free consultation. Get in touch with the team today!