We're excited to announce one of our newest collections of energy efficient shades. Sonnette shades offer the perfect combination of two of our most popular features: sleek style and thermal insulation. Because the Denver area experiences such a range of temperatures year-round, you need a custom solution for your home! Do you love the chic, low profile design of roller shades, yet need the insulating properties of cellular shades? You're going to love what Sonnette shades can do!
Roller + Honeycomb = Reimagined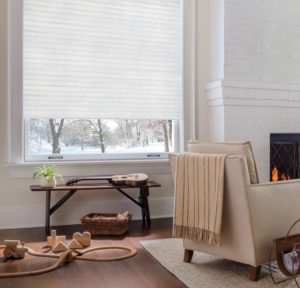 True innovation has lead to the clean lines of roller shades combining with the soft, structured insulation of honeycomb shades. Allowing for the much sought-after energy savings, Sonnette shades provide a rounded cellular design to maintain comfort year round. The classic function of roller shades means precise operation with the neat fit you've come to love.
Tackling the Common Issues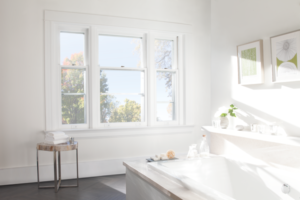 Have you had a difficult time deciding which type of window covering with fit your home? We love the way Hunter Douglas shades innovate the way you live. You want custom solutions with convenient function–and don't forget amazing style! Let's take a look at how bare windows, or poorly designed, window coverings can be causing you these everyday problems:
Do you have a room that looks like this? While the view of your landscape is probably why you love your open windows, you need solutions that work. In general, this is the space that you'd avoid most of the day. Due to the intense sunshine we have here in the Denver area, bare windows cause uncomfortable temperatures and relentless glare. They welcome UV rays that damage furniture, not to mention lack of privacy. It seems like there's no solution…but there is!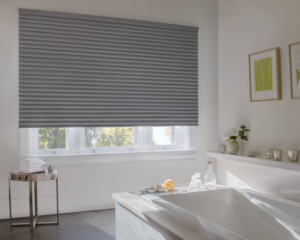 First of all, you deserve better. Sonnette shades offer simplistic function for tackling complex problems! When closed, your home features a stunning backdrop of beautiful fabrics. You'll control the light–no more direct sunshine, harsh glare or harmful UV rays. The comfort is unending. Most of all, you'll have privacy at your fingertips, while the rounded cells maintain the temperature, no matter the weather or the season. As a result, the simplistic operation means you can enjoy that view when you want, but enjoy the benefits you need!
Sonnette Shades: Experience the Innovation
Gorgeous fabrics, along with the operating system that fits your life, Sonnette shades offer all your favorite features in one brand new shade system. We'd love to show you how these new shades can bring energy efficiency, low profile design and incredible style to your home. Invite us in for a free design consultation, and let Rocky Mountain Shutters & Shades introduce you to the latest innovations from Hunter Douglas!